Revisiting Bocas Yoga – my fave yoga studio
You might have noticed my first yoga class ever was with the sweet Laura Kay at Bocas Yoga in Bocas del Toro, Panama. I visited the main island Isla Colon and took classes there in the Bocas town for the first time in May 2012.
Laura's positive mind, and funny yoga classes when you are working your ass off got stuck on my mind and I just had to go back.
When planning my Panama country trip, I knew I just had to revisit Bocas del Toro archipelago no matter what, especially to learn more from Laura and hug her again as we literally stayed in touch for those almost 2 years without seeing each other.
The best thing was that even though we only met for a very short time – 2 yoga classes back in 2012 – we connected extremely well. So well that we found ourselves sending hearts to each other each time we spoke on Facebook. And you know, it is so not easy to be so open-minded and a very small group of people are this kind hearted. So simply put, having a bit of Laura in my life meant a lot to me.
After 3 weeks of traveling around Panama, it was finally my time to visit Bocas del Toro and take more of the sexy yoga classes at Bocas Yoga. This time I almost stayed for a week taking as many classes as possible, most of the time even 2 classes per day.
And, to make my experience even better, I was renting a private room at the Laura's famous purple house where some yogis stay. Painted in blue and decorated with yoga images all around, helped me to get more into yoga mood as honestly, I did not practice much yoga since I left Slovakia in the end of January and my body really needed it. I also had to prepare for my upcoming Exotic Yoga Retreat at Blue Osa in Costa Rica.
It was incredibly cool to wake up and go to the morning yoga class right next door and then just head off back to my room or take a shower afterwards. I wish I had a yoga studio so close next to me wherever I travel to! 
I learned a lot at Bocas Yoga:
Laura's classes are hard, we focus on doing the poses right and push our limits, but in a good way. When Laura thinks you can make it better, she will make sure you do so, only when it is safe. The classes are also super funny, sensual and based on tantric philosophy. The Hatha yoga classes blend with new challenging poses using your own body but also blocks, straps, blankets and walls.
Yoga is not a competition and the only person you can compete with is yourself.
Just become better than you were yesterday with each yoga class.
And so did I. I opened a lot, pushed my limits and also managed to do my first wheel pose with a leg or arm up! Yay! (And that was me thinking I could not even do a wheel pose on my own back here 2 years ago.) I still need to practise it more.
At every class Laura concentrates on the 3 Bocas Yoga principles:
1. positive attitude in the house – of course, the most important one
2. alignment – muscles, tendons and bones working properly and in balance with the inner life and gratitude
3. let's shine and open our hearts – shine out our beauty
After a week of practising here, I realized that every Bocas Yoga class opens my heart and puts a smile on my face. Even if I was in a bad mood or had things going on before the class, they always disappeared and the yoga workout cleared my mind.
No matter how much I sweated (or swore) at each class, I left like a brand new person afterwards … completely with no burdens, feeling like a baby with a clean shield again.
Laura likes to joke around during the class which I really enjoy as it should not be very strict in my opinion. Although a sudden joke can make you fall out of a pose, it is so worth it to make your abdominals work even more when laughing.
At Bocas Yoga I learned as well that you should always just give your best at that time – there are better and worse days and it was like that with my yoga classes too. Sometimes I did very well without falling at all, other times I had to push myself to stretch and stay in those positions. Life is like that too and yoga makes you realize all this so in each situation you just give it your best effort and try all you can.
Just after some 10 classes at Bocas Yoga, I saw a huge progress in my body. Unbelievable!
I also learned some male surfers come to Bocas Yoga. yay, finally some guys! 🙂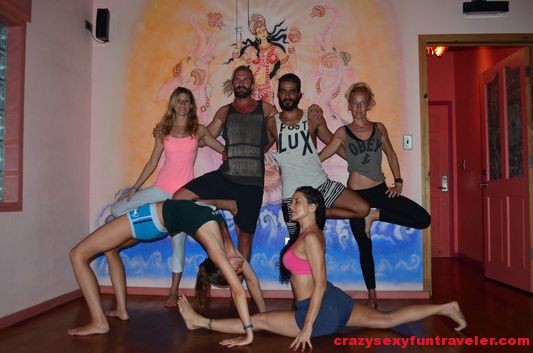 I am extremely grateful for Laura being my first yoga teacher who got me into yoga. Bocas Yoga studio feels like home to me. The energy, the style of the classes, the stylish bathroom and just the whole yoga studio calming me down. Aw, and it was fun to prepare my salads in the bathroom for dinner 😀
If you ever visit Bocas del Toro islands, I beg you to attend one of Laura's yoga classes … they mind change your life … because my life definitely changed and I even want to become a yoga teacher now. I set up a new goal 🙂
Aw, and when I was visiting Bocas Yoga, another yoga teacher Megan Panchinin so we did a short yoga beach photoshoot. Something for your eyes, guys 🙂
*photo credits: Laura Kay Bocas Foto
For more information, please visit Bocas Yoga website. Many thanks to Laura for everything she did for me.
*** It took me 4 hours to write this post.