Duty-free shopping habits of frequent international flyers
If you are a frequent flyer, you are no stranger to duty-free shopping. Shopping is always therapeutic, and more so after going through the stressful check-in procedure at the airport. It not only gives you a chance to pick up that coveted bottle of perfume or a bottle of single malt, but also gives you rates much lower than anywhere else. That's the magic of duty-free, after all!
Airport Retail has come a long way from the days of souvenir shops and fast-food joints. Air terminals presently offer premium retail experience with fine dining, luxury retail and spa services. As per a Credence Research report, the airport retail market expected to touch US$90 billion by 2023, as more middle-income families from developing nations are travelling around the globe. Besides, the upcoming airports in Brazil, Russia, India and China are supporting the market projections.
Duty-free shopping habits of frequent international flyers
On this World Tourism Day (27th September), InstaReM, a cross-border money transfer company that facilitates cost-efficient money transfers to 55+ countries, released a study of consumer shopping behaviour at duty-free shops. The study covered over a 100 frequent overseas flyer in the age bracket of 25-40. The study revealed that 44% of the respondents travelled at least once a year of which 48% for leisure and 40% for work. The most-visited regions included Asia, Europe and America in that order.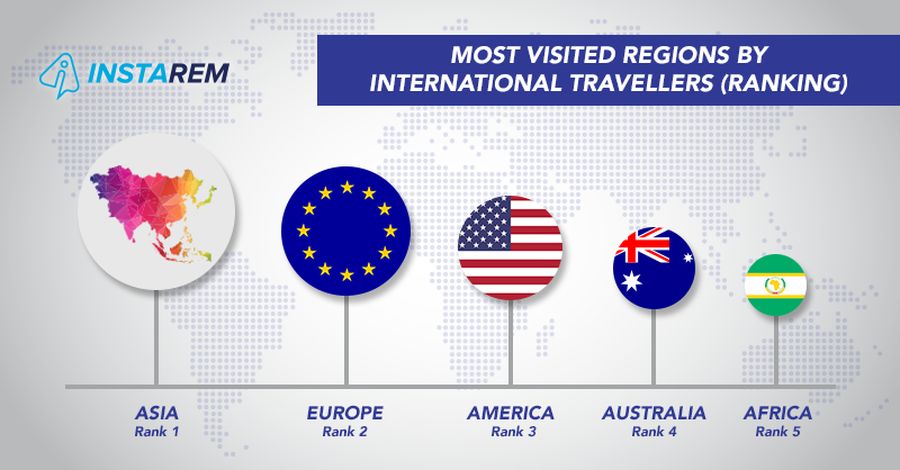 Singapore's Changi Airport offers the best duty-free shopping experience
The study revealed that duty-free shopping is particularly a big thing at airports with direct international arrivals and departures. With a wide range of upscale boutiques, high-end brands and an upcoming luxury terminal for pets, worth US$48, Terminal 4 at New York's JFK International Airport offers one of the most luxurious airport retail experiences in the world.
While a duty-free shopper's experience at an airport mostly depends on his/her interests, country of origin, country of travel, and the products he or she wishes to buy, the study conducted by InstaReM revealed that of all the airports visited by the respondents, Singapore' Changi Airport topped the charts for duty-free shopping. It is followed by the Dubai International Airport and the Bangkok Suvarnabhumi International Airport.
---
---
TIP: Thinking of visiting Singapore but not sure yet? Read about reasons why to visit Singapore 🙂
---
---
Alcohol is the most-shopped item at duty-free
The Credence report revealed that the largest product categories were fashion and accessories and that these accounted for over half the revenues in the international airport retail segment. Some of the most sought-after brands by travellers were found to be Burberry and Victoria's Secret. However, the InstaReM study revealed that alcohol topped the shopping list of its respondents. Alcohol was followed by Perfumes & Cosmetics and Confectionery & Delicacies.
As assumed, the driving factor behind duty-free shopping at airports was the discounted pricing of the items, and what better deal could one ask for than alcohol at discounted pricing.
Gifting vs personal use
We all have friends and family who often gift us chocolates or perfumes shopped during their overseas travels. This practice has given birth to the notion that Gifting is the main reason behind duty-free shopping. The respondents in the InstaReM study, however, painted a different picture – personal use ranked as the highest utility followed by gifting and habitual buying.
The biggest surprise that the InstaReM study sprang was that despite the lure of discounted pricing at duty-free shops, impulsive buying ranked the lowest, suggesting that duty-free shopping is quite well planned.
USD 500: The Highest amount spent in a spree
While a good section of travellers shop impulsively, habitual shoppers walk into duty-free shops with a budget in mind. The InstaReM study revealed that frequent flyers mostly spent between USD 100 and USD 500 per trip at airport duty-free shops.
Reserve & collect and collect-on-return facilities are in demand
While the idea behind duty-free shopping areas at airports is to draw the crowd towards the stores, mobile and omnichannel experience shows a huge potential, which is yet to be tapped in.
A lot of duty-free shoppers are ordering online and availing facilities like Reserve & Collect, where you pay for duty-free item(s) online, and collect them at the duty-free shop at the airport. Many duty-free shoppers are also availing the Collect-on-Return facility, where one pays for the item(s) at the duty-free shop of an airport, and collects them upon their return to the same airport.
However, airport retailers opine that mobile shopping in airport retail is still in nascent stages as most of the shopping is impulsive.
Looking Ahead…
The duty-free shopping experience at airports is evolving by leaps and bounds thanks to consumers' demands and the willingness of airport authorities to go the extra mile. With the increase in the number of travellers and the constant demand for better airport experiences, there is a possibility of rise in pop-up stores and more luxurious experiences in airports. A change in inventory and brands is also likely, so as to give frequent flyers a break from the usual, and give first-timers the feel of a true shopping destination. The growth of airport retail will also help smaller, local brands foray into new markets, allowing this format of shopping to be part of the global community.