5 things to do in Mont-Sainte-Anne in summer
On the way back from Baie-Saint-Paul, I took a local bus to get to Sainte-Anne-de-Beaupré. There I was picked up to go to Chateau Mont-Sainte-Anne where I was going to spend 3 days of adventure and spa.
The area around the Chateau is called Mont-Sainte-Anne and it's mostly known for its winter activities, such as skiing and snowboarding. Very quickly it is also becoming a great 4-season destination. Every year more and more visitors come over here throughout the year to explore the beauty of the mountains, its waterfalls and other stunning places.
Once you get pampered in the pool or some spa treatments, such as chocolate massage at Chateau Mont-Saint-Anne, I also recommend you to take time for the following 5 things to do in Mont-Saint-Anne.
Aw, and thank you for the lovely presents – a tea cup and a head massager 🙂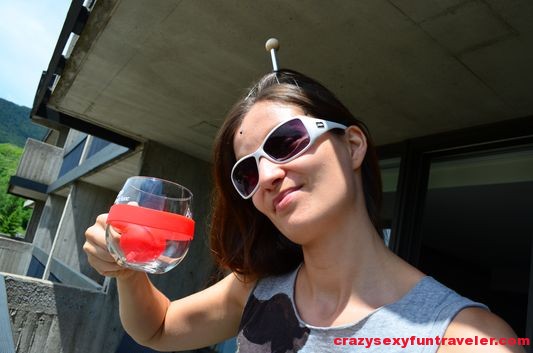 5 things to do in Mont-Sainte-Anne in summer:
1. Jean-Larose waterfall – with 400 steps and 2 resting areas you will experience 3 powerful cascading falls of different heights. Perfect for a short day with your friends or family, or even if you want to relax on your own. You can sunbathe next to the falls, swim in them or even do canyoning with Canyoning Quebec in here. Check out my post about relaxing at Jean-Larose waterfall with a lot of photos.
2. Canine village Les Secrets Nordiques offers dog-trekking in summer and dog-sledding in winter. The visit of the village is for $2 per person.
Canine Village Les Secrets Nordiques has been at the base of Mont-Saint-Anne for more than 18 years. Dogs are very social, used to be around both kids and adults. In summer you can go there, walk inside the fence and pet the dogs like I did. It's open to public on the same days like gondola is open, usually from 11am to 3 pm. You can do dog-trekking with a dog up hill and come back down on the gondola – with one of these dogs or you can even take a course with your own dog.
Around 8,000 people visit the dogs in summer time, in winter around 2,000. On average there are 65 dogs, when I visited there were 70 with the youngsters. 4 people work here in summer, 12 in winter plus some volunteers who just like to pet the dogs, walk then, brush them. Bruno, the owner tries to respect their own natural hierarchy so the leaders feel more responsible then. Some of the dogs are guarding dogs. Bruno puts the emphasis on a few things – safety first, the happiness of the dogs and fun on the trail with guests ( in this order.)
For dog-sledding it's a team of 7 or 8 dogs put together who stay together the whole winter. Only 6 dogs go for the sled.
Bruno and his team try to do different activities with the dogs as then "the dogs get better personalities." The cutest thing? A few dogs had one blue and one brown eye. Magical!
3. mountain bike – 120 km of cross-country, 25 km of downhill and 9 km of freeride makes it the biggest mountain bike network in the East of Canada. I was supposed to try an easy mountain bike but ended up sick a few days ago and doing it with fever and almost no energy was not the best idea so I had to skip this.
4. golfing – Le Grand Vallon 4 star golf course with 18 holes, L'Anecdote restaurant and a shop with sportive clothing and golf things. Even if you do not play golf (like me), you can still come over to the restaurant to watch the beautiful green fields and who knows. You might even fall in love with it so much that your next time you will find yourself standing out there with a golf stick.
5. other activities in Mont-Saint-Anne include disc golf with 2 loops of 6 baskets, paragliding, hiking trails, summit trails, 4×4, and 7 km from there you can camp by the river (the camping site has 166 sites.)
As part of my Adventure and Spa project, I was a guest of Mont-Sainte-Anne. Many thanks to everyone who made my visit pleasant.
***It took me 3 hours to write this post.