Strip off for Travel Blogging Calendar 2013
As most of you were not at TBE conference in Genoa where me and Giulia (from Travel Reportage) spoke a bit about it, here is the full story 🙂
A couple of months ago I had a conversation with Chris (from Aussie on the Road) and I don't even remember how but we got to the fact that I was one of the 6 cabin crew on the cover of the Ryanair charity calendar 2010. We laughed about it and Chris said we, travel bloggers, should make one. It started as a joke.
Months after we got to the same topic again on twitter and already started asking people who would like to be in it. I still thought it was just for fun, but later on found out guys were serious.
Well, get again into my favorite bikini for a charity? Hell, yes!
So here we are a few months after … 13 female travel bloggers and 12 male bloggers got our best shots around the world to make 2 travel blogging calendars. To find out my other sexy female bloggers in the calendar, check out Women of Travel Blogging and also remember to lick your lips at the shocking super sexy pics of my favorite Men of Travel Blogging.
Yes, months of discussions, some of us getting professional photographers and of course all thinking of some cool poses and places to shoot. Jeremy (from TravelFREAK) did a great job with the calendar website Travel Blogging Calendar and Chris convinced guys at fabulous Uprinting to print out the calendars for us and send them around the US for free – yes, they are helping out the charity too!
So just to ship the calendars from the US to other countries will be the only thing were the money from the calendar sales will go.
And the rest of the proceeds?
Everything else will go to 2 charities:
Mitrata Nepal (helping children to get home and loving family)
and VSO Bahaginan (fighting the poverty in developing countries).
Really, none of the bloggers or photographers gets ANY MONEY! We are just nice enough to help others in this difficult world.
It was our readers who could vote in October to choose their preferred charities. It was all of you who decided about 2 charities the calendar proceeds will go to.
***The photos below will be the final photos in the Women of Travel Blogging.
And how did I get my calendar photo?
I thought my favorite city in the world – Barcelona would be the best place for it. When I revisited for the I-don't-even-remember-how-many-times in September, I contacted a lovely Russian photographer Tatiana Gorodoshnikova to take a sexy photo of me.
You would never believe what happened that day. Such a bad day! I dropped my laptop and parts of it broke. It looked like it was not going to start working again. As usual, there was a strike going on so Barcelona subway was not really working and it was super packed. It took us way too long to get somewhere. With Tati we decided to go to Badalona to one of its beautiful rocky beaches. After changing to train, we found out it didn't stop there and had to take a train back to Barcelona only to realise that there were no more trains for at least an hour. Change of the plan was necessary so we waited for another subway to get closer to one of Barcelona's beaches.
After all those hundreds of photos of me in bikini out there, I am still a pretty shy person and I don't like when people are staring at me so we had to walk quite long to get as far from the tourists as possible. It was getting too cloudy and dark and also some drops fell down from the sky. We wanted to use the sunset light to get the photos as it is the best part of the day but it took us almost 3 hours to get to the beach. Telling you, not the best day ever!
"You will see Alex, we will get amazing shots!" Tati was trying to keep it up with the positive attitude.
The only thing I was happy about that day was that we got along so well with Tati, like really good old friends! We just laughed it all out!
I had new shoes which meant a lot of blisters so I walked bare-foot. Thankfully at least along the beach one one cared.
But someone up there above us probably thought it was already too much for one day and when walking, we found a spot with a fence around so almost no one was there. Oh yes, we used it.
I stripped off to my bikini and we began with with some shots.
I was longing for that hot day at Xpu-ha beach in Mexico where I had my previous "modeling" experience.
I was tired, cold, in bad mood, and rain drops got my make-up all over the face.
I remembered all those models out there taking bikini shots in winter time so I bit my tongue and tried my best.
All for charity.
There was a bunch of guys who ran closer to us and asked which famous model I was, so funny! No guys, I wish!!!
We scored more than 100 photos within a few minutes. You can see two of them here, and also could see some on my Crazy Sexy Fun Traveler Facebook Fanpage a few weeks ago. Remember, these photos are not the calendar. The final shot is just … SEXIER.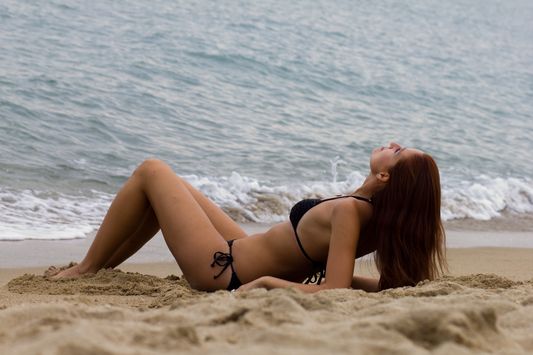 I actually had fun in the end 🙂
And even got into the not very warm sea 🙂
*Thanks to Tatiana for surviving that day with me, taking photos of me and all her help. She did it for free too supporting the calendar idea.
********************************************************************************************
This Travel Blogging Calendar 2013 is for all of you who love supporting charities, who love doing something for a good cause, also you who like sexy people and who need Xmas presents for friends or family. And as well all of you who enjoy my bikini photos 😀
In case none of these reasons were enough for you to get a copy (preferably copies!!!), I think you should get a calendar for my 28th birthday that was a few days ago. I don't want anything for myself, but you will get food and family to those children in Nepal!
And all the girls, wait until you see the photos of our stunning male bloggers! You have never seen them like this and I don't think you ever will again 🙂
It costs only $25 which will be the best money you have ever spent, trust me. The calendar is on the pre-sale already, just check out the Travel Blogging Calendar 2013 website. We also have a facebook fanpage and on twitter use hashtag #tbc13. I am 100% sure your friends want to know about these 2 amazing calendars too, feel free to share it 🙂