PR/Media

Crazy Sexy Fun Traveler
"I live to travel, I travel to live."
This travel blog was created by me, Alexandra Kovacova, on the 30th September 2010 and have been my full-time job already since March 2011. Since then my blog becomes more popular every month and its audience keeps increasing by thousands of readers.
The owner, the author and the photographer of the blog, a crazy Slovak girl Alexandra Kovacova, is mostly a solo female traveler who has been traveling around the world for more than 13 years and thus fulfilling her biggest dream. She continually contributes to this website a few times per week with travel tips, photos, videos, travel information, advice, travel stories, personal experience and much more. As you can guess from the name of the travel blog, it is all about crazy travel, fun adventures and sexy photos, plus healthy lifestyle.
More than 140,000 people follow me on my social media channels :)
Social Media statistics from November 2020
Traffic Statistics – on average in 2018 – 2020
Unique visitors per month: 10,000 to 80,000
Page views per month: 15,000 to 230,000
Alexa Site Statistics from May 2016
Since Alexa bis now a paid website, I do not track my stats there any more. Hence the last stats are from May 2016 when it was still for free.
Alexa ranking global: 70,813
Alexa ranking in Slovakia: 522
Alexa ranking in Costa Rica: 253
Alexa ranking in Norway: 6,549
Alexa ranking in Sri Lanka: 7,428
Alexa ranking in Sweden: 12.097
Alexa ranking in Mexico: 11.518
Alexa ranking in Philippines: 11,658
Alexa ranking in Australia: 27,889
Alexa ranking in UK: 38,794
Alexa ranking in Canada: 43,035
Alexa ranking in USA: 111,535  
Average time spent on website: approx. 11 minutes
External sites links: in 1,759 +
PR: 4 (used to be 4 before Google stopped indexing PageRank in general)
Klout score: 70
Page Authority: 54
Domain Authority: 46
mozRank: 5.27
Daily Pageviews per Visitor according to Alexa: 8.7
Daily Time on Site according to Alexa: 11:31
In the Travel writing section you can find out where else Crazy Sexy Fun Traveler has appeared (other websites, interviews with me, articles, TVs, radios etc.)
Demographics
According to Alexa.com readers of Crazy Sexy Fun Traveler blog tend to be more females from 25 to 34 years old, college educated, with no children and browse the site from home. Female 55%, male 45% on the blog, the opposite on Facebook Fanpage. The rest of the visitors are male of all ages.
The demographics change every month a bit, but as the travel blog is written in English, the main countries the readers come from are mostly those were they speak English.
Readers from Slovakia (my home country) are always in the top 10 countries from which people are reading my blog. The other countries vary a bit, but usually there's U.S. in the top 3 as my blog is in English.
According to Google Analytics, readers of Crazysexyfuntraveler are mostly between 25 and 34 years old.
55% of my readers are women and 45% are men.
The TOP 30 countries my blog readers come from: USA, Philippines, United Kingdom, Slovakia, Malaysia, India, Canada, Germany, Australia, Singapore, Thailand, Spain, Czech republic, Mexico, Serbia, Netherlands, Italy, France, Indonesia, Israel, United Arab Emirates, Ireland, Switzerland, Panama, Saudi Arabia, Sweden, Japan, Romania, Belgium and Hong Kong.
Demographics of readers from top 10 countries from the 3rd September 2017 from Google Analytics:
Demographics from May 2016 from Google Analytics: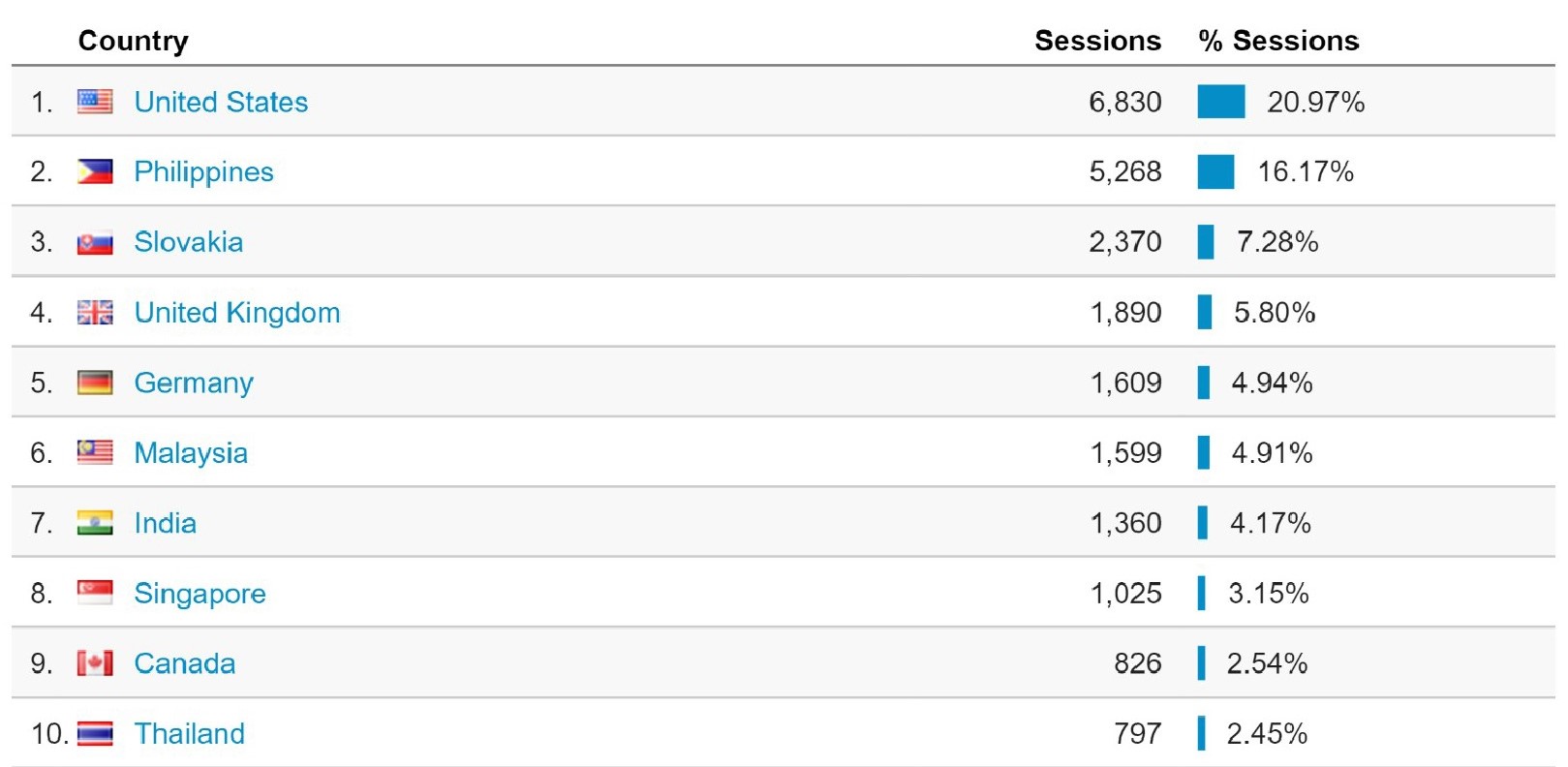 Demographics from March 2015 from Google Analytics:
My Instagram statistics
I usually post 1 to 7 posts on Instagram per week
I get from 40,000 to 70,000 impressions per week
I reach more than 4,000 IG accounts per week
My IG account is seen more than 1,700 times per week
60% of my followers are men, 40% are women
Most of my  IG followers are 25 to 34 years old, then the second biggest group is 35 to 44 years old. The overall age range is from 13 to 65+
I have many IG followers from Slovakia, United States, India, United Kingdom, Indonesia, and Czech Republic
TOP cities my followers come from: Bratislava (Slovakia), London (United Kingdom), Snina (my home town in Slovakia), Prague (Czech republic), Kosice (Slovakia)
Target of Crazy Sexy Fun Traveler
Most of the loyal and engaged readers are those who are really interested in travel, as well as photography and videos, who do travel, find the reason of life in traveling, go on holidays often, or who are just thinking about traveling and planning their trips. Many of the topics are covered on the blog, including:
luxury travel
travel in style
adventure travel
sports enthusiasts
wellness, spa, swimming pools, massages – relax vacations
yoga and healthy lifestyle
raw vegan courses, vegan products (both food and cosmetics)
crazy fun adventures
beach holidays
eco-tourism
archaeological sites
boat, ship, airplane travel
travel accommodation
travel photography
travel videos
travelers
gap year students
solo travelers
female travelers
traveling with friends and family
travel blogging
quit their boring job and start traveling
travel around the world
dream about travel
travel tips about places to visit and things to do
trip planning
domestic Slovak holidays
international travel
Reader testimonials
Crazy Sexy Fun Traveler is inspiring people to travel, plan their trips and also dream about traveling if they cannot travel themselves right now. The travel blog as well makes people to visit the same places and do the same things that Alex has written about
Here are some testimonials of Crazy Sexy Fun Traveler readers:
" Inspiration! Living my life through you while I can't travel myself! And you have such a great way of writing!" said Ida from Denmark.
"Alex, you put a lot of yourself in your blog, which really makes it much more "real." Many bloggers write about interesting places, but leave out the life stuff, making them rather dry. You don't have another one of those dry blogs saying "I was here and here and here." It would be great if we cross paths sometime in our travels. Besides you are inspiring to bloggers like me, who are struggling to carve out more time to write and dream of finding that freedom someday. You also make me fondly miss my Slovak friends!" said Andrew from the USA.
"Found your blog through Wandering Earl. Really enjoying reading through your journey in Chile. I plan to move there very soon and hopefully find a job as an English teacher. Anyway, look forward to hanging out here more often" said Amit from India.
"I must say, you truly inspired me with your travels and adventures. You are living my dream, which is to travel and go to places I dream to visit one day. I'm from the Philippines and I just started my passion in travel when I accidentally bumped into one of the hidden beaches here..I realized, the world has so much to offer. There's one article I've read from you about being stuck in front of the desktop and complain about life, that's just so true. You are such an inspiration for new peeps like me.. I hope you could visit here in Phil, I'll be happy to join you on the road. Be safe and Keep those great articles coming!" said Jazz from the Philippines.
"Your blog is fresh, fun – just like you! Your stories always make me smile :)" said Leyla from Canada.
"Reading my dear friend's blog "Crazy Sexy Fun Traveler" gave me the courage to pursue my dreams and passion. The fact that she's the one who inspired me to quit my job and pursue my passion long term traveling is such a big deal and risk I took . One heck of a crazy decision but now I am more free-spirited and spontaneous in life because of her :)" said Jason from the Philippines.
"I can see the world via the similar eyes like mine" said Jana from Slovakia.
"You have great sense of story telling, simple and clear. The writings clearly coming from your heart touch the heart of blog followers like me. It's inspirational too. Keep up the good work" said Vinay from India.
In Spanish: "I just found your blog and I really liked it. Espero que regreses pronto a Mexico y en especial a Oaxaca de donde soy originario. Buena suerte en todos tus viajes, estare al pendiente de tus posts." said Martin from Mexico.
In Slovak: "Ahoj Saška 
 Tútu stránku som našla v podstate náhodou cez Seattle´s travel a už len čo som ju otvorila, som si všetko čítala s otvorenými ústami a s iskrami v očiach 
 Mám 20, akurát som doštudovala 5-ročku, hotelovku a o mesiac oficiálne štartujem svoje túlanie po svete a začínam v Holandsku, kde budem rok pracovať ako au-pair. Okrem toho mám len skúsenosť so Španielskom, kde som žila pol roka a také tie klasické dovolenky. Ale akonáhle som začala čítať to tvoje… ochhh 
  Po skončení práce au-pair by som chcela ísť študovať do Nemecka a môj naj naj naj sen je pracovať ako letuška, čo si už absolvovala… Chcem Ti povedať len to, že si môj najväčší vzor, každý článok na tvojej stránke doslova hltám a želám ti čo najviac úspechov, nech sa ti splní všetko čo si želáš do poslednej bodky, nech si šťastná a ďakujem ti strašne moc za takúto úžasnú inšpiráciu!!! Good luck!!! 
 " said Susi from Slovakia.
Press trips and partnerships
Alex attends press trips regularly every month. She has worked with many tourist boards, PR agencies, travel agencies, hotels, hostels, apartment rental companies, local tour guides, transport providers, spas, clothes and jewelry brands etc. in different countries around the world. You can find the full list of all the sponsors here.
Some of the press trips Alexandra plans herself and attends alone, some are planned by tourist boards for her only, some with other bloggers/journalists and the rest are group press trips.
Alex writes about all the press trips she goes on with photos (sometimes with videos too), publishes them on Crazy Travel Fun Traveler blog and shares on all her personal and blog social media sites.
Some of the press trips I attended:
Vung Tau in Southern Vietnam February 2020
Tours in Tenerife, Spain in November 2019
Jizerske hory, Czech republic in August 2019
Zahorie, Slovakia in May 2019
Visit Carpathia around Poland and Slovakia in September 2018
Zitny ostrov (Rye island) in Slovakia in August 2018
different wellness hotels around Slovakia and Czech republic in 2018
Levoca and U Leva, Slovakia in June 2018
Thermal Sirava, Horizont Resort, Slovakia in June 2018
Aquaworld Budapest in May 2018
Central Slovakia – 5 days with Central Slovakia tourist board in April 2018
Yoga teacher training – a 25-day training at Preksha yoga ashram, Goa, India in March 2018
Deccan Odyssey luxury train, India – a week with the Ministry of Tourism o India in March 2018
Rodrigues, Mauritius – a week trip with Rodrigues Tourist Office #rodriguestourism
Iceland – 4 days of trips around Iceland in November 2017 with Trablin and #TISiceland
Romania – 2 weeks of traveling around Romania with Experience Romania in October 2017 #experienceromania
Maldives – 27 days in September and early October 2017
Kosice region in Eastern Slovakia – big #UNESCOnadosah campaign in June 2017
Jerusalem in Israel – March 2017
Eilat in Israel – March 2017
Kuala Lumpur – February 2017
Thailand – January 2017
Karlovy Vary, Cheb, Loket in Czech republic – November 2016 with Czech tourism and campaign #K700
Philippines – October and November 2016
Eilat in Israel – September 2016
Finnish islands – July 2016 #Finnisharchipelago
hotels in Slovakia – March, April, May 2016
Bali – November 2015
Phuket and Northeastern Thailand – October 2015
Palestine and Israel – August and September 2015
Neamt county, Romania – August 2015
Russia – May/June 2015
Costa Brava and Costa Daurada, Spain – May 2015
Bucharest – April 2015
Ayurvedic spa – March 2015
Kerala Blog Express trip – March 2015
Oasis Sens Cancun – October 2014
Playa del Carmen – October 2014
Divi & Tamarijn, Aruba – October 2014
Xcaret, Xplor, Xoximilco, Xenotes – September and October 2014
Muay Thai boxing in Bangkok – September 2014
El Taj Oceanfront, Playa del Carmen and Riviera Maya with Housetrip and Viator – September 2014
Salamandra and Sliezsky dom hotels – July and August 2014
Hidden Garden – May and June 2014
Congo Bongo, Tierra de Sueños, Cariblue Hotel , Puerto Pirata Deli, Chile Rojo – May 2014
Blue Osa – March 2014
Panama City, Embera Tribe, San Blas islands, Bocas del Toro islands – February 2014
Ottawa, Quebec, Mount-Saint-Anne, Montreal – June 2013
Niagara Falls – June 2013
Peterborough and Kawarthas – June 2013
Teotihuacan, Taxco, Cuernavaca – May 2013
Baja California – May 2013
Exploring San Francisco – April 2013
Las Vegas and Grand Canyon – April 2013
Mediterranean MSC Preziosa cruise – March 2013
Caldes de Malavella and surroundings trip – March 2013
Costa Brava trip – March 2013
Adventure and spa on St. Kitts and Nevis islands in the Caribbean – 26th Feb to 6th March 2013
Spa vacation in Bratislava – February 2012
Adventure around Liguria with Turismo Liguria – October 2012
Surf and Turf trip around Costa Brava with Costa Brava Tourism – September 2012
Nuria Valley with Costa Braca Pirineu de Girona Tourism – September 2012
Geo and Medieval trip around Northern Portugal with Porto and Northern Portugal Tourism Board – September 2012
Exploring Budapest with Hungary Tourism – September 2012
Adventures in Low Tatras with Stupavska Krcma v Snine – August 2012
Exploring Cape Cod with Cape Cod Tourism – July 2012
Exploring Boston with Charles River Boat and 40 Berkeley – July 2012
New York City attractions with Citypass – July 2012
Sex and the City hotspot tour with On Location tours – July 2012
Exploring Bratislava with Be free Tours – June 2012
Sailing around Bocas del Toro with Bocas Sailing – May 2012
Yoga in Panama with Bocas Yoga – May 2012
Rafting in Costa Rica with Exploradores Outdoors – May 2012
Adventures on the Caribbean Coast of Costa Rica with Terraventuras – May 2012
Uyuni salt flat with Oasis tours – April 2012
Bolivian Pampas with Indigena tours – April 2012
Atacama desert with Terra Extreme, Andes Expediciones, Layana and Bicy Adventures Atacama – April 2012
Experiencing Tierra del Fuego with 3X Expediciones – March 2012
Getting to know Peninsula Valdes and Punta Tombo with Ryan's Travel – February 2012
Exploring Langkawi island with Maha Kim's tour guide – November 2011
Exploring Palawan island with Panglima Tours – November 2011
Exploring Koh Phangan beaches with Phangan Navigator – October 2011
Exploring Angthong Marine National Park with Safari Boat – October 2011
Mayan ruins of Coba with Welcome Incoming Services – May 2011
Oaxaca state with Oaxaca Mistico – April 2011
Adventure in San Jose Iturbide with Consejo Turistico de San Jose Iturbide – March 2011
Other partnerships
Crazy Sexy Fun Traveler is available for different kinds of partnerships, only if they fit the brand.
Alex also writes reviews about different accommodation around the world
travel gear for reviews
public speaking engagements – about travel, blogging, inspiration, marketing, working with brands/tourist boards, social media
coaching –  on travel, blogging, inspiration, marketing, working with brands/tourist boards, social media
interviews, TV and radio appearances
contests and giveaways for Crazy Sexy Fun Traveler readers
social media features and shares
brand ambassadorships
PR promotions
representing the company at events
campaigns
other partnerships
To find out about different forms of partnerships with Crazy Sexy Fun Traveler and how we could both help each other, please contact Alex via email at:
crazysexyfuntraveler (at) gmail (dot) com