Top 5 things to do in Budva riviera Montenegro
Budva Riviera (Budvanska Rivijera) is a 35 km long coastline in the Adriatic sea around the Budva in Western Montenegro. Many people have heard of Budva town and also Sveti Stefan island which is very popular for rich people. But there's a lot more to see and do in the area. I spent 5 days there with my best girl friend in the end of August 2018 so here's my list of top 5 things to do in Budva riviera Montenegro.
5 things to do in Budva riviera
1. Relax on the beach
Going to the sea and NOT spending time on the beach? For me, that's mission impossible. Being a big beach lover, my main reason for visiting Montenegro was the beach, obviously. In 5 days there we visited 5 different beaches: Petrovac, Lucice, Buljarica, Hawai and one small beach in Budva on the left side of the Old Town. I don't even know the exact name of that beach. Here's what I think about those 5 beaches I spent time at:
the main beach in Petrovac was really crowded when we visited. I guess there were not only tourists, but also many locals. It was difficult to find a place for towels, and the sea was a bit wavy for my taste. With less people it would be quite nice, tough. But still, better than no beach. And unlikely to me, some people enjoy crowds so if you are one of them, you would love Petrovac beach.
Lučice beach is located approximately 15 minutes walking to the South of Petrovac. The beach is divided into 2 parts, the closer one to Petrovac has umbrellas and sunbeds to rent and you can only stay there if you pay. And the part more to the left (South) is free of charge but you need to bring your own umbrellas and chairs or just towels. The free one is more packed. We found a nice place in between the sunbeds on the paid part of the beach and the guys collecting money wanted to kick us out if we didn't pay even though we had towels on the stones and not sunbeds. So in the end we paid, put towels on the sunbeds and stayed there for the rest of the day. The beach was nice, and thanks to clear water I even managed to see a lot of fish there.
Buljarica beach is situated maybe a 30-minute walk South of Petrovac. You pass Lucice and then the next beach after the steep hill is Buljarica. The beach is a lot bigger than the previous 2 beaches and it's the biggest out of the 5 beaches I mention on this list. We stayed directly on the right side of it (North), close to the beach entrance. The sea was a bit more shallow than Lucice beach. There were few people, the water was crystal clear, it was less noisy and there was even a free WC and showers. On the Lucice beach you had to pay for toilets. And there's also a small restaurant with good prices for drinks and snacks if you'd like to hide in the shade at lunch time.
Hawai beach is located on the island called Hawai, which was originally named Saint Nicolas island (Sveti Nikola in Montenegrin language). If I am not mistaken the island has 3 different beaches. Our boat left us at the beach furthest from Budva where Pod Murvom restaurant is situated. Frankly, I fell in love with the beach. There's sunbeds to rent and you can go easily swimming as you enter the sea directly from stairs and not slowly from shallow water to deeper.
Budva beach was not the nicest. Well we did not go to the main Budva beach just outside of the Old Town but to the small one next to it. Let's say it was ok to cool down after a few hours of strolling around the Old Town in the biggest heat. But it was not my favorite beach. There was just little space for towels and quite packed. But as I've said, better than nothing if you are in town.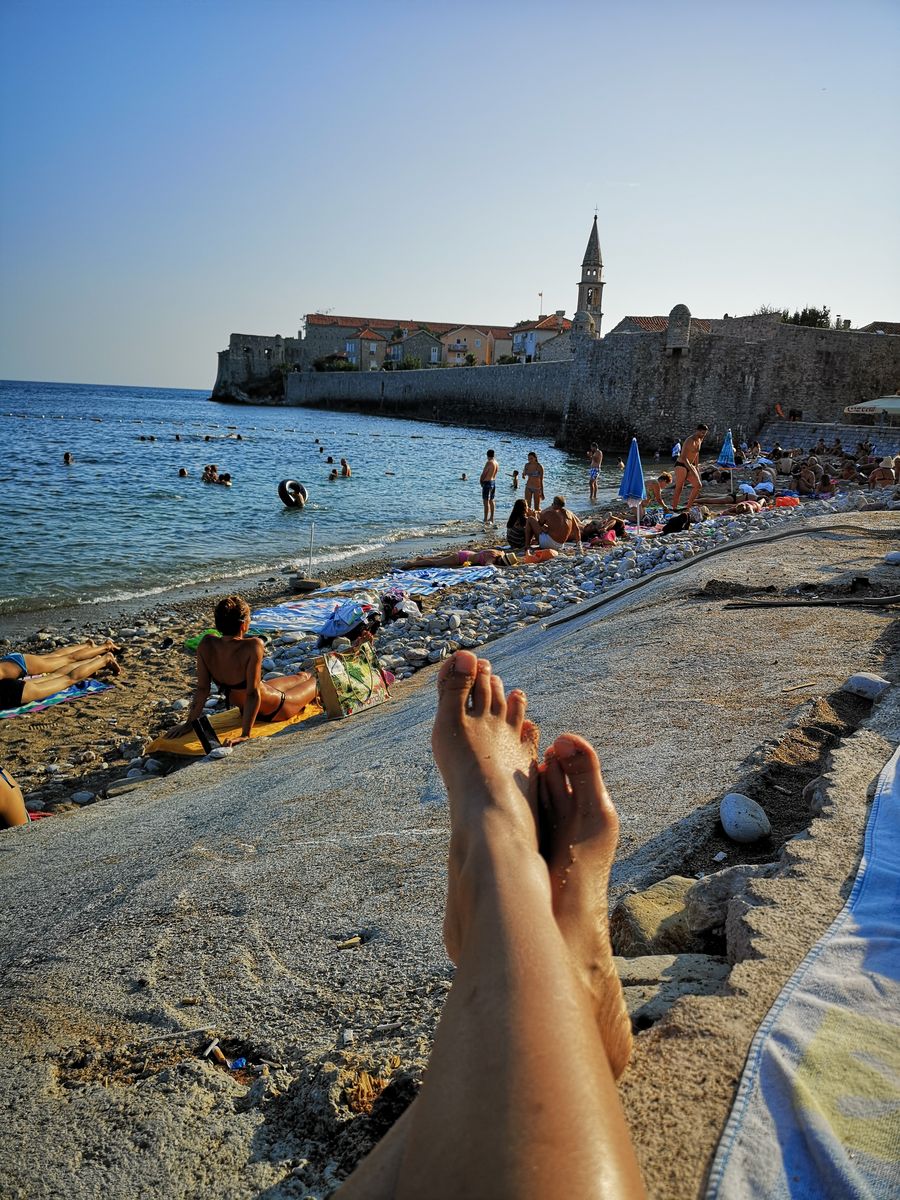 2. Boat trip
The best way to explore the Budva Riviera is definitely by boat. In Budva town you can rent a boat with a captain who will take you to the best beaches or islands. Or you can just spend time chilling on the boat. Your choice. On our trip we managed to see more beaches and islands from the boat: Jaz beach, Hawai island, Sveti Stefan island, Kraljeva plaža (translated as King's beach in English), Kraljicina plaža (Queen's beach in English), Pržno, Kamenovo, Bečiči and Slovenska plaža (Slav's beach). 
Don't forget to ask your boat captain to show you one of the caves. There's many along the Budva riviera.
There's 14 islands in Montenegro. Most islands are named after a Saint as there's usually a church dedicated to the Saint on the same island.
And speaking of boat trips, one of the stops you should make is on the Hawai island which brings me to the next point on this list. Read below.
3. Lunch on Hawai island
Hawai island, originally called Saint Nicolas is the bigget island in Montenegro. There was a disco which was called Hawai so now the whole island is named after it. But the original name was Saint Nicolas because of the small white church dedicated to Saint Nicolas built there in the 11th century. The church was reconstructed so the one we see nowadays dates back to the 19th century. The island has never been inhabited by people, only by animals.
There's a small beach with a really good Pod Murvom restaurant. Murvo means a mulberry tree. There's many mulberries growing on the island, hence the name of the restaurant. It's not overcrowded so compared to other beaches on the main land it's nicer and more private. It's possible to go on a water taxi boat from Budva port to Saint Nicolas island. The island has 2 other restaurants where we did not have time to eat but the food at Pod Murvom was finger licking so I can highly recommend it! They made really good vegan risotto for me. I would not expect such a yummy vegan meal on a small island, not at all.
4. Budva Old Town
With approx. 2,500 years of history, Budva is one of the oldest towns on the Adriatic coast. Originally, Old Town had 4 main gates, one for each side of the world. However, more gates were added, one also going to the beach. The Old Town walls date back to the 15th to 17th century.
Let me tell you… I could stroll around the Old Town streets for ever! So magical! Old Town was originally a small island but then over centuries because of sand and wind it became a peninsula naturally. Same happened with Saint Stefan island. 
Budva has approximately 20,000 inhabitants in winter and maybe even more than 200,000 people in summer.
5. Walk around Petrovac
With my best friend we stayed in Petrovac village at 
Hotel Duric
. It's not super luxurious hotel I am used to, but it's rather lovely. It was built in Mediterranean style and guests can enjoy a small swimming pool. Hotel Duric is a family hotel so they will try to take a good care of you. They tried to accommodate my vegan needs for both breakfast and dinner.
Staying at Petrovac meant it was there were we would go for an evening walk after dinner every night. The Petrovac pedestrian zone along the beach is marvellous, with a lot of restaurants and good atmosphere. You might even find a local performer at the street or live music at one of the restaurants. I recommend you to walk until the end of the beach on both sides.
And I have to admit that I was super happy for having found vegan ice cream at one of the ice cream places along the pedestrian zone. They had yummy chocolate, and different berries. Quite a few options to choose from so every night after dinner we would walk there with my best friend to get ice cream as a dessert 🙂
---
---
TIP: Local Mediterran express bus runs along the Budva riviera if you don't want to take a taxi. 
---
---
For more information, check Budva Travel website. I have to say I was nicely surprised with what Budva riviera has to offer. If you need a good guide in the area, I recommend Mrs. Iva Dukic. She was awesome! You can contact her via ivadjukic@t-com.me 🙂