Adventure and Spa
As you may have noticed, I do love two things when traveling – adventure for adrenaline rush and spa to pamper myself so I decided to do Adventure and Spa project since 2013. I am visiting destinations around the world and get the best fun adventures and spa treatments to spice up the crazy travel with sexy photos. Follow along on Twitter or Facebook with #adventurespa hashtag.
Aim
to show people that traveling can be both adventure and relax and there's no need to do just one thing
it is good for both your physical and mental health
adventure and spa are very different – it kills the boredom
necessary for all of us – the energy you waste during adventures you gain back relaxing in a spa
show travelers/tourists almost every place can be a great adventure spot the same as a relaxing vacation one
Reasons
combine my experiences from healthy lifestyle consultant job with ex-stewardess job and what I learned on the road
write about all the things I do when traveling and not just about one part of my trips
make my blog for readers who are looking for a relax vacation and also those who need adrenaline – reach bigger audience
because I personally do both too
Adventure travel is now 16% of the total world travel market

Wellness is a $500 billion industry in the world and growing

Wellness coexists in harmony with other industries, it's timeless
What counts as adventure?
hiking, crazy animal encounters, boat trips, cruise, motorbike trip, snorkeling, skydiving, paragliding, ultra-light flight, helicopter ride, zip line, hot air balloon, zorbing, horse-riding, camel-riding, 4×4, mountain bike, parasailing, wind tunnel, hang gliding, shark cage diving …
What counts as spa?
spa treatments, wellness, sauna, massages, a wellness and spa hotel, maybe also yoga, fitness and swimming pools, ayurveda, hot springs …
Destinations 
Beside the destinations known for both adventure and spa (Costa Brava), I would love to visit destinations that are famous for adventure only and show they have great spa there too (Jordan, Canada), or vice versa are known for wellness but there are a lot of adventure sports or animal encounters there too (Los Cabos). Also to give a new idea to travelers, I will visit a few destinations which are not really known for spa nor adventure and show them they can do both things there (Berlin, Albania).
Partners
I will be working with a lot of great partners on this project, from tourist boards, luxury hotels with spa, villas, travel providers, booking websites etc. I personally trust all of them and have used their services/products/gear so I can recommend them.
I got the newest Drift HD Ghost camera to film my adventures and extreme sports when wearing a ScotteVest hoodie, and will also get worldwide adventures with GetYourGuide in more destinations.
2013:
January: Slovakia – the highlight is spending 6 days in Bratislava and getting pampered in Sheraton hotel.
20th – 22nd February: Serbia – I visited Belgrade to attend International Fair of Tourism.
23rd – 25th February: Back to Bratislava, Slovakia for some final meetings.
26th February – 5th March: Caribbean, baby! St. Kitts and Nevis islands were amazing!
6th – 11th March: Germany – in Berlin staying in PLUS Hostel and attending ITB.
11th – 22nd March: Spain – Costa Brava with a lot of adventures (boat trip charter Sant Isidre and wind tunnel with Windoor RealFly) while staying in Charming Villas and a castle.  Then a few days pampering myself in Terraza hotel in Roses and visiting Caldes de Malavella again while staying in Balneario el Prats.
23rd – 29th March: Italy, Tunis, Spain – I finished the month with the MSC Preziosa cruise around the Mediterranean leaving from Genoa, stopping at Naples, Messina, Tunis and finishing in Barcelona.
April: USA – 1st to 7th April in Salt Lake City, 7th to 17th April getting a bit crazy in Las Vegas and Grand Canyon with Vision Holidays, 17th to 28th April exploring as much as I could in San Francisco with San Francisco travel and I also visited the Yosemite National Park with Extranomical tours. Then 28th April to 8th May relaxing and catching up with work in the Napa Valley.
8th – 30th May: Mexico – after 2 fast years I will return to my favorite country in the world. This time I will visit Baja California I have always dreamed of. Yes, relax in Los Cabos (amazing hotels Marina Fiesta, Hacienda Encantada and Hotel California in Todos Santos), La Paz and then a few days again in Mexico City, Cuernavaca, Taxco and revisiting Teotihuacan I love.
31st May – 23rd June: Canada – I started in Toronto which I visited for TBEX conference and after spending a few days exploring Toronto and surroundings, went to Peterborough and Kawarthas and then I finally saw the stunning Niagara Falls from the ground and as well from a helicopter. Then off to Ottawa, Quebec, Charlevoix and Château Mont-Sainte-Anne 4* hotel in the mountains. I ended my Canada visit in Montreal.
24th June – 1st July: Italy – I spent a few days in Emilia Romagna and getting beautiful in their spas. After Bologna and Rimini I also spent a day in San Marino.
July to December: mostly Slovakia where I was writing articles and a Slovak ebook about how to stay fit when traveling
2014:
31st January – 2nd February: Panama capital and Embera village tour
3rd – 8th February: Cariguana Spa in Valle del Anton – I will help them with FANLYC (Fundacion de AMIGOS del niño con leucémia y cáncer) event; also Canopy Adventure with Canopy Tower
9th – 12th February: Panama City tour; Monkey island tour and Wounaan village with Barefoot Panama and GetYourGuide; spa treatments at Alta Vita Spa
13th – 14th February: Jungle Adventures Panama tour in Kalu Yala
16th – 18th February: San Blas islands with Cacique Cruiser
21st – 24th February: Red Frog Beach Resort, Susurro spa and zipline on Isla Bastimentos, Bocas del Toro
20th, 24th – 28th February: Bocas Yoga and Danuta's Healing on Isla Colon, Bocas del Toro
March: Costa Rica
1st – 8th March: yoga retreat with Exotic Yoga Retreats at Blue Osa. Other retreats at Blue Osa until the 12th April.
12th – 27th April: back to Bocas del Toro and Bocas Yoga, Reiki with Coloreando Auras
27th April – 9th June: Puerto Viejo and Manzanillo area, Costa Rica – working with a lot of hotels, such as Cariblue, Hidden Garden, Tierra de Sueños, again Congo Bongo villas, and also Puerto Pirata Deli restaurant
Since 11th June: Slovakia, Czech republic, Hungary, Ukraine, Poland (Salamandra Resort, hotel Sliezsky dom)
6th – 19th September: Mexico (Cancun for TBEX conference; Playa del Carmen, Isla Contoy and whale sharks snorkeling with Housetrip and Viator, Isla Mujeres with Cancun Travel, all inclusive Hacienda Tres Rios stay, Xcaret park)
21st – 27th September: Thailand – Muay Thai boxing in Bangkok with the Tourism Authority of Thailand TAT
30th September – 4th October: Aruba with Adams PR and the Divi & Tamarijn Aruba All Inclusives
October: Quintana Roo in Mexico – Sabbia Condos Playa del Carmen, parks Xoximilco, Xplor, Xenotes, Oasis Sens Cancun
December: Prague – Thajsky raj spa
2015:
March: India
April: Romania, Spain
May: Costa Brava (Spain) and Russia
July: Egypt
August: Romania
September: Israel and Palestine
October: Thailand
November: Bali
2016:
January to June: Slovakia
July: Finnish islands
September: Israel with the Israeli Ministry of Tourism – Eilat, Tel Aviv
October: Philippines with the Ministry of Tourism of Philippines – Coron, Malapascua
November: Czech republic with the Czech Tourism – Sheraton Prague, Karlovy Vary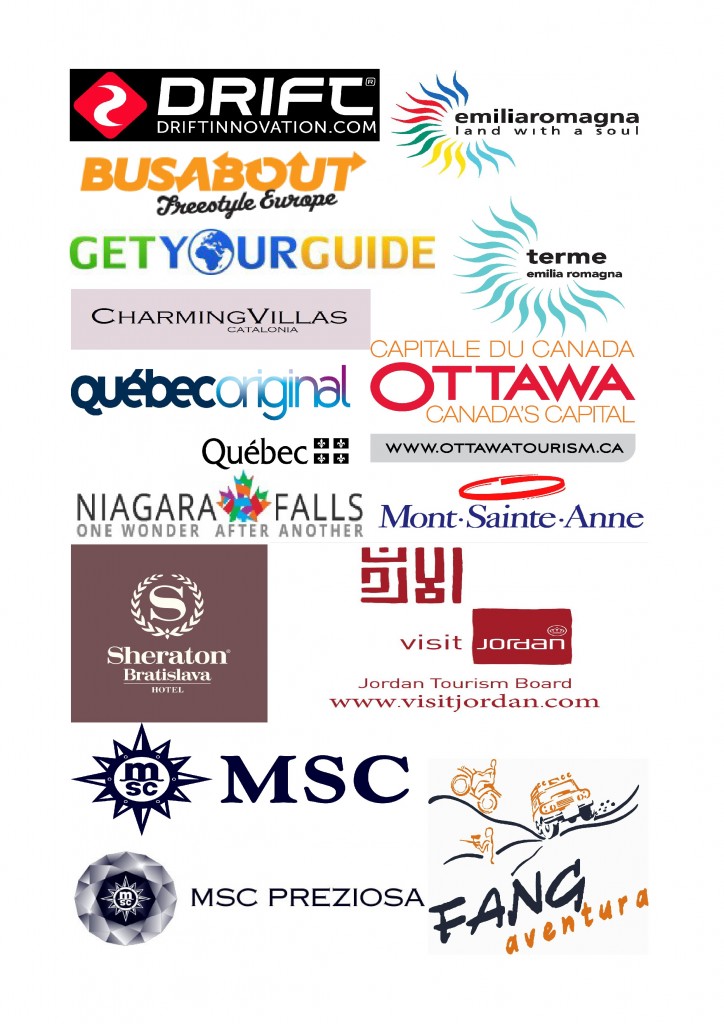 Any more ideas which destinations would fit the project idea?