My stay at Chateau Mont-Saint-Anne
As I am not a skier myself (the only time I tried skiing years ago I almost broke my leg and have had meniscus problems ever since), I'd never heard of the famous-for-others Mont-Sainte-Anne until I received an email one day I should visit it.
Open to any ideas, I gave the place my shout in June 2013. I know, it was summer over there but there are uncountable things to do in Mont-Sainte-Anne in summer, too. I spent 3 days at the 4* Chateau Mont-Sainte-Anne. When I saw the fresh fruit covered with chocolate waiting for me in my room, it was a sign of a great time 🙂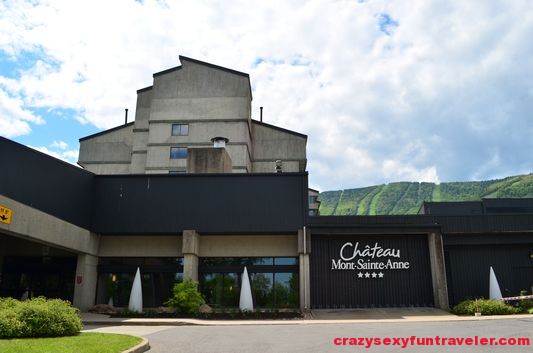 Why I liked my stay at Chateau Mont-Saint-Anne:
big room – I had 2 double beds, kitchen, a table, huge TV, a very pretty painting just next to TV (with birds calming me down – I only looked at this picture and did not watch TV at all, it was way nicer). Free toiletries and a hair dryer in the bathroom were a must. I also enjoyed the pretty balcony where I sat for a while when travel blogging. Aw, and a small tip – I was drying my underwear on the air con. After an hour it was dry!
a lot of leaflets about the activities and other services in the hotel and the area right in my room
Spa Chateau – located on the main floor just next to Bistro Le Nordik offering a list of very cool massages and other spa treatments. For the first time in my life (I know, I still cannot believe it was my first!) I had a chocolate massage and it was SO yum I even wrote a whole article about it 🙂
breakfast included – let me tell you, it was delicious indeed. You could choose from many healthy options, such as fresh or even canned fruit, and then less healthy meals – traditional American breakfast I think with sausages, bread, toasts, sweet chocolate bread, eggs, ham, beans etc. The first morning I tried started with fruit and covered it with hemp seeds I brought with me, and then also tasted a bit of some unhealthy options. The following morning I only had a few plates of fresh fruit – different kinds of melons, grapefruit, apples etc. – great to stay fit when traveling, especially when recovering from sinus infection and fever I had a few days ago.
Bistro Le Nordik – Nordic cuisine in the stylish bistro a few metres from the Chateau Mont-Saint-Anne reception. On my first day I had lunch there and just had to try very typical sandwich with french fries you can find all over Canada. I am not a fan of these meals as they always remind me of unhealthy fast food but this one to my surprise was very tasty, indeed. I also had a 4-course dinner at Bistro le Nordik – a vegetable soup, pasta appetizer, fish with quinoa and veggies and a chocolate dessert. Not sure which of those were based on Nordic cuisine, or if all four, nonetheless they were all melting on my tongue with fresh flavour.
the outdoor swimming pool and 2 all-year jacuzzis – being able to indulge in the natural atmosphere of hot water surrounded by the mountains? Not much more has to be said! I just wish the weather was even nicer when I was there to hang out by the pool more.
the indoor pool and gym – in case you want to work out or it's just too cold for the outdoor pool
Zebo Cafe-gourmet 

shop on the main floor with the basic things so you don't need to leave the hotel
there's also a movie room and the hotel is animal friendly
My stay at Chateau Mont-Sainte-Anne was part of my Adventure and Spa project organized by Chateau Mont-Sainte-Anne and Mont-Sainte-Anne tourist board. Many thanks to everyone who helped me with it. I can still smell the beautiful chocolate.
***It took me 4 hours to write this post.