Scuba diving in Goa -know the aquatic life
Are you crazy about scuba diving? If yes, then Goa will never disappoint you. The city is known for an ample number of spots for scuba diving, with alluring beaches and energizing islands. Despite being the small state, Goa has earned its name as the best adventurous destination in India because of its exciting water sports.
However, among all the adventurous activities, scuba diving is the most popular one. Divining in the sea will not only captivate you but also be a memorable time for you. If you are booking cheap flights from Mumbai to Goa or any other city to Goa, then be ready to meet various fishes, lobsters, flora, and coral reefs.
Best spots in Goa for scuba diving
Let's highlight some of the famous spots for an underwater splendid and stimulating experience. Greet the stunning creatures present underwater and see them closely.
Grande Island
This is the most popular scuba diving spot in Goa. Located in South Goa, this exotic island receives many tourists each year to enjoy the stunning underwater life. Usually, divers go with instructors through a boat to dive. Here on this beach, visibility is very clear, and there are shallow places for babies or first-time divers.
Uma Guava Reef
The dive site of this beach ranges from 6 meters to 12 meters. Divers can find colorful tunas, turtles, sharks, and snappers in this area. This spot is in the vicinity of Grande Island and is popular among regular divers. Because of its clean water, scenic splendor, and various types of fauna, this place is ideal for scuba divers.
Malvan Island
This island is only two hours drive from Goa airport and is known for its calmness and lush-green backwoods. This beach hasn't commercialized like others, but the silence of this beach makes it ideal for deep divers.
It's a lovely white sand, and tourists can reach the scuba diving spot by boat. The beach contains some spots whose depth ranges from 5 meters to 25 meters. Because of this beach's calmness, it becomes easy for divers to see lobster, panfish, colorful corals, and beautiful marine life.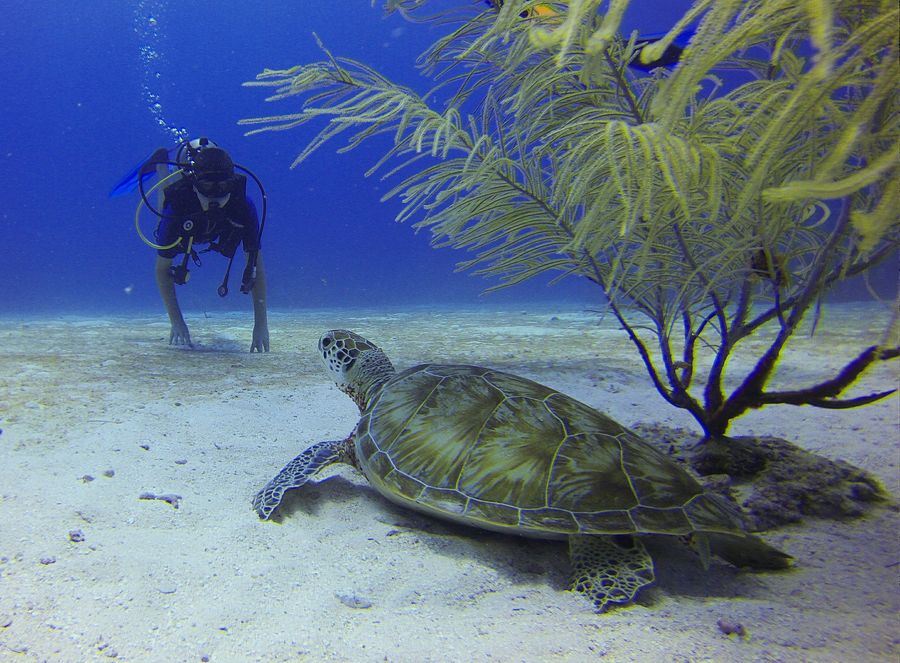 Nagoa
This sport welcomes both amateur and experienced divers. Known for its clear visibility in depths, you can see extraneous varieties of fish. Nagoa is located only 17 kms away from Vasco De Gama and the ideal time for scuba diving is from October to May. The cost for scuba diving at this place is around Rs. 5000/- and this is the average cost of scuba diving in Goa. This makes this place ideal for budget travelers.
Calangute Beach
Get an exquisite experience of scuba diving at this beach. You can see coral and other underwater species under this beach, making your diving an exciting one. In addition, experienced divers will be present on the beach, which can help you in making your first scuba diving a memorable one.
Baga Beach
Undoubtedly, Baga Beach is the most renowned beach in Goa. Always packed with tourists and adventurous sports, this beach also contains few spots suitable for scuba diving. This beach is especially good for people diving for the first time. This is the safest beach in Goa; dive on this beach to enjoy the underwater life.
Under this beach, there are intriguing coral and several types of Goa floral. Sometimes you may find dolphins playing underwater. 
So, are you planning to visit Goa in the coming vacations? Well! If yes, then don't think twice. You will surely enjoy the adventurous places of this city along with seafood and beaches.