Kerala Kalamandalam – the leading University of art and culture in India
On our way from Muziris to Wayanad we had a chance to visit Kerala Kalamandalam dance school.
To be honest, I thought it was not going to be very interesting but I was proven wrong as soon as we entered the property. Not only the Manager was really sweet taking us around and explaining the basics about the different arts, but we could also enter some classes and see how the students learn music and dance there in practice.
We were told that it's difficult to find dance schools where you can take photos so we used every chance we got to video record it as well.
Interesting facts about Kerala Kalamandalam – the leading University of art and culture:
Kala means art
Mandala means circle
Founded 100 years ago, the school can hold around 400 to 500 kids which learn how to dance and play unique traditional instruments. Some of the instruments can be found only here in Kerala.
Once they complete 8 years of studying, they graduate. It takes another 2 years to get a postgraduate degree.
Students not only train, but also live here as the first training starts at 4.30 am.
It's necessary to pay to study at Kalamandalam school but sometimes even up to 85% of the students can be here thanks to scholarships paid by the Government.
All students have to specialize and pick a certain kind of dance, costumes and make-up art, or musical instruments they want their studies to focus on. It's not possible to study music and dance just in general.
The school trains both female and male students between the age of 11 to 20.
One of the most interesting classes we saw was for sure the Kathakali (the famous dance with the green/red face mask.)
To learn dance such as Kathakali that is taught here, your body has to be very fit and know how to control all the muscles. It was truly incredible to look at the guys making the weirdest facial expressions ever.
You could just get a glimpse of the story from their faces even without knowing what the whole dance was about. At some point I spotted a guy moving just one muscle next to his mouth and I never even knew we had that muscle there! Unbelievable!
Out of 400 recent students approx. 20 boys are playing drum instruments.
I cannot really tell which of the classes got my biggest attention. When listening to drums I felt never-ending energy going from one cell to another all over my body. But then I could not stop giggling when observing the facial expressions of the dancers using the hidden muscles.
And least but not last, the female dancers performing with little buckets with water on their heads while jumping around on those metal plates? Wow, they definitely left me speechless! I cannot even walk with a cup of tea in my hand without spilling it.
All I can say is I honestly admire all the students at Kerala Kalamandalam University as they chose a difficult career and it's going to take a lot of hard work and dedication at such a young age to really learn the details of the art.
To finish our visit we took a few minute drive to go to the old Nila campus where the postgraduates are now studying. There a group of girls wearing yellow and red sarees impressed us with their dance moves, and also two Brazilians from our blogger group danced samba to show the difference. The shy Keralites did not want to join them, however they at least showed Carla how to greet and start their traditional dance. The whole group had a great laugh when looking at them. What a perfect ending to our Kerala Kalamandalam visit, don't you think?
In the end, we also took a quick drive to visit the Postgraduate Nila Campus school.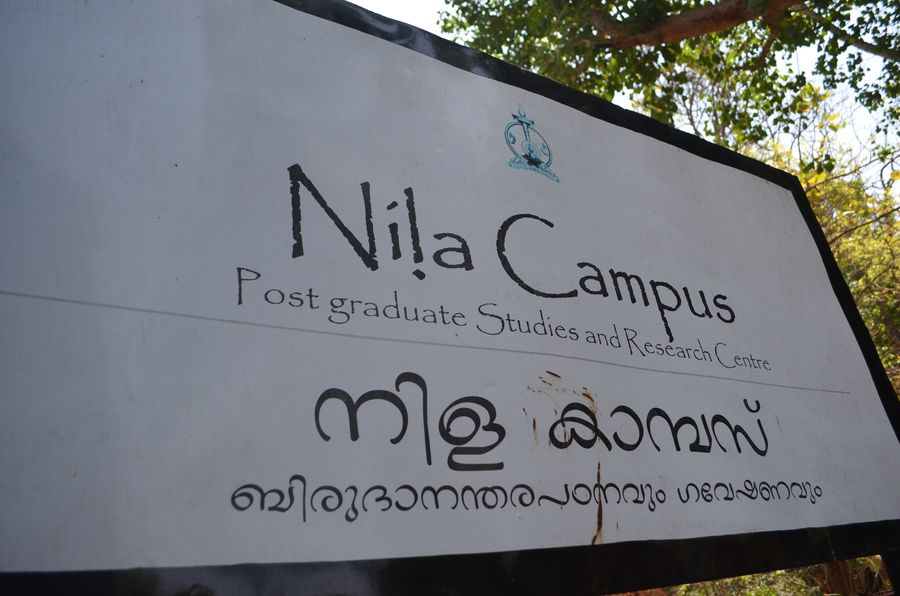 Paying a visit to Kerala Kalamandalam – the leading University of art and culture in Kerala was made possible thanks to the Kerala Tourism.  Thanks so much for such an interesting time!