Tips for transport in Mexico
Before my trip to Mexico, I checked online some places I wanted to visit, I had a route more or less. But did not know how to get from A to B. I decided not to use airplanes as the last 2 years of my life of a cabin crew, I spent a lot of time flying. So it meant, I could only use the water or land transportation during my 3 months in Mexico.
When I checked in Google my first 2 weeks in Mexico, just to know how to get from Mexico City to Querétaro and then to San José Iturbide, I did not find a page for trains in Mexico. Then I found out there is no train transportation in Mexico. Not for passengers, just cargo trains.
It all changed in the 90's when the train transport was sold by state government. Since then there are only 2 trains for passengers, one is touristic from Guadalajara to Tequila and it's very expensive, the other one is in the North of Mexico,  Chihuahua – Pacífico. Then there is just metro and so called tren ligero – light train (e.g. in Mexico City to Xochimilco.)
Long-distance buses
NO TRAINS IN MEXICO, so only BUSES are left then. For my biggest surprise, there are first class buses almost all over Mexico, which I used every time I could. They are much more comfortable, some of them have wifi on board; mostly in the central Mexico and ETN Turistar lujo gives you a bottle of water and a sandwich, or fruit in the morning for free.
Then the second class buses are cheaper of course, but take longer to get to the destination and no comfort can be expected. All the buses for longer distance have a toilet on board, those better ones have two toilets, one for women, one for men. All the short distance buses, connecting just villages are typical old buses like we have in many countries in Europe.

All long distance buses have TV screens and they play movies on board, especially some action movies, Disney movies and nature documentaries.
What I did not like is that the movies are played aloud, they do not give you the headphones (only once happened to me they did) so you can't sleep properly or do anything else in case you do not like the movie. Or, on the contrary, the movie is not loud enough so you don't hear anything if the road is too bad and the trip too noisy. And most of the time the movies are in Spanish, so sorry for those who do not understand it. But, on the first bus I took from Mexico City to Querétaro, the first movie ever for me was one of my favorite ones, the Twilight, so they got all my points.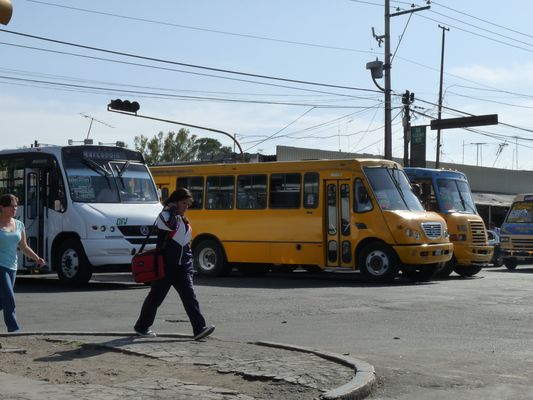 To buy the bus tickets, you can do it online at www.ticketbus.com.mx or go to the bus station or in the centre of almost every bigger town there are ticket bus shops selling the tickets. What I found very weird is that once, they did not let me buy a ticket at the bus station saying that the bus was DE PASO and not DIRECT so it was coming from Mexico City and could have some problems on the way or be delayed, so until the bus did not pull over at the bus station, they did not sell any tickets. It was during the busy Easter week when everyone was traveling around Mexico. So waiting a couple of hours for a long distance bus is possible in Mexico. But never happened to me, though. That day when they did not want to sell me the ticket, the bus came 20 minutes after that so I got the last ticket and fortunately got on board.
If you are sure about the date, time and destination, it is better to get the ticket before (if it is not one of the buses just mentioned above) and not just a couple of minutes before the trip as usually the waiting queue is huge.
At most of the bus stations, you have to wait in the waiting room until they announce (or literally shout) your bus is ready to leave. Then a person, usually some kind of a policeman, checks out your ticket to let you pass to the buses. I have never seen this in Europe, anyone can go to the buses to say goodbye or anything. However, in many bus stations in Mexico is not possible without a ticket. Almost always they let you pass just 10 or 5 minutes before the departure time.
If you need to leave a suitcase or a backpack in the hold of the bus, you get a ticket and you will have to show it at your destination to get the bag back.
All the long distance buses have air conditioning, but be prepared if you travel at night as it is freezing, take a blanket or warm clothes as the bus drivers say they cannot switch off the air conditioning. No idea why.
At some stops on the way, while the passengers get out and the new ones come, a guy comes on board selling some food and drinks. It looks so funny.
During a long trip, like the one I took from Playa del Carmen to Veracruz, we stopped in Villahermosa and had to get out of the bus for 30 minutes. The bus got washed and disappeared for 20 minutes. After being desperate of having left my suitcase and the bag inside, I finally found the bus parked somewhere totally different. And no one ever announced the bus was leaving. So be careful.
Public transport
Buses
There are many buses to get you around the town, they are cheap and good if you know how to use them. Not always the bus stops are indicated, sometimes the bus stop is there where there are more people waiting 😀 If you can't see any blue sign with a white bus on it, just ask people where to get a bus. Always say the direction you are going. To stop the bus, wave at him with 1 or 2 fingers directed towards the floor.
It is the same with the get off stops, in many towns you can get off wherever you want, just press the button in the bus or shout BAJA (stop) or EN LA ESQUINA (at the corner) and the bus driver stops.
You never buy a bus ticket before, but once you get on board you pay to the bus driver. In many occasions, you can even pay when leaving the bus as well. The price varies from 3 to 10 pesos for a trip, depends on the town and distance. I only saw they give you a ticket in Cancún, Mérida and Veracruz. Anywhere else you just pay and no one is ever going to check it again. Each time you get off the bus and get on the same or a different one, you have to pay again.
Some buses do have air conditioning, but more than a half do not have which I found quite surprising in this unbelievable heat.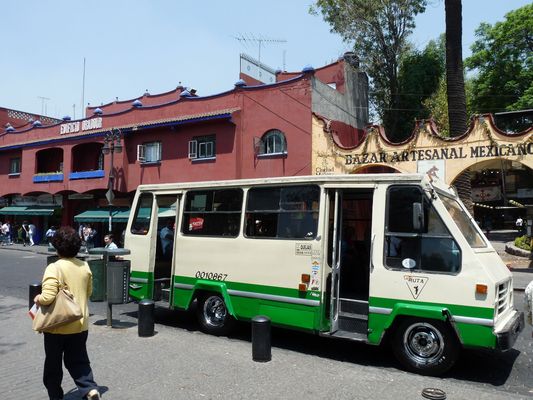 Green and white old buses in Mexico City are called peseros (microbuses) and mostly they leave the front door open on the way. In other towns it was prohibited already.
The rule is to get on the bus through the front door and get off through the back door.
Vans
In some towns, beside the buses, there are vans, too. For example between Huatulco and Oaxaca, and along Riviera Maya (Cancún – Playa del Carmen – Tulum). I'm talking about white small vans (public transport within a town as well), for max 16 people, who go more often than the normal buses and they are cheaper. I used them quite a lot.

Taxis
There are many types of taxis. The better quality of the car, the higher price, of course. With air conditioning you probably pay more, as well (not that the taxi driver would say "It is 20 pesos more because of the air conditioning.")
At the airports and many bus stations, you can get a safe taxi. Basically there is a kiosk, you say the destination of your trip and pay and there get a taxi so they can't charge you more at the taxi. Because they always do try if they see you are a foreigner and do not speak Spanish.
In case you just stop a taxi at the street, always ask about the price before you get on and negotiate it until both parts are happy. My Spanish saved me so much money on taxis!
But, I heard many times you should not get a taxi at the street, especially not at night. However, I used taxis a lot, even alone all over Mexico City and other so called dangerous places, but found it fine.