15 things to do on Thoddoo Maldives
Thoddoo Maldives is one of more than 1,190 islands in Maldives. It's also one of the Maldivian islands I personally stayed at. and the first local island I visited, as well.
Despite of its small size of 2 km x 1 km, there's many things to do on Thoddoo Maldives. I stayed there for 10 nights and didn't even have time to do everything I wanted. Maybe because it was mostly raining for 3 out of those 11 days.
15 things to do on Thoddoo Maldives
1. Relax on the Bikini beach. I guess most of tourists go to Thoddoo Maldives mostly because of its perfect beach. At least that was one of my main reasons. Thoddoo has an incredible Bikini beach with crystal clear sea and white sand. The water gets nicer color when it's sunny. The sea is warm even when cloudy or raining. There's a lot of shade under the trees on the beach.
2. Snorkeling. You can rent snorkeling gear from your guesthouse or bring your own. I had my own mask and then just borrowed fins from Summer Inn Thoddoo. I tried to go snorkeling almost every day when on Thoddo beach, except 2 days when it was raining and the current was very strong. There's loads of corals not so far from the beach, and some a bit further, too. If you swim for longer towards the left, a turtle family lives there around the coral reef. You might be more lucky than me, as I never managed to see the turtles there. 
3. Take a plantation tour. Thoddoo is the biggest producer of watermelon in Maldives and also produces many other fruit and veggies. It's worth to take a tour around. I am sure your guesthouse could take you around the fields or you can even walk on your own. I did both. I saw 2 kinds of watermelon, papaya, raddish, coconuts, bananas, different kinds of leafy greens, cucumbers, eggplant, pumpkins with green skin, breadfruit etc. I so loved to see the local agriculture and local men working on the fields. Everything they grow on Thoddoo is super yummy! Have you ever seen fufu fruit? It's a vine that looks like a melon (also called winter melon) but it's used as vegetable, for example for curry. Aw, and those huge green tender fruits which weighs approx. 1.5 kg are Bottle gourd Monsoon.
4. Walk around the village during the day and then also at sunset time. The Thoddoo streets are not very pretty but to see how the locals live is priceless. I went for a walk every day and couldn't stop taking photos and smiling at the locals. Everyone on the island was really nice and most of the time they didn't mind me taking photos. Usually some of them, especially kids or teenagers, would even come to me asking for a selfie. Compared to Gaafaru island where I stayed later on, the locals on Thoddoo are most used to tourists and more of them will say hi to you, or even talk to you.
5. Walk around the rest of the island. Once you explore the village, it's a good idea to take a stroll around the fields and uninhabited parts of the island to learn even more about how the locals live in Maldives. I found huge cisterns where they collect rain and sea water and then use it for Governmental organizations, such as schools. I also saw local women sweeping the island streets with brooms. Unfortunately, if you walk further to the other side of the island, you will also notice loads of rubbish on the beach (not on the Bikini beach). Heap of rubbish along the shore is a big issue on the majority of Maldivian islands. 
6. Visit the local school. There is one local school on Thoddoo, right on the main street across the street of the kindergarten. You will find it super easy. It's the only blue and white building with a couple of really nice sayings and paintings on its walls. Definitely stop over and read the sayings 🙂 And maybe even walk inside the school if they let you.
7. Mingle with locals. One of the biggest advantages of staying on a local island is that you can see the real life of the local inhabitants. I love luxury, don't get me wrong, but my budget Thoddoo experience had many advantages, too. I made a couple of friends and loved seeing the same people almost every day on the street. Some girls, like these ones on the photo below, would shout my name even from further. Obviously, with a big smile on their faces. Cuties! 🙂 
8. Rent a bicycle. For a slightly different experience, you might rent a bicycle to cycle around the island. You can find bicycle rental only at some guesthouses. Personally, I didn't find the island big enough to cycle, as I really love walking. And even more walking barefoot. I walked without flip flops my full 11 days on Thoddoo.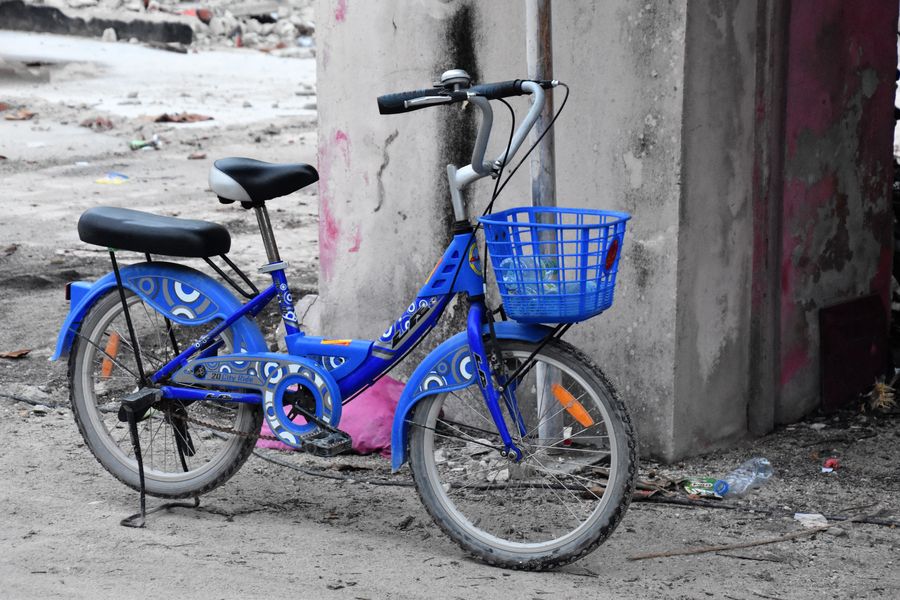 9. Get a fresh young coconut at a coffee shop. I recommend you to go to the local coffee shop in the port. It's called Thin Ari and most probably you will be the only tourist there. But cheers to a more local experience, right? One coconut costs just $1. Just be ready for mosquitoes around, there's plenty and I got beaten each time I sat there sipping on a coconut.
10. Visit a local supermarket, for example the biggest one on Thoddoo called Bright Store. Just walk around and check what they sell there to get a better idea of local supermarket products. Many things sold there are imported to Maldives from different countries, such as Malaysia, India, Brazil, Sri Lanka, Europe etc.
11. Play with kids on the street or at the football field. Each time I walked by a group of kids, they would wave at me and sometimes even shout to me to come closer. The local kids were quite curious, let me tell you. And some of them would even give me a high five when walking along the street or simply jump into my camera.
12. Play volleyball with locals. The locals divide themselves into 2 groups, women and men. Women play volleyball at one volleyball field, men at another one close by. I was told they play every second evening before sunset. It's easy to join them, at least they did ask me if I wanted to play with them. But I had all the cameras with me and I suck at these group sports so I had to refuse. However, it was a lot of fun to see Muslim local women fully covered running around with the ball.
13. Relax in a local chair on the street. You will find those metal constructions to sit in all around the village, usually one at each street corner, and sometimes also in front of some houses. Besides chairs, there's also similar swings. Very comfortable!
14. Taste local fruit and vegetables. If you stay on Thoddoo Maldives for a couple of days, there's no way to avoid local produce. Most probably you will be served locally grown watermelon, papaya or bananas for breakfast at your guesthouse anyway. Make sure you taste also those fruit and veggies unknown to you, maybe fufu or bottle gourd Monsoon.
15. Take a boat trip to Rasdhoo and sandbank Madivaru Finolhu. I think many guesthouses will offer this tour. One of the days when staying at Summer Inn Thoddoo, they took me on a boat to Rasdhoo island 20 km further, and to Madivaru Finolhu sandbank close to it. The sandbank is extremely beautiful, there's umbrellas to hide from strong sun and you can even have a picnic there. I also recommend you to go snorkeling next to the sandbank. You will see the coral area on your left just a few metres from the sandbank (with Rasdhoo behind your back). I saw so many shoal of fish! It was raining when we snorkeled because a heavy storm came in while there, but snorkeling was perfect anyway and left me speechless.
---
TIP: If you are from Slovakia or Czech republic and would prefer to visit Thoddoo or other islands in Maldives with a travel agency that will organize the whole trip and accommodation for you, then I recommend you Maledivy-levne.cz. 
*Ak si zo Slovenska alebo Českej republiky a radšej by si chcel ísť na Thoddoo alebo iné ostrovy na Maldivách s cestovnou agentúrou, potom ti odporúčam Maledivy-levne.cz.  
---
Have you been to this island? If so, which out of these things to do on Thoddoo Maldives did you do? Or whould you like to visit Thoddoo?