Camping essentials that first-timers often forget
With CDC-recommended restaurant, bar, and theatre closures, more people than ever are turning to the majesty of the great outdoors for a source of entertainment during these troubling times. To have a memorable camping experience, you'll need the proper equipment.
Even the most beginner campers know they'll need a tent, hiking boots, and fire starters for their week-long camping trip. While most campers don't struggle with remembering these basics, it's surprising how many people forget camping essentials. Here are some items that a first-time camper might forget:
Cutting tools
One camping must-have most people forget is cutting tools. While a Swiss army knife will usually suffice and is an incredibly handy gadget, a camper needs an axe to chop firewood, a kitchen knife to prepare food, and a utility knife for chores, such as cutting rope and creating hand-made fishing poles. Don't find yourself stranded in the woods with no cutting supplies. Prepare accordingly.
Rain tarp
A rain tarp, also known as a rain fly, is a piece of material placed over a tent to protect it from precipitation and even wind. The problem with most modern tents is they have some kind of mesh opening at the top to allow excess heat and humidity to escape and keep the tent from getting stuffy.
However, if it rains or snows during your camping trip, the mesh will allow unwanted moisture inside, damaging your valuables and ruining your sleeping experience. Luckily, a rain tarp comes to the rescue in the case of unexpected storms.
Ground cloth
The corollary to the rain tarp is the ground cloth. This item keeps out water that rises from the ground, which will benefit the campers planning on sleeping in a sleeping bag. The ground cloth also repels dirt and debris that can soil a sleeping bag and its pad.
As an additional benefit, this camping must-have is also ideal for shelters with wooden floors. Sleeping on a hard surface can wreak havoc on the body and dirty your clothing. If you're hoping to sleep in an area with rock-solid flooring, use a ground cloth as a sleep-promoting cushion.
Camp chairs
Camp chairs or hammocks come in handy when the camper gets tired of sitting cross-legged in their tent or on the ground. Innovations in camp chairs are as easy to fold and pack up as a standard umbrella. Not to mention, they're incredibly lighter than older models.
If you're interested in a less bulky alternative, you can set up a hammock in between sturdy trees and enjoy an afternoon nap in the fresh air. When you suspend yourself above the ground, you can avoid dirt, unpleasant dampness, and potentially poisonous insects, saving you from unnecessary inconveniences.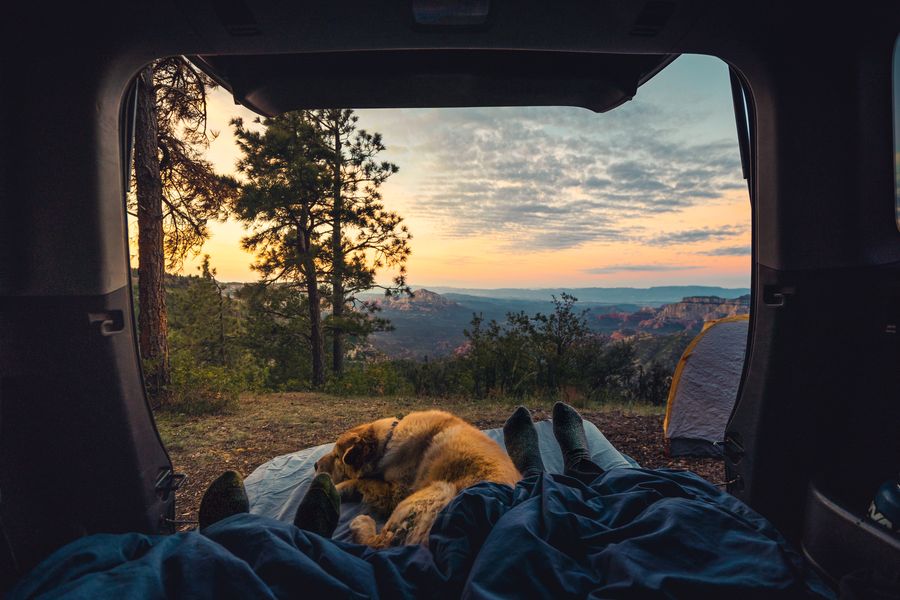 Drinking water
After spending time on a campsite with limited freshwater resources, a camper will never take pure drinking water from a stream for granted. While freshwater streams will make the occasional appearance, campers should pack enough bottled water to hydrate the group for the entire trip duration.
However, lugging around five-days worth of water through the wilderness can be cumbersome. For optimal convenience, consider bringing a portable water filter. If you're not willing to spend the extra money, you can boil the water before consumption, or set up a primitive, but efficient, water filter system.
Bug spray
Camping experts believe that the best type of bug spray for a camping trip is a spray that contains DEET, or N, N-Diethyl-meta-toluamide, an oily repellent you can spray on clothing or skin directly to repel blood-thirsty insects.
For optimal results, spray on clothes and shoes as opposed to bare skin. Campers can also apply these DEET-based repellents around the tent, in sleeping bags, and on other campground surfaces.
Sunscreen
Some campers believe that camping out in the woods doesn't require sunscreen protection, as the tree coverage will protect them from the sun's ultraviolet rays. Unfortunately, these assumptions are entirely misguided.
The typical camping trip will often entail long hikes and trips to the lake, inevitably exposing your skin to harsh, cancer-causing sunlight. Clothing such as broad-brimmed hats, long pants, and shirts with long sleeves can protect campers from the effects of skin cancer. However, aquatic activities (such as kayaking, paddle boarding, and swimming) render these items useless. When you dive headfirst into the lake, you won't be able to shield your arms and legs from harmful UV rays without feeling uncomfortable in sopping wet pants. The solution to this camping conundrum is sunscreen.
Bring one with a high SPF (sun protection factor). A high SPF sunscreen allows a camper to be out in the sun much longer than they could without ample protection. Another good tip to consider when shopping for sunscreens is to choose a product that guards against ultraviolet A and B rays. These UV rays are known to cause different types of skin damage.
Lighting
It's surprising to know that some campers embark on their trip without bringing along a flashlight and batteries. They may believe that they're going to stay in their tent all night, eliminating the need for a flashlight or lantern. In other cases, campers may assume that their campground will provide artificial light sources.
While they may seem expendable or optional, light sources such as flashlights, headlamps, or lanterns don't just help campers navigate dark wooded areas. A lantern will also allow an individual to locate items in their tent.
Conclusion
Finding yourself miles away from home without the tools you need can be a nerve-wracking experience. To avoid camping mishaps, check off this list of packing essentials and enjoy quality time in the great outdoors with your loved ones.