Adventure in Angthong Marine National Park
Location of Angthong Marine National Park
Angthong Marine National Park (sometimes also spelled separately as Ang Thong, which means golden bowl) is a string of 42 islands in the Gulf of Thailand, located on the Northwest of Koh Samui and West of Koh Phangan and Koh Tao islands. It is a protected nature area of around 250 square kilometres which is home for at least 54 species of birds, 16 species of mammals, 14 species of reptiles and 5 species of amphibians. It is a place for nature lovers.

All the islands are of different size and shape and most of them are made of limestone and covered with the tropical rainforest. Most of the islands are inhabited and completely undeveloped. Just the island Koh Paluay is the place of Sea Gypsies who dedicate their life to fishing.
How to Get to Angthong Marine National Park
There are day trips organized by travel agencies on all the three islands: Koh Samui, Koh Tao and Koh Phangan going to Angthong which is a unique experience and a must see if you have some free time in Samui archipelago.
I spent 6 days on Koh Phangan island and have done already all the things you can do on Koh Phangan. A day trip to Angthong was also exactly what I personally did after I explored the best Koh Phangan beaches and even now after 2 weeks, I still cannot forget about this charming place.
There is an entrance fee of 200 baht as the national park is one of the best places around to dive and snorkel because of undamaged corals and weird sea snakes, turtles and some lovely fish species. Two metre giant black corals can be found in the area. The entrance fee is usually included in the packages that travel agencies offer so just do not worry about it.
What to Do in Angthong Marine National Park
The standard trip to Angthong National Park is one day trip that leaves from Thongsala pier early morning (if you are on Koh Phangan island). I arranged it with Safari Boat travel agency who picked us all up and before taking us to the speedboat, we enjoyed a light breakfast in their office. Oh yes, watermelon and bananas!
Then it was around 1 hour on the speed boat to get to the northernmost tip of the national park where the snorkeling is done by the Koh Tay Plaow island or Koh Wao. The visibility is good here as these are the best spots to observe the underwater life in the Angthong Marine National Park. You can feed fish with banana or watermelon to attract all of them to one place. The pictures of the Angel fish, Parrot fish and Butterly fish are much better with all of them around you and not just one or two fish swimming by 🙂
After the snorkeling, you will be taken to another island Koh Mae Ko (Mother island) where you have to climb up a lot of very weird uncomfortable steps. But then you will be rewarded with the best view of most of the 42 islands of Angthong. I could spend there the whole day just staring at the beauty all around! Absolutely marvelous is the view of the islands so close to each other. Frankly, the scenery is breath-taking!
And on the other side of the viewpoint, there is this inner lake of saltwater which has incredible green coloured water and it really seems so unreal. The lake is called Talay Nai (sometimes seen as Thale Nai) – Emerald Lake and is hidden inside the island, surrounded by the limestone cliffs and connected to the sea by an underground tunnel. The lake is visible only once you get to the viewpoint. So do not miss the chance to climb up to the viewpoint even if you are boiling hot and the water at the beach looks so appealing! The emerald lake is a natural wonder you honestly can't skip on your way. Just look at the pictures! Unfortunately, it is not allowed to swim in there. But from the lowest viewpoint you can get to see barracudas and some small fish swimming close by if you are lucky.
There are very few beaches where tourists can camp in Angthong National Park, one of them is at Koh Mae Ko island. Camp fire, BBQ and relaxing in a hammock on a deserted island must be the experience of the lifetime. This is for those, who would like to enjoy the natural beauty of the marine park for longer and in a different way.
Still with the orgasmic feeling from the inner lake, the speedboat took us around the islands and we saw some islands that look like animals, hence their names; such as Monkey island in the shape of a monkey, or the Lion island which is unfortunately breaking down slowly as some cliffs fell down and it does not really look like a lion any more (they will have to rename it according to some other animal then, I guess.)
After holding your breath at all the beauty everywhere around you, enjoying the wind in your hair on the speedboat and sun on your skin, we got to the main island of the whole national park – Koh Wua Talap. A very tasty lunch was provided at the beach restaurant. You can play beach volleyball here. There are also a few bungalows and tourist information at this beach. And a couple of viewpoints, but take your shoes with you and a lot of water when climbing up.
Just in front of Koh Wua Talap island, there is a small island Koh Pee. You can actually go around it kayaking and see some little caves and a lot of other islands around. It is the best place to do some kayaking and see caves, rainforest,white sandy beaches and dramatic rock formations.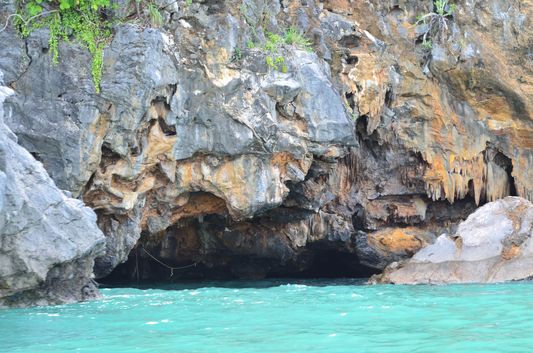 But even if you don't stay camping in Angthong, it will still be a great adventure and I bet you will have the same amazing fulfilling feeling each time you will remember the day in the Angthong Marine National Park. The same nice feeling that you had when there or that I had during the holidays on Koh Phangan that never end. Sometimes one day is enough to fall in love with a place. Which was exactly what happened to me.