Christmas in East Slovakia on Three Kings day
It is no Christmas time any more, I know but people love warm Christmas atmosphere surrounded by family so hopefully you will enjoy this post.
Slovakia is a small country but still there are some different habits even when it comes to celebrating bank holidays such as Easter or Christmas. As you can imagine it is not only because different regions have different customs but mostly because of the religion.
Most people living in Slovakia are Catholic. Those celebrate Christmas on the 24th December – a dinner and after check out the presents at the Christmas tree, and a midnight mass.
But in Eastern Slovakia many people are orthodox, like the Russians or the Ukrainians who are celebrating Christmas on the 6th January. So we do celebrate Christmas in East Slovakia on Three Kings day, too.
There are some families of mixed religion so they can celebrate Christmas both in late December and early January. This is the case of my family as well which I am very grateful for as not always I can manage to get home on the 24th Dec or the 6th Jan.
But most of the time I can get home at least for one of them. A paradise situation for me is getting to my home town for both dates as I so love the Xmas food! And this is what happened in December 2011 and January 2012, I was home for both dates.
Once again, each family prepares different meals for Christmas dinner but some traditions do not vary. I am going to describe now what we do and eat at Christmas in East Slovakia on the Three Kings' Day.
First of all, no snacks at all are allowed during the whole day until dinner itself. And I mean no food at all, just something to drink is fine (not a good habit for the stomach, I have to admit). As I usually eat every 2 or 3 hours, I have to eat at least some fruit during the day.
The family meets up at lunch time and women cook together while men just do nothing  watching the TV (as normal :P). We usually dine between 4 and 6 pm.
It would not be possible to survive without any calories for longer, even less having all the delicious food in front of your eyes so as soon as it gets dark (in winter time it is pretty early) and the meals are ready, we start.
If women are still busy, then men and the children prepare the table and put some hay underneath the tablecloth in a corner where the head of the family will sit.
TV, mobile phones and radio are all off.
Then we all go to the bathroom and wash the face with cold water to be healthy for the whole year. Years ago people used to go to the nearest brook/river and wash themselves there, but nowadays we want to be comfortable, so just a bathroom sink is used.
There must be a candle (inside a bottle full of corn to make it stay upright) which is lit when we begin to eat – as a symbol of light and warmth in the house. We leave the light on in all the rooms of the house – another light symbol.
All family members standing around the table, we pray aloud to enjoy the Xmas dinner and have plenty of food for the whole coming year.
Before sitting down we all have a drink (children or those who cannot or does not want to have any alcoholic beverage, have a cup of juice or anything; I have water or tea) and then the head of the family (the older one, so in our case the grandfather) has a toast.
Then, there is only one person who can stand up during the dinner and serve everyone the meals. There is no free place on the table, so all the food is held in kitchen.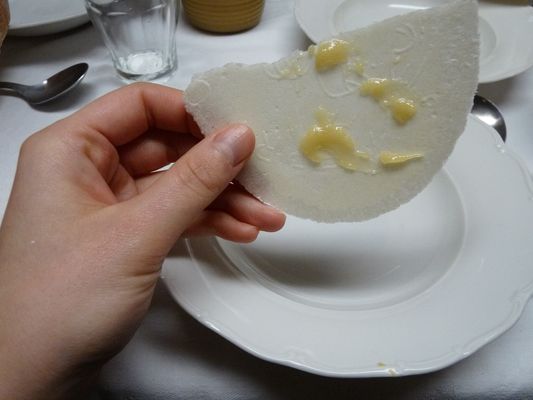 What I LOVE the most is all the Xmas food. And enjoying it with my loved ones, what else can I ask for?
We start the dinner with what we call oplátky or oblátky (Xmas wafer) with honey and followed by a slice of bread (often yummy home-baked) with a clove of garlic you just normally dip in salt and bite to. If I manage to get vegan gluten-free wafers, I eat them. If not, I skip the starter.
The garlic is not peeled off.
All the ritual is done to avoid any health problems in the following period of time (as it is said that garlic is very healthy.)
At least that's what we say. The bread eaten with garlic is cut by the grandfather who gives the first piece of the crust to the girl/woman so she will be the next one to get married. Don't ask me how this tradition was invented. But it's funny when it's me who gets the crust of the bread. Will I ever get married?!
The grandmother uses honey for another thing as well – she makes a cross with it on everyone's forehead so we are all good as honey till the next Xmas.
Now it is time for a soup – kapustnica – sauerkraut soup with wild mushrooms (picked up and dried by my grandpa.) The soup is accompanied again by a slice of bread. I would honestly kill for the bread my grandmother bakes (twice a year!)
After, the traditional Slovak pirohy come filled with sauerkraut (some families prepare them with potatoes). I remind you, we use only one plate for all the courses. Every person has one, plus there is a plate in the middle of the table for all the pets and animals in the house where we give all the leftovers from the dinner.
So once finished the Christmas dinner, our animals can enjoy special Xmas treatment, too.
The funny tradition is the men pretend they find coins inside the pirohy (to attract wealth) and give them to the youngest at the table (who still believe the money was cooked together with sauerkraut inside the pirohy.)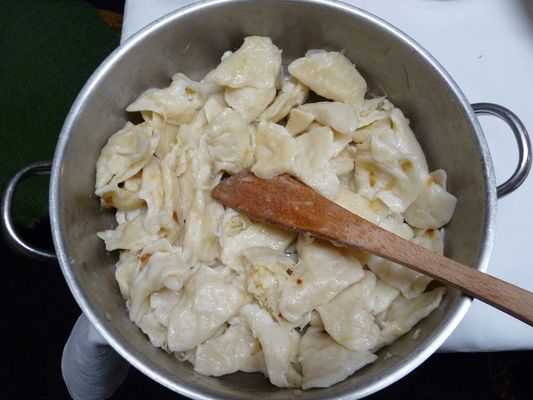 Pirohy are followed by bean soup or mixed beans, again with a slice of bread and whole peeled cooked potatoes. The mixed beans look like beans they eat in Mexico for breakfast and I just love it.
Then fried fish with potato salad follow. However, since I became vegan in 2013, I have not eaten fish but we fry celery with nori algae instead.
And to finish the dinner, the best is something sweet, right? In East Slovakia we have sweet bobaľky with poppy seeds and milk. After a lot of sighs of not being able to accept any more food into the stomach, second toast and a prayer again, one person blows down the candle (the smoke has to go inside the house and not in outside direction.)
Now one more thing before visiting the Xmas tree – open the door and look at the sky. Should be full of stars. I never found out why, sorry.
Then hurray to unpack the presents under the tree. Of course only if you were a good boy/girl, otherwise the only thing you can look forward to is a wooden stick and rotten potatoes.
Once you clean up the table and your stomach is at least a bit empty again (30 minutes after the dinner haha), it is a coffee time with home-made cakes. Aww, now I am so hungry again!!!
All the meals we have in East Slovakia for Christmas dinner are traditional that our ancestors used to cook from the only ingredients they had years ago – beans, flour, sauerkraut and potatoes. I'm glad my family cook all these meals because other families in East Slovakia have only half of the meals at Christmas dinner.
Aren't you going to check the fridge right now? 🙂
What are your habits at Christmas? Do you have any special Christmas meals?