Cunard: the luxurious way of cruising the seas
Get on board and prepare yourself for the adventure of a lifetime. As we are about to depart and we want to warmly welcome you as the guest of honour in our transatlantic cruise.
The famous American writer and accomplished traveller Henry Miller once said that "One's destination is never a place, but a new way of seeing things." At Cunard we believe that there are many ways to get to your destination but only one real way to travel: enjoying the adventure of a voyage on the sea in our luxury cruise across the Atlantic Ocean and experiencing a journey full of unforgettable memoirs.
Whether departing from vibrant city of New York and heading to the historic maritime city of Southampton or doing it in reverse, indulge yourself in a 7 night authentic vacation at the sea where all your desires can be completely satisfied. As soon as you get on board one of our magnificent ocean liners, you will discover the luxury and grandeur of a Cunard transatlantic cruise, experiencing the pleasure of cruising at its best.
Days at sea call for relaxation; salute the day on an early morning yoga session, pamper yourself with an exclusive beauty treatment in the Canyon Ranch Spa Club or be one of the privileged travelers who can enjoy a splendid waterfall while cruising the ocean.
The entertainment options aboard are plentiful, assuring that they would cater for everyone's taste and desires. Find that special book while strolling along the bookshelves of the world's largest library collection at sea, visit the Maritime Quest for an exciting photography collection of the majestic Cunard's past, spend the afternoon shopping at Mayfair Shops or simply sit back and enjoy the luxury of gazing at stars at the only planetarium on the ocean waves.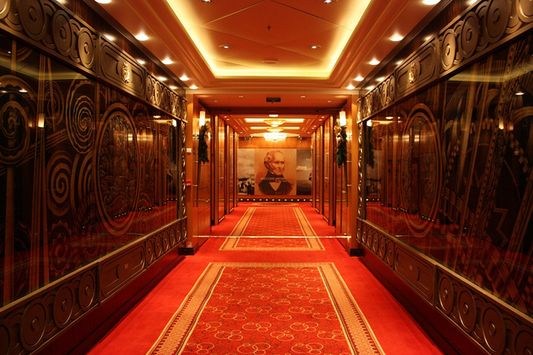 When hunger strikes, the choices of fine dining aboard will satisfy even the most demanding travelers. Whether ordering a breakfast in bed from room service, savouring an authentic afternoon tea at the Queens Room or dining at one of the many restaurants on board, the menus delight even the most exigent palates.
When the sun goes down, the nights at sea shine brightly for those looking for excitement. Attend to an evening recital in the Chart Room, try your luck at the casino or simply enjoy a drink with friends in one of the exquisite clubs and bars on-board. And if you feel like dancing the night away enjoy a live show in the aboard nightclub or spend a night of luxury entertainment at the Gala ball.
At Cunard cruises we know how to serve your adventure just the way you like it, just choose when the voyage of your life will begin.