Embera village tour – a native tribe of Panama
I was picked up by our guide David around 8 am in Panama City and as soon as I sat into the van I knew we would have a legendary time on the tour. Other tourists in the van were mostly Americans and then a Swiss-Italian couple, all so friendly and smiling all the time.
David took us to the edge of the Chagres National Park, to the artificial lake called Alajuela created by the Madden Dam. On the way we passed some slums in the countryside, many cows, dogs, vulturers, some toucans and local children riding bicycles. Many different flowers of pink, violet and red colour along the road were making our trip more vivid.
We also saw some teak tree farms that were brought here from Asia. I learned these trees have a bad pH so they are not so good for the nature. I also noticed most local houses have TV satellites who were donated to them by Carlos Slim who bought Claro company.
Once we got to Salamanca town after an hour of driving, we could use a toilet and then were ready to hop on a dugout canoe with 2 Embera Puru local men waiting for us. It was our first encounter with Embera natives dressed in a traditional way.
Just next to us there was a large group of locals going to take another motorized canoe so I asked 3 of them to take a pic with me 🙂
Then we rode the canoe for around an hour up the river contemplating and observing birds, such as kingfishers, egrets and many other species that were too fast to take photos of.
Walking up the stairs to start our Embera village tour, we were greeted with traditional music. I got goose bumps all over as not every day you can experience such a unique thing. There was so much positive energy and light coming from the Embera Puru. I just loved it!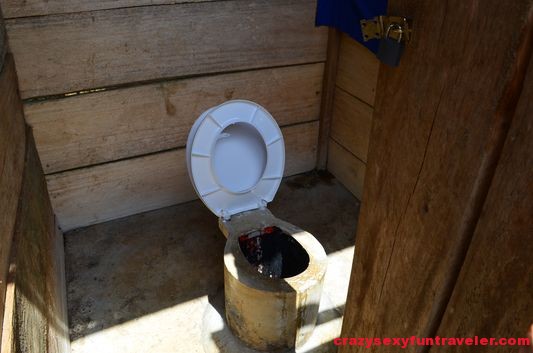 The Embera tribe originally comes from Darien province at the border between Panama and Colombia but their semi-nomadic lifestyle has been moving them up North.
After using bathrooms and spending a few minutes adapting to the environment, we sat down in a wide rancho house where Erito, a local man explained us in Spanish some Embera village habits and their way of life. David, our guide, was translating from Spanish into English.
Houses
There's 128 Embera people living in 27 houses in the village we visited. There used to be more, but unfortunately, a few weeks ago a kid was playing and some houses caught on fire. The village is run by a chief who is elected every 4 to 5 years.
The stilt houses are made of 2 types of palm trees: cola de gallo – rooster tail and also royal palm which lasts only 4 to 6 years so it has to be replaced. The houses where you are welcome to visit are those with a normal ladder vs. those with a huge space between the steps are only for the local tribe. The tambo platform of the houses is made of gira spiral palm tree.
The Embera houses never used to have walls as it was only one family living there and another family lived a few km further. But since late 60's they started building communities to be closer to schools and thus their houses have now walls made from palm leaves to give the families some privacy.
The stilt houses used to be a lot higher years ago when the Embera lived closer to rivers – to prevent the house damage in rainy seasons when flooded -and also to stay safe from the wildlife, such as jaguars and pumas.
Health care
Embera village has 3 types of health care:
1. spiritual one
2. a midwife helping women with pregnancy as most of the tribe women give birth here in the village
3. botanical – using medicinal plants (trust me, there's a plant for almost any cure)
Dentists and doctors come to the village at least twice a year to do the regular blood checks, give the locals vaccinations etc.
Education
According to the law in Panama, all kids have to get basic education up to the 9th grade. In this village just up the hill there is a school from the 1st to 6th grade where the local kids go.
The Government provides teachers who come to the village always for 2 weeks, live there, teach Spanish – let's say they come on Monday, stay over the weekend and then leave on Friday for the next 3 days back home. The kids speak only Embera language until they are 5-year-old, then they learn Spanish at school.
It costs around $30 for food and accommodation per month per Embera person in Panama capital so they can get affordable high school education. Then it's $250 per semester at the University in the capital – the oldest Erito's daughter (21-year-old) studies there. Erito, aged 39, has another daughter of 10 years who lives with them in the village.
Clothing
The original clothing was all made from cucuy tree fiber which is also used for hammocks. But as now there's around 35,000 Embera people and not enough cucuy trees in the jungle any more, they get the fabric from Panama City which is naturally dyed then. The stunningly beautiful design of the female clothing is not the original one but was adopted by Embera village people because its colours bring happiness to life.
The women only wear a colorful skirt and men a sort of string underwear. No shoes, no tops, just some of them wear a head scarf.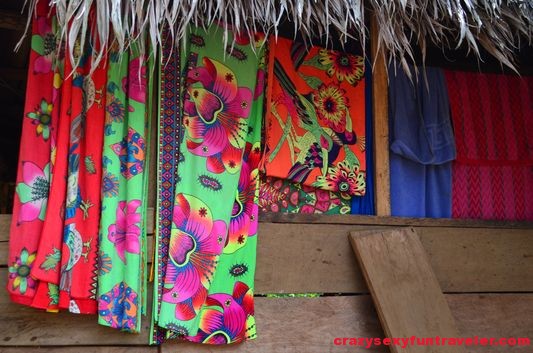 Crafts
Men do the carving, women the weaving and beading.
2 types of material are used for the carving:
1. dense and heavy cocobolo wood to make animal, flower or plant designs
2. tagua seeds – tagua is a kind of rainforest coconut tree – when it is fresh, they drink water first, then eat the coconut meat, then after 4 to 6 months of drying they get a so called vegetable ivory to make the crafts. Before plastic was invented, tagua nuts were exported to Europe and the US to make buttons.
The Embera women make woven baskets – made from tightly woven paja palm leaves and then coloured with natural dyes from the jungle plants. Paja palm leaves are also used for the well-known Panama hats (original name is MonteCristi hats) and were exported from Ecuador for the canal construction and thus became famous all over the world as the Panama hats from the photos of the canal. Now the Panama hats make for very national souvenirs.
The naguala palm from inside together with tall chunga palm part from the outside are both used for the baskets. They are peeled, then bleached with lime juice and sour cane, and naturally coloured. The yellow colour is from turmeric root which is boiled and then the paja is put in that water to get it yellow. The brown colour is from cocobolo tree and the black is reached when a brown paja is put inside black mud in the river for certain time.
A little basket I took a photo of costs $125 – approximately a dollar per day of hard work which means it took around 4 months to make this colourful basket. Both women and men work 3 – 8 hours per day making the crafts.
In the past, they used fish skulls, bones, seeds etc. to make necklaces and other jewelry, but since the area became a national park with hunting prohibited, they started to buy beads in the city.
The best is to buy the handicrafts directly here on the Embera village tour but in case you wanted more, together with Guna Yala molas you can find them also in Casco Viejo in Panama City, at the local market in El Valle de Anton or even at Bocas del Toro souvenir shops.
Shy and super humble Erito was explaining us the biggest challenges of the Embera village life. It all started in the past when fighting for the territory with other tribes. Since then they started moving upwards to where they are located now but the Government has not given them the territory (unlike to the Kunas who own the San Blas islands now). So owning a territory has always been one of the biggest problems of the Embera tribe.
Other peculiar details about Embera villages:
The average age of death of the Embera people is around 85 to 90 years old. Erito's grandfather died when he was 92. Years ago, it was normal to have more kids but now it's usually 2 kids. Erito has 5 brothers and 2 sisters but like I mentioned already, he has just 2 daughters so it's less kids over the generations.
Girls used to get pregnant at the age of 13 to 15 in the past but now because they need to get obligatory education, the high school and the Uni postpone the pregnancy.
Lunch
Once we learned all of the above, lunch was ready waiting for us in a thatched roof kitchen – pineapples, papaya and fried plantains, and fried fresh fish from the river wrapped up in a bowl made from banana leaves.
We washed our hands in a bowl with water and herbs first.
I started with fresh fruit and then ate only one fried plantain as I love their taste. I left the fish for young Embera Puru girls as I am trying to be raw vegan on the road as much as I can. Afterwards, we took photos with the girls. I could not miss such a unique a chance!
Plants
Once Erito gave us a short insight of how life in an Embera village looks like, and we filled up our stomachs with that tasty lunch, Edwin, our local guide, walked us through the rainforest for a while explaining us the use of some herbs and plants. Edwin chewing on a plant explained me, that a few days ago he had a fever and now he was still curing the cold, hence the plant chewing (not that he wanted to be rude or anything.)
Then hiking, Edwin started telling me about his past in a very good Spanish. His grandfathers used to be great at brujeria witchery, then Edwin's mother learned from them and later on she passed all the medicinal plants wisdom on to Edwin. With a smile on his face Edwin told me he does not like brujeria at all and although he could do it, he does not but only uses plants when necessary.
First, we saw a water tank which holds water brought from a spring almost 5 km from here in the mountains and then transports potable water to all the houses in the Embera village.
Then, Edwin explained us a bunch of medicinal plants:
– hombre grande = Quassia amara bitter wood is used for stomachache, cold, diarrhea and hangover cure
– tagua palm for handicrafts
– coffee plants were brought here, they make coffee from them but also carry it in the jungle to stop bleeding from the cuts
Edwin does not drink water, nor coffee, but only tea and chicha which is a a fermented banana drink, or also rice or corn drink. The Embera people are used to boil spring water to drink so mostly make coffee or tea (e.g. basil tea, cinnamon or lemon grass tea) and don't drink cold water.
– cholo pelado = naked indian plant is boiled and then the water is used to get rid of skin hair (when the babies are born and also women use it)
– fregaplato = called medicina culebra in Embera language – is used for snake bites
– wild passion fruit = maracuya whose flowers open one by one like a chain
– there's around 50 types of heliconias in the jungle here = bird of paradise flowers.
– Cocobolo tree used for hammocks and clothing
– Edwin also showed us a natural viagra plant used only for men. You have to get 4 roots from where the sun rises and then 4 from where the sun sets, mash them and sip it. There's also a night cat similar to racoon whose penis (bleh!) is used for tea to cure impotence. Guys, be careful with the amount if you don't want to get a super strong erection 🙂
– The nature is so powerful! As the Embera men know about the natural viagra plant, women found another plant that looks like a banana leaf which is used to wrap tamales. The plant avoids erection so women give it to their men when "they get too horny" like both Edwin and David explained us laughing.
– dolor de cintura = vine is boiled and used for kidney problems
– water vine = if you ever got stuck in the rainforest without any potable water, just cut a top section first, then the bottom to make the water run out of the vine and you can drink it
– chindrito = another type of heliconia leaf is heated up before it unrolls and put on top of a baby's head to avoid granos spots due to its antiseptic properties. The leaves are also used to cover the floor of the room where a girl stays for 8 days when she gets her first period. The leaves are changed every day by her mom who is the only person who can see the girl on those days but they do not speak; the girl doesn't speak to anyone for 8 days. Once her first menstruation is over, the girl goes to wash herself to the river and she hugs a pichinde tree for 4 – 5 minutes to regain the lost energy and strength.
– mountain anesthesia = a plant that numbs the tongue and lips and is used for toothache. If you eat too many leaves, you will feel like drunk afterwards.
– pifa palm = edible fruit similar to starch. Its root is cooked and given to a woman before miscarriage (when she personally wants abortion) to avoid it. The root simply stops the miscarriage and saves the baby.
One of the plants is also used for black tattoo which you can get in the Embera village. Depending on your skin, it can last for a week or 2.
Traditional shamanic dance
After the hike in the jungle, we could go around and do some shopping 🙂
Then, we sat down on the benches again and watched the Embera women performing a tribal dance. After 2 songs we were asked to join them together with the Embera men and children. Just one word, cool!
Once cheered up, a group of Embera village men showed us locally-made musical instruments they use.
Unfortunately, it was the end of our Embera village tour. I have to confess it was one of the best day trips I've ever done. The Embera village locals are so honest, modest, happy and always with a smile on their face. No materialism needed to be happy. I believe we should learn a lot from them.
We sadly waved goodbye and walked down to our canoe. On the way back I just did some meditation and was grateful for such a National Geographic moment I had on the Embera village tour.
My biggest thanks go to Embera Village Tours for such an unforgettable day. All the opinions in this article are of my own. If you ever happen to be in Panama City, definitely take this tour 🙂
*** It took me more than 10 hours to write this post.