Hiking Caracoral in El Valle de Anton
El Valle de Anton, the second largest inhabited volcano crater in the world is famous for all the trekking routes in the surrounding mountains. Hiking India Dormida, Cariguana and also climbing Gaital mount are the most-known hikes in the area which are located just a few km from each other.
As to hike Gaital you really need to be fit as at parts you have to climb and hold on the rocks, I decided to do just a shorter and way easier option – hiking Caracoral mount which is half way to Gaital and from the viewpoint there you can almost see the same valley view like from the Gaital peak.
At Cariguana Spa I heard that the best guide to take me hiking Caracoral is the so called El Chakal, a very fit Panamanian in his fifties. El Chakal became known in the local tourism doing mountain bike trips for 5 years but then sold all the bikes and now he works as an ecological guide taking people to India Dormida, Loma Grande and Gaital for hiking, bird watching and camping too.
A little female monkey of 8 months, Tutti, El Chakal's pet, was guiding us on the trail checking out for some wildlife and screaming to advise us about it. Before El Chakal hiked with another monkey Monica which, sadly, was eaten by an eagle when she was 8 years old. El Chakal also lives with a rottweiler called Rocky.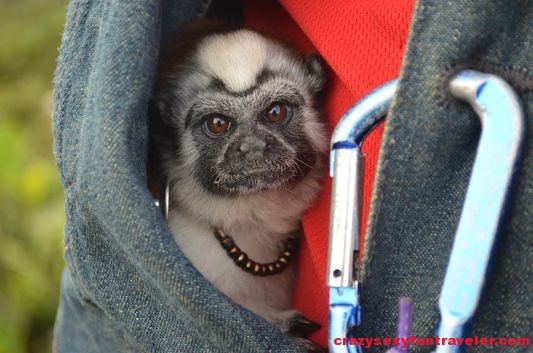 When hiking Caracoral, El Chakal was pointing out to many plants, trees and wildlife seen in the cloud forest. Different kinds, shapes and sizes of fern all around, also more than 9 kinds of cane could be found in the green thick forest.
I stepped on the massive guarumo leaves that fell of from the tree where slots often hang out eating the ants from the leaves. Unfortunately, we saw no sloths, but we did a bunch of big worms, some butterflies and many guineo rojo – red banana trees all around, especially at the start of the hike.
Honestly, I was surprised how different this mountain was comparing to hiking India Dormida a few km from here. India Dormida looked like any other forest, not very dry, not a rainforest either. At times I even felt like somewhere in Europe.
But Caracoral and Gaital mountains are pure cloud forest – more humid, wet, slippery at times, with more mud on the ground. And also a bit colder than India Dormida, so bring a jacket if you go early morning.
There's 3 rest stations with benches on the way to mirador with orchids and trees with name tags so you can learn more about the local fauna. The stations look super cool as the wet cloud forest weather is the best place for all the moss and lichens to grow on the trees. So mystical.
Hiking Caracoral to get to the Mirador located 900 m a.s.l. was not very difficult, at least comparing to India Dormida hike I did on the previous day, maybe because we walked at slower pace too and it was less steep.
Cerro Gaital, named after gaita palm tree unique to this area, is situated 1,185 m a.s.l. and was all covered in clouds when we reached the viewpoint on Caracoral mount so I was happy we did not go all the way to Gaital.
The saying someone carved into the wood at the Caracoral viewpoint saying Soñar no cuesta nada – It costs nothing to dream really made my day.

 
There's 2 ways to get to Caracoral viewpoint and back and they form a circle hike. On the way up we took the left one and then the right one to come back down. The right one has steps and also a rope to hold onto as like I mentioned, it is slippery in here. In my opinion, the left side of the hike was easier to walk and less dangerous.
On the way out of the national monument, just a fe metres from the main road I spotted a very colourful trogon bird of a middle size (usually they get bigger) sitting on a tree branch. There's more species of trogon – the one we saw had an orange belly with stripes on its tail and chocolate coloured back.
After the hike we witnessed the famous pajareque when the mist disappears and starts to drizzle which is very normal to El Valle de Anton. It usually takes just a few minutes to clear down until it gets hot again.
Hiking Caracoral in El Valle de Anton was part of my Adventure and Spa project organized with the help of Cariguana Spa. When in the area, please get in touch with El Chakal calling to his Panamanian mobile phone 66075174.
*** It took me 3 hours to write this post.