Koh Phangan best beaches
Koh Phangan (spelled as Ko Phangan or Ko Pha Ngan, too) is a breath-taking island in the Gulf of Thailand with 168 square kilometres. It offers to its visitors a lot of different beaches, depends on what you are looking for. Anyone can choose what fits you the most. Koh Phangan is just a place where your holidays never end so there must be some great beaches, right?

Logically, the beaches on the west coast are great for sunset watching, while those in the east are for sunrise. If you have a motorbike, you can easily spend half day on the east coast beaches and then move to the west to see one of those beautiful sunsets ending with pinky sky.
The best beaches of Koh Phangan
West Koh Phangan beaches
From all the beaches on the west coast of Koh Phangan you can see in the horizon a number of islands that belong to the Angthong Marine National Park and every afternoon, around 6pm throughout the year, also sunset. The only problem on the west coast can be during the low tide where there is not enough water to swim in the sea. The beaches get very shallow.
Ao Nai Wok beach – just a couple of minutes North from Thongsala. It is a very quite beach, with almost no one there both during the day as during the sunset time. A small fishing port for locals is situated in the South where the beach starts. The sea makes here a kind of little lake surrounded by a sandbar a little bit so it feels like you are at the beach with a lake behind you.
The beach is very shallow and you can walk quite a lot in the sea, almost half way to one of the two islands in front of the beach – Koh Tae Nai. For some fun, you can rent a kayak and go around the island which has a nice sandy beach which you would have just for yourself.
The second island a bit further, but still visible from Ao Nai Wok beach is Koh Tae Nok – a perfect place to see reef fish and small reef sharks. You can dive or snorkel around the island, however do not go to the island. It is said to be a holy island where special birds come and their eggs are sold then to China. It can be just one of those stories but the thing is it is some kind of prohibited to visit Koh Tae Nok island so do not freak out if a local shouts at you if you go there.
Ao Srithanu – with cute bungalows at the beach, this wide beach is very nice for relaxing. Quiet, with more dogs hanging around than people. A great place when they clean up the water from all the tree brunches.
Chao Phao – this long beach is visited by very few people. The water is clean and the sand white, so it is not a bad place to hang out and do nothing.
Haad Son – a small beach down the hill after you pass Haad Son Resort. The beach is characterized by a topless sea mermaid statue and growing green water lily. There are nicer beaches than this one on the island.
Haad Yao – long wide beach (in Thai haad means beach and yao is big) which is great for sunset. It is pretty nice here. And I saw people jogging there before the sunset (haven't seen at any other beach on Koh Phangan.)
Haad Gruad – a lovely Lucky resort bungalows are placed here on the hill between Haad Gruad beach and Haad Salad beach. A bit rocky beach but has its charm, too.
Haad Salad – A cool beach for families or couples. They put tables at the beach in the afternoon for romantic dinners with candles. Expensive resorts with beach swimming pools can be found in here.
North Koh Phangan beaches
Haad Mae Haad – north west beach next to Koh Ma (sometimes spelled also as Ko Maa which in Thai means Horse Island) island which is connected to Koh Phangan by a sandbar made naturally by the sea waves. This beach has a nice view of Koh Ma island, good white sand and a cute big wooden restaurant at the beach, but it is always full. So if you would like more piece and quiet, then also check out some other places or swim a little bit for some snorkeling as this is a good place to observe marine life.
Malibu beach – on the west part of the Chaloklum beach. One of Koh Phangan best beaches, completely different from all the others. Very modern entrance, full of cute green weird trees of a mushroom shape. With the best white sand you could imagine and some colourful boats that make the scenery very picturesque. The only problem of this beach are small, hardly visible flies that bite you. Otherwise it would probably be the most beautiful beach of Koh Phangan.
Chaloklum beach – some boat trips start here. Between Malibu and Coconut beach. A pretty nice place, too.
Haad Khom – the best beach around Koh Phangan for snorkeling. Local travel agencies, such as Tan tours, organize boat trips there.
Coconut beach – A pretty quiet place with tall palm trees along the beach and a few bungalows. Great for young travellers. You can snorkel here if you swim a bit further. For some people, Coconut beach is part of Haad Khom, for others it is just next to it.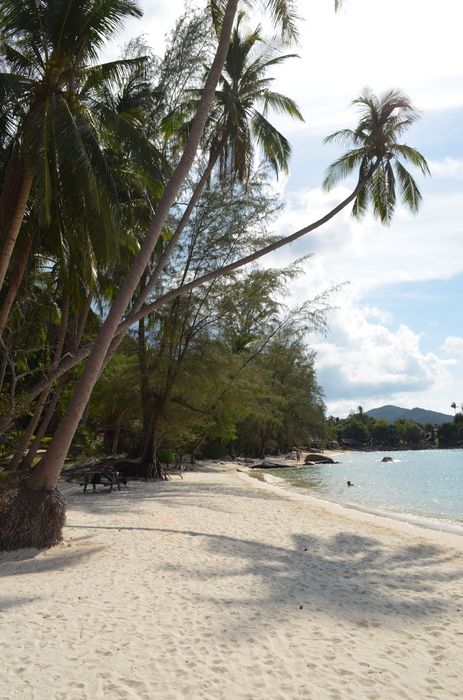 Haad Khuat Bottle beach – surprisingly, one of the most famous beaches of Koh Phangan but to get there by motorbike is very difficult because of the destroyed roads. But many boat trips will take you there just to spend some time relaxing.
East Koh Phangan beaches
The beaches are good for swimming all the year long as the sea is deeper here than on the west coast.
Thong Nai Pan – there are two beaches with this name next to each other. One is Thong Nai Pan Yai which means Big and the other one is smaller – Noi. There is a great viewpoint if you would like to see both beaches from the birds-eye view, just pass the beaches on motorbike up to the hill with nice villas and on the left you have Thong Nai Pan beaches.
Haad Than Sadet – the only way to get here is by boat, as the roads are completelydestroyed so if you can, take a chance to do so within a day boat trip. Than Sadet beach together with Thong Reng next to it once connected by a bridge, are among the best beaches of Koh Phangan.
Haad Rin Nok beach – is the beach in Haad Rin town on the south-east coast. This is the place of the famous Full moon party where all the visitors come every month to get completely drunk. A lot of small stalls along the beach sell buckets with alcohol. The beach is overcrowded a few days before and after the full moon, but not on other days.

South Koh Phangan beaches
Southern coast of Koh Phangan is not very good for beaches to be honest. You will see big Koh Samui island facing the beach, at least that.
Bann Tai – with a lovely pier and scenery around it but have not seen anyone swimming there.
Haad Seekantang Leela beach – the most south-eastern beach with lot of bungalows and great hotels. You will find here a lot of Spanish, Italian and Israeli people. Very active beach, everyone playing, running, talking, lying on the floating lilo. It looks a bit like an European beach, quite full of visitors but not full of deckchairs yet. This beach doesn't even look like a Thai beach, and not at all as any other Koh Phangan beach either. To get out of all the hassle, take a walk through the wooden road to the place called Lighthouse where a lighthouse used to stand. Now there is just a Lighthouse restaurant run by the locals who live there.
---
---
TIP 1: If you are thinking of going to Koh Phangan, don't forget to have a look at TOP things to do on Koh Phangan.
TIP 2: Before leaving, check more useful information about Koh Phangan 😉
---
---
Which one would be your favorite out of the Koh Phangan best beaches? Tell me in the comments.