5 things to do on luxury holidays in Thailand
Have you ever thought of luxury holidays in Thailand? I admit, Thailand is probably the most popular backpacking destination in the world. I know so many people who went on their first solo trip to Thailand, and no wonder why. Thailand is a very easy place to get around, indeed. Even when you are a solo traveler on you first trip abroad, you can always enjoy the country without being worried.
Although many people imagine Thailand as a budget destination, I can assure you, the most-known Southeast Asian country can offer you also unforgettable luxury. 
If you wish to pamper yourself, Thailand is a place to go. There's a huge variety of perfect places to choose from if you are looking for a luxury Thailand vacation. Many luxury villas are located or in Phuket, or in the East of Thailand, such as on the Koh Samui. This island in the Gulf of Thailand has some of the nicest beaches in Thailand.
Once there, what can you do besides sunbathing on white sandy beaches? Here are some of the things I usually do myself when in Thailand. I hope to give you some ideas as well.
Luxury holidays in Thailand
1. massage
Even if you don't know anything about Thailand, I am sure you've heard of Thai massages. They are famous world-wide. But Thai massages are not the only type of massages you can get when in Thailand. There's many different kinds of massages I recommend you to try.
For example, you can go for a full body oil massage, foot massage, head and hair massage, a chocolate massage or even a massage with aloe vera gel which is great for sunburnt. I'm sure you will find a good Thai spa right by your luxury villa or in a very close proximity to it.
Many Thai women work as spa therapists and they are so good at it, there are many spas all around Thailand. If you don't know what kind of massage to get, just ask them for recommendations. Renowned spas often offer a spa package when you can enjoy different kinds of treatments for a few hours, or even a full day, for a discounted price.
It's better NOT to eat before a massage. I usually try to wait with a massage for 2 hours after eating. Another great tip is to drink loads of water/herbal tea after the massage to move the toxins out of the body faster.
2. yoga
Thailand might be less famous for yoga than for example Bali, however, there is a number of great yoga studios and hotels that offer yoga classes with professional yoga teachers. To me, Thailand is one of the best body, mind and soul destinations  and yoga helps with all of those three aspects.
Speaking of my personal experience, since I'd started practicing yoga in May 2012, my life has changed completely. I am calmer, have more patience, I react nicer to negative situations and I also appreciate myself and my body more than I used to.
Thanks to yoga's many advantages, I hope you will also fall in love with it. And if you've started already, you might just follow some yoga videos and practice in your villa, or do poses you remember well right on the beach or by the swimming pool. Sunrise and/or sunset are the best times for yoga, as it's less hot than during the day and the whole atmosphere will make yoga even more special, too.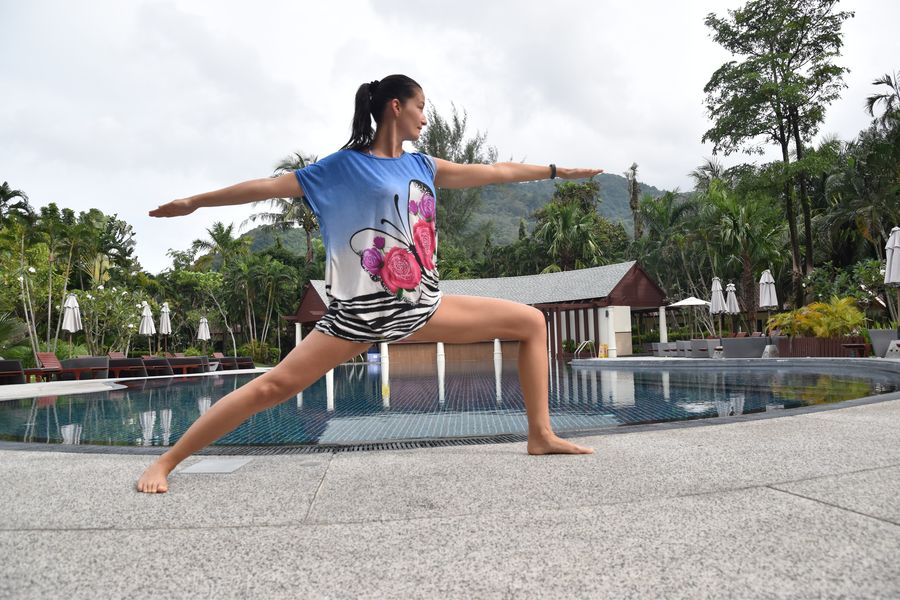 3. snorkeling or scuba diving
Thailand might be also one of the easiest places to go snorkeling or scuba diving to. Some islands are famous for these adventure water activities, such as Koh Tao. When I was in Thailand for the last time with my dad, we spent 11 days on Koh Tao, the so called "Turtle island."
My dad also went scuba diving, me just snorkeling each time we were on the beach. My favorite spot for snorkeling on the island was the small Freedom beach. 
4. unique clothes
How could you leave the country without getting new clothes? Each time I go to Thailand, I take less clothes with me as I know that before leaving, I will buy some. They are a lot more cheaper there than in Europe where I'm from, so I always fill up my suitcase with new items, such as tank tops, shorts, loose pants or dresses. I like how comfortable and colorful all those Thai clothes are. 
5. romantic dinner on the beach
Oh yes, Thai beaches are amazing, right? If you are looking for a quiet beach, you'll find one for sure. If you want a rocky beach, there's many as well. If on the other hand you prefer beautiful white sandy beaches, don't look any further. There's a handful of them, especially on islands.
But sunbathing and swimming are not the only things you can do on a paradise beach. Look for a nice restaurant that has tables on the beach and enjoy a romantic dinner right there.
Dim lights, breeze in your hair, a person you like by your side and tasty Thai food? Who could say no to this. Just a pure idea of it makes me want to return to Thailand for my 7th time already.
And if you are looking for some meal recommendations, here's more about Thai food. I haven't tried all of those meals myself, because I am vegan so I don't eat animal products. My personal Thai picks are mango sticky rice, young coconuts, fresh fruit smoothies, fried veggies and vegan Pad Thai or other noodles with vegetables only. Oh, and don't forget coconut ice cream, yum!
What other things would you do while on luxury holidays in Thailand? Anything interesting to add on the list?