Where to stay in Demanovska dolina Hotel Chopok
I've been spending way too much time in
Slovakia
recently; have you noticed? The reason is I've been organizing some
raw courses
, catching up with blog, family and friends.
After working online like crazy for 6 weeks, I decided to travel around the country for a bit and not only between my home town and Bratislava for travel and raw presentations. As taking with me my best friend/assistant nor my web designer didn't work out, I invited my mum for 4 days.
When I asked friends, experts from our Signet Quality group Guarantee, which hotel to go to, three of them advised me the same Hotel Chopok in Demanovska dolina. The Hotel won a few prices, such as the best 4* hotel in Slovakia (by the eTrend experts) and the best hotel in Zilina region.
So I listened and early morning on the 19th March we headed off to the Low Tatras, just a bit South from the famous High Tatras mountains. To be honest, we pretty much spent our days eating, walking in the nature, talking and relaxing in the spa :)
What we enjoyed at the Demanovska dolina Hotel Chopok:
buffet breakfast – for me, buffet breakfast is a must at each good hotel. There was even a juicer there so the guests could make fresh juices from e.g. carrots and apples. Easy, practical, and most of all super fresh. Thumbs up! I appreciate the fact that the juice doesn't have to wait for long until someone drinks it (did you know the juice starts losing the nutrients when oxidizing with the air? It means you should drink it asap, preferably within 20 minutes after juicing.) You could also find there loads of fresh fruit and veggie salads, pastry, bread, cereals, tasty jams, ham and cheese.
free afternoon snack from 3 pm to 5 pm in the high season (summer and winter months). I have to say I am not a soup person since I've been trying to eat more raw vegan meals, but the vegetable soups here were so awesome!
5-course dinner for 16 euros – plenty of food and not expensive for a 4 star hotel. You can take anything from the veggie, fruit and cheese buffet; salad, soup, main course and dessert. As you can see, the hotel really focuses on the food a lot. I informed the hotel about my vegan diet so they could prepare special meals for me. Otherwise, most of the meals are non-vegetarian so it's always better to let the hotel know about your diet. 
thumbs up for the olive oil, avocado, pumpkin seed oil and different balsamico
one of the best hotels in Slovakia for celiacs – at both breakfast and dinner there is gluten-free bread and cereals, and you can choose from gluten-free meals on the menu.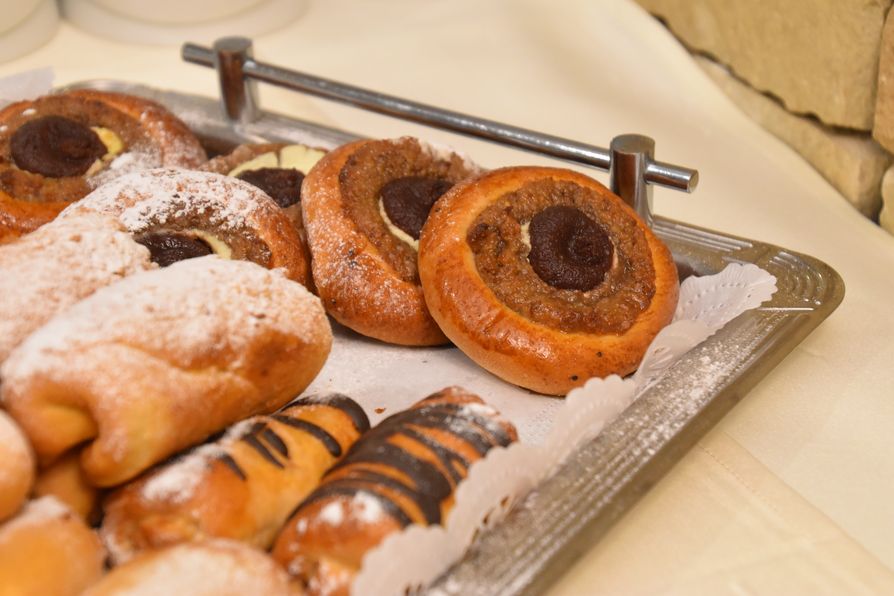 staff – smiling, patient, willing to help – from the director, through the chef, to the waiters (e.g. Tomas and Pavel), wellness staff and cleaners. They were all super nice and professionally human!
2 free wellness centres – The Hotel Chopok is the only hotel in Slovakia with 2 fully equipped Wellness centres. We spent more time at the one called Praslicka. It is adult-only wellness situated in the newer part of the hotel with 5 saunas, Tepidarium, an indoor jacuzzi and a swimming pool (1.5 m depth, 20 x 8 metres size). There's another wellness also good for families with kids called Plesnivec with second pool with warmer water and less depth of 1.2 metres yet still deep enough for swimming. The pool is open since early morning but the 5 saunas, outdoor jacuzzi and cold pool open in the afternoon. To be honest I chose Hotel Chopok mostly because of the spa as I haven't been relaxing enough in Slovakia. And it did not disappoint.
I admired all the colourful paintings around the hotel
as it's a kid-friendly place, the hotel offers many activities for kids during the day (lego, both indoor and outdoor playground, shows etc.), they also have their little chairs and tables at the restaurant
some evenings you can listen to live music at the Lobby Bar
very good wifi at the restaurant but in our room number 204 (quiet in the corner) the wifi was super slow, mostly non-existent. However, I don't mind it at all as that was the purpose of my visit; to regain energy at the spa and in the nature with as little internet and laptop as possible. So I only updated my social media channels at breakfast/dinner, and answered the most important messages and that's it.
free well-equipped fitness centre open from 7.30 am to 10 pm. I just wish I had more time to exercise but didn't have any during my stay.
tea and coffee in the room – I always enjoy having a cup of green tea in my room before breakfast and then later in the afternoon.
free apples both at the reception and Wellness centre
free potable water/water with lemon juice at both Wellness centres (I have to say many hotels forget about such a simple thing as providing water in spa)
each room has a security box
massages done with natural oils with French cosmetics La Sultane de Saba – offering many different spa treatments (e.g. Balinese, Japanese, Malaysian). I haven't had a chance to personally get a massage this time, just checked the variety of treatments. Being a 4 star hotel, I appreciate the great treatment prices and the cosmetic choice – La Sultane de Saba are paraben-free vegan products not tested on animals.
you can find slippers and bath robes in each room – great for spa
free luxury magazines in the rooms – some awesome info, also about healthy food, ingredients and nature
location – good to visit in all seasons; for skiing and snowboarding (29 km are snow-covered for 5 months per year), visiting 3 caves close-by, water parks, hiking, sight-seeing (gondolas), indoor free diving etc.
beautiful aquarium at the restaurant – I loved looking at it when eating as our table was just next to it
the hotel is following the Green Program – trying to save water and detergents asking the guests to reuse the towels and blankets at the bathrooms and spa
billiard tables, bowling with bowling tournaments, airhockey and table football
little jewelry, Belgian chocolate and cosmetic shop by the reception
free animation program depending on the day and time
Congress centre Praslicka for 360 people and Congress centre Plesnivec for 150 people
non-smoking rooms and hotel – you can smoke only in the smoking salon at the Lobby Bar (I personally cannot stand smoking at all so this was a big advantage for me)
it's a dog-friendly hotel – just inform the reception about it and hang a dog sign at the room door
2 free hotel skibuses going to Jasna Low Tatras ski park in winter months right from the hotel parking
they are honestly trying to improve everything they can incorporating new techniques and trying out the things
both Slovak and English hotel website and hotel info brochures (at the reception and rooms)
different packages are being offered at the hotel during the year – from Christmas, through Easter holidays, couple or family packages, to health, yoga and fitness long weekends with famous Slovak people such as Zora Czoborova or Fredy Ayisi. We also visited during the fitness days with Zora so at least I could see the hotel on both busy and normal dates.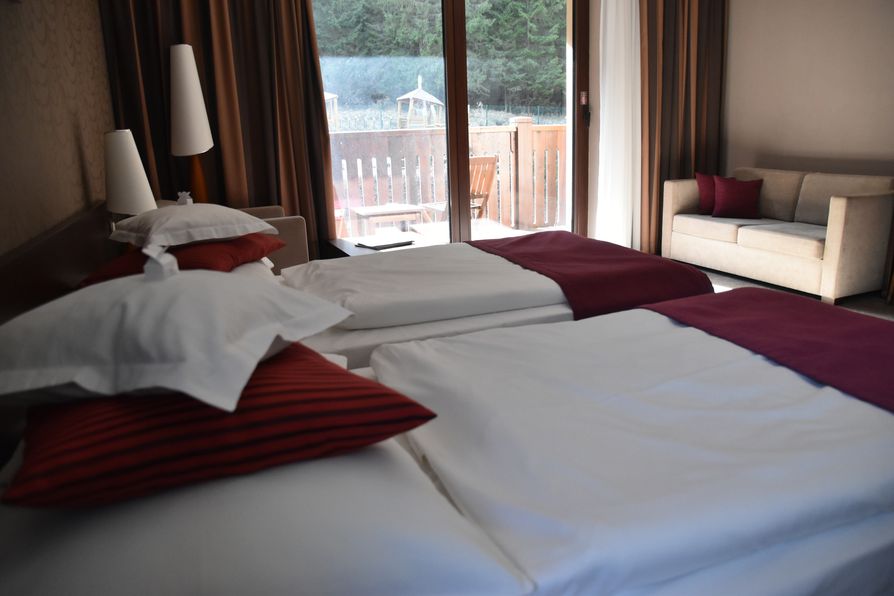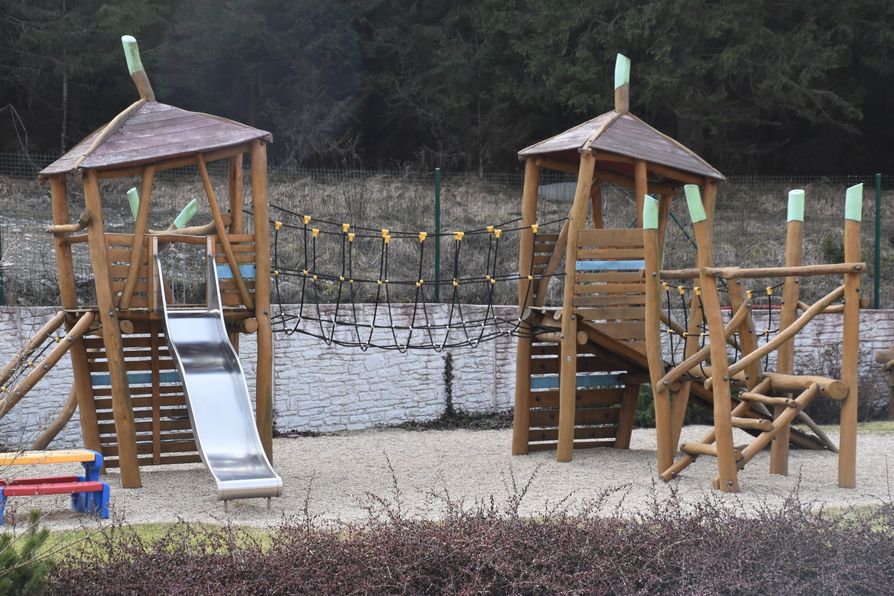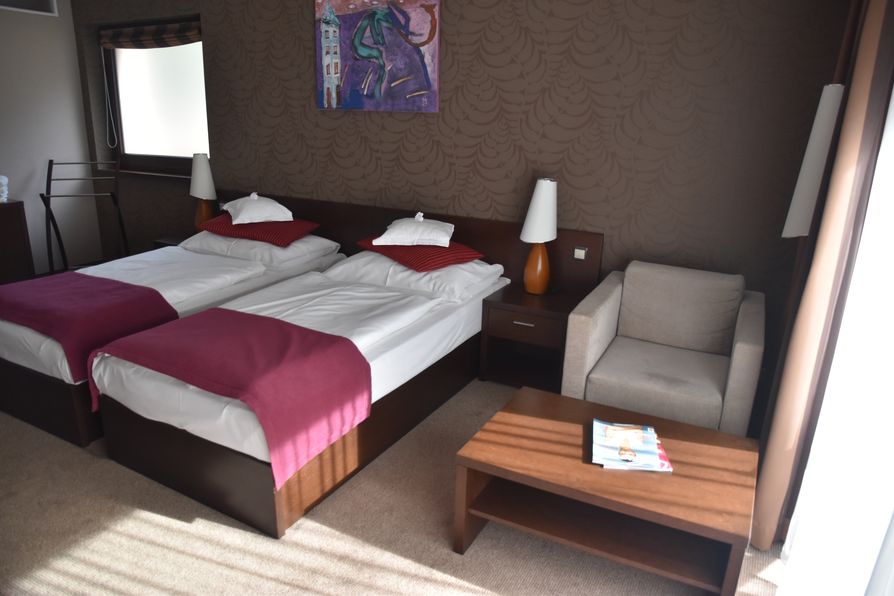 For more information, please visit Hotel Chopok Demanovska dolina website. I highly recommend this hotel.