10 reasons to visit Romania
I still find it surprising that Romania is such an underrated country. Well, frankly, I did not know much about Romania until my first visit back in 2015. I had not even thought of putting it high on my bucket list until I went there for the first time. So maybe I was one of those people guilty of underrating the beauty of Romania, too. Now after my 3 trips to Romania I am incredibly sorry for that. Here I am now to show you 10 reasons to visit Romania.
Hopefully, the following list will make you change your opinion and you will want to visit Romania as soon as possible. I've been there 3 times already and most probably I'm going back in 2018 again. There's not that many countries I've been to more than 3 times within 2 years so it must say it all, right? 
Romania has a bit of everything… mountains, cities, beaches… which makes it a good country to visit for almost eveyone. 
10 reasons to visit Romania
1. People
One of the main reasons for me to visit a country is to feel welcome there. And in Romania I definitely do feel that way. Very welcome, to speak the truth. Usually the locals are all very nice and willing to help. I have not met any unpleasant Romanian during 3 weeks in there. Big thanks to everyone who was so helpful!
Another big advantage is that most young Romanians do speak English so it's easy to get along with them and find out what's necessary when traveling.
Plus, many Romanian girls but also men are quite charming. Eye candy can never hurt, right? 😉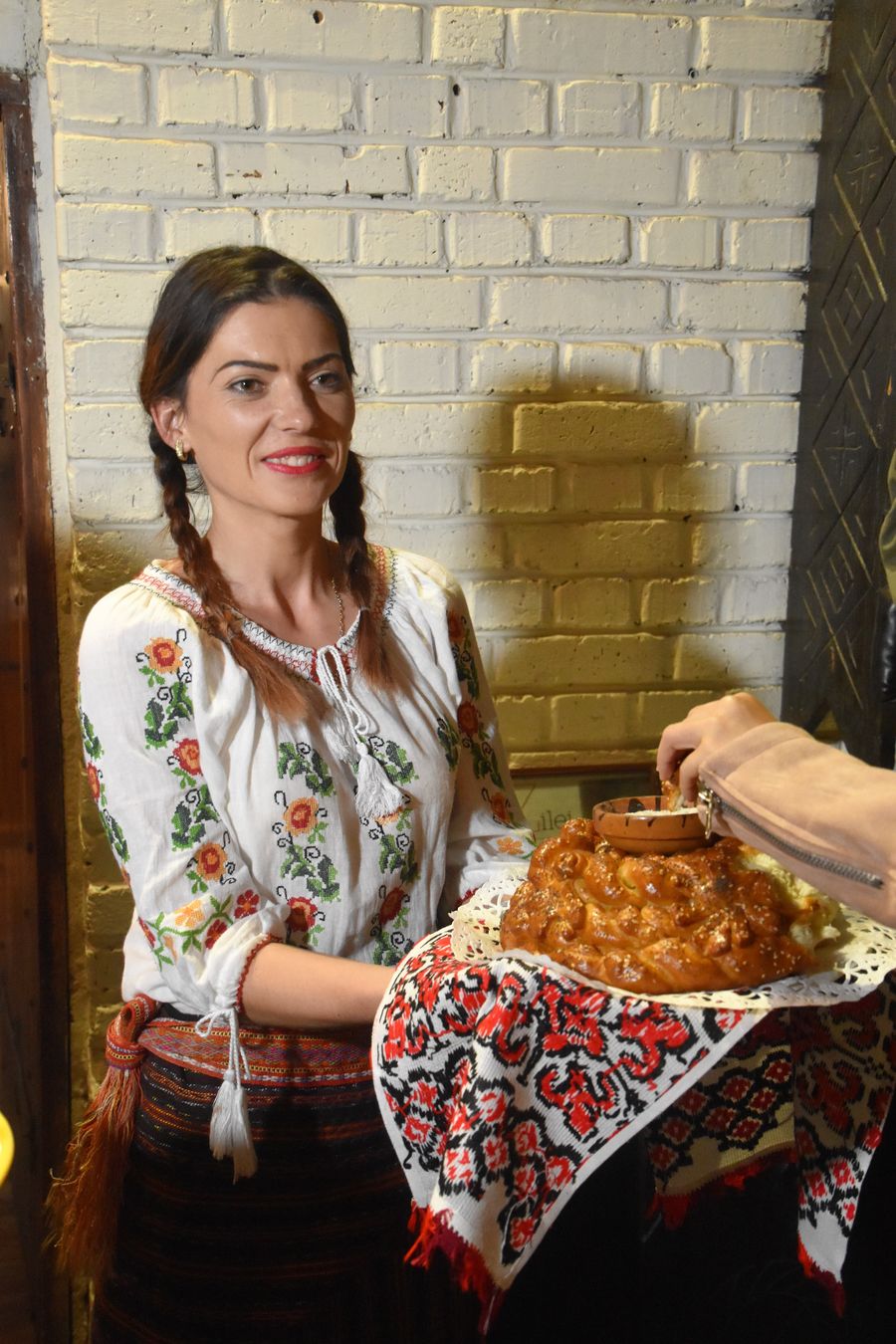 2. Cuisine
I'm not really sure if you've ever tasted or at least heard of traditional Romanian dishes but some of them are so worth it. And I say some of them because as a vegan I haven't tried them all, logically. One of the main reasons I was so looking forward to visiting Romania for the third time in 2017 was food. And I am not ashamed of it 🙂
I loved so many kinds of mushrooms, eggplant, sauces, hummus, and even polenta (boiled cornmeal). 
3. Castles
Romania is famous for its castles and I hope you've heard of some, or at least the most famous one of them, the Bran castle. Especially Transylvania, a historical region in today's central Romania is full of mysterious Gothic castles, interesting fortresses and beautiful citadels. Once I read there's more than 100 castles only in Transylvania which reminds me a bit of my home country Slovakia. We also have loads of old castles, yay!
---
TIP: Find out more about Bran castle and also stunning luxury Peles castle in my other article. I visited both of them in April 2015 it they were surrounded by loads of snow. Surprising to have seen snow in April but it added to a more romantic atmosphere.
---
4. Traditions
If you are looking for a lot of traditions, then Romania is a place to go. Romanians are so proud of their customs it's unbelievable! I haven't seen any European country where the inhabitans would be trying to follow local customs as much as they do in Romania. Thumbs up for that! There's so many traditions you can still see nowadays and get involved in during your trip.
From traditional meals, costumes, music to traditional handicrafts and even a Romanian wedding! We were super lucky to be part of a traditional wedding in Sibiel village in Transylvania. What a huge performance it was! We could see all the activities before the wedding actually starts, such as eating cakes and drinking, musicians playing folklore music, groom looking for his bride, dancing etc. And the whole wedding was hilarous. It was so touching I had tears in my eyes, but don't tell anyone 🙂
5. Nature
Romania is a country offering a bit for everyone… interesting history, unique architecture, delicious cuisine, but also rural areas and marvelous nature sights. There's so many mountains you can visit! We had a chance to go to Rarau National Park, look at the Lady's Stone peak from a viewpoint, then for a good hike through the woods and afterwards a tasty lunch at Cabana Rarau. 
Also Colibita lake is a lovely destination for nature lovers. As it was heavy raining, we didn't see much around but had an amazing lunch at the Fisherman's resort restaurant and could buy local products at a little market outside of the restaurant.
When in Neamt county, you should visit Bicaz Gorge which is surrounded with limestone cliffs and rocks, and a lovely river making its way through the gorge. Driving through the gorge is an experience by itself. I was left with my mouth open. In awe, indeed! Just wish we had more time at the gorge to really breathe in its magnificence. Bicaz Dam, sometimes also called Bicaz lake, is another popular destination for locals in summer. It's the biggest artificial lake in Romania built on the Bystrica river, located in the Northeast of Romania. The dam is linking Transylvania with the old Moldavia region. The road around is known as the neck of hell as it's very curvy.
And if you are looking for a unique experience, then I can recommend you to jump on the steam train Mocanita Hutulca in Moldovita Village. The train ride was one of the best experiences I had in Romania. So much fun! It will bring you back in time and it goes through fabulous landscapes of Bucovina. THE BEST ever!
6. Picturesque towns
I could never get enough of visiting small Romanians towns. They are extremely picturesque and mostly colorful…. so easy to take photos of. I can pick one of my favorite ones, such as Sighisoara in Transylvania. Sighisoara is a fortified medieval town built by the Saxon colonists in the 12th century. Its historic centre was proclaimed a UNESCO site already in 1999. I cannot imagine someone walking along Sighisoara's narrow streets and not falling in love with the town. Unfortunately, it was too windy and freezing when we visited so I was shivering the whole time while there. Even despite of feeling frozen, I was mesmerised by the beautiful architecture. Sighisoara is believed to be one of the best-preserved medieval towns in Europe.
Other towns/cities that took my breath away besides Bucharest: Brasov, Sibiu, Crit village with really amazing guesthouse Rozalia where they cook delicious meals; and not to forget Ciocanesti village with painted houses.
7. Dracula
When you ask people what they've heard of Romania, Dracula is most probably THE answer. To refresh your memory, Dracula is a horror novel written by Irish author Bram Stoker. The novel speaks of Count Dracula which according to many historians was Vlad III, a prince of Wallachia in Romania also called Vlad the Impaler.
Speaking of Sighisoara above, it's said that Vlad (Dracula) was born in 1431 in a house in the Sighisoara city centre. Although the house is really old, it has been rebuilt many times. Nowadays this yellow house called Casa Vlad Dracul was transformed into a restaurant.
What places to visit when you are chasing Dracula?
Dracula's birthplace in Sighisoara – Casa Vlad Dracul is now a restaurant where for a small fee the staff can show you Vlad's old room
Castel Dracula in Bistrita – it is a very interesting medieval style hotel close to Piatra Fântânele 

village. W

e saw a really cool Dracula show at the hotel, tasted yummy cakes and also visited Dracula's chamber room. So much fun! You have to see their website. So cool!
Bran castle – this castle is connected with Dracula the most, although Dracula never lived there.
Dracula's escape room in Brasov – if you would like to have some fun, this is something interesting to do in Brasov. Personally, I did not do it as I was having a massage at that time, but my friends did and they said it was loads of fun.
8. Cheap – good prices
Romania is still one of those few European countries that are not over-priced yet. In fact, it's very affordable, even in the capital. And the rest of the country even more. If you are looking for a place for a short getaway somewhere in Europe, Romania could be your choice. In some destinations the prices are even lower than in Slovakia where I'm from. Even luxury hotels are usually cheaper than those in big European capitals, beach destinations or Scandinavian countries. Getting more luxury and better service for a good price? Hell yes!
9. Spa
Many people would not consider Romania as a spa destination, and many years ago I had not either. But it all changed once I visited a few spas there.
I've been to a couple of spas in Bucharest
, such as
Orhideea spa
 and Belle Maison spa.
My first time at Orhideea spa I got a full body peeling followed by a massage and went for a swim. That was in 2015 if I remember it right. My second time in 2017 I even shared an apartment at Orhideea with another jounalist. Then I relaxed in the saunas in the morning and went for a swim in their indoor swimming pool.
And then one of the evenings in Bucharest I got a short foot bath followed by a back massage at Belle Maison spa. I appreciated lovely music and also very relaxing massage. It's a rather small yet very cozy spa with professional masseurs. My masseuse really knew what she was doing. I almost fell asleep during the back massage which was a great sign as sometimes it hurts me like crazy. If you'd like to get a nice spa treatment and enjoy peaceful atmosphere, then Belle Maison is a great fit.
I also visited
Vitarium spa at Hotel Alpin 
in Poiana Brasov. The luxury Vitarium spa opened in 2010 and now offers more than 100 different treatments to balance both body and soul. I spent almost 3 hours at the spa. I started with the Marine Wave treatment which is a 110 min hydration ritual with algae extracts, full body scrub, a shower, full body massage and a hydromassage. I so needed a body scrub after so much walking and even more time spent sitting on the bus with boots on. Part of the massage was done with wooden sticks with balls in the end and the masseuse did different movements with them which resembled water: such as rain, waterfall and ice/snow. The hydromassage was a massage done by the jets inside a bathtub with lotus flower milk. I left with a skin of a baby's butt. After the treatment I could relax on a cute bed in the relaxing area. Vitarium spa was way more luxurious than I would expect. And compared to some spas offering the same quality of services but in other countries, Vitarium spa is a lot cheaper.
10. Wifi
I've heard so many times how fast wifi in Romania is. Most Romanians are super proud of that. And I even know that many digital nomads moved to Romania thanks to good wifi. I have to say that we did find wifi in most places we visited but because we were a big group of influencers all uploading photos and videos at the same time, sometimes it wasn't as fast as I'd expect it to be. Maybe if you travel around Romania in a smaller group than a full bus of digital nomads, wifi would could be really fast. That's my wish for you 😀 
Would you add more reasons to visit Romania to my list? Which ones?
***Huge thanks goes to Experience Romania for organising my 2-week trip around Romania. I am so grateful for their effort and I was really happy to explore both well-known attractions and hidden gems of the country.