19 things to do in Neamt county Romania
Honestly, I do not know why it took me so long to explore Romania. I was always saying no to it, maybe because it was pretty "close" to my home country and since I started travel blogging, I just wanted to visit other continents.
But finally in April 2015 I accepted an invitation to spend a few days in the capital of Romania and I fell in love with the city of extremes.
There's so many things that surprised me about Bucharest in a positive way that I decided to see more of its nature and smaller towns, too now in the end of August 2015. 
So here I was, spending 8 days in the Neamt county Romania which is situated in the Bucovina and Moldova (Moldavia in English) region in the central-Eastern part of the country.
I've heard a lot about it not only because some of my friends living in Bucharest were born in Neamt, but also because Romania and its mountains became a favorite destination for motorbike holidays. Many of my Slovak friends love to ride through the unexplored picturesque mountains …
In many ways Neamt reminded me of my home country Slovakia … some meals, mountain ranges, lakes, rivers, and even traditions like greeting people with bread and salt, or honking like crazy when someone is getting married (all the wedding cars honk when passing along the streets during the day.) 
All these little details made me feel like at home and really enjoy the atmosphere of the welcoming Neamt county.
19 things to do in Neamt county Romania:
1. Stroll around Roman town 
Roman town which got its name after the Voivode Roman I of Moldavia, was built in the late 14th century.
Nowadays, with its 50,000 inhabitants is still a very unknown town for tourists which makes it unique if you want to stroll around the streets and see the "real" life of the locals…. Or if you want to stare at topless Romanian guys showing off their manhood out of the window 😀 Or did we get lucky?
Everyone was staring at us – the foreign girls with big cameras, and even more when we tried to take some yoga photos at a ruined shop.
A group of gypsy teenagers came to us and slowly started photobombing our photos, some of which turned funny! In the end, two guys at the street even took pics of me and Anna when walking around us.
Don't forget to visit the Roman Archdiocese church which is just a 2-minute walk from the Roman Plaza hotel (just don't try to spend more than 20 minutes out there taking photos in different yoga positions, if you don't want to be chased by a running nun.) 🙂
And if you are visiting on Sunday, there's a little market with local products and food.
2. Spa at the Roman Plaza hotel
There's not that much to see in Roman besides the things mentioned above or attending one of many weddings, yet if you do decide to spend a few days in town, then I recommend the Roman Plaza hotel. The breakfast there is delicious, and they can also prepare good vegan dinner meals. And it's a very nice place to watch sunsets from right from your room 😉
And of course, spend a few hours at the spa. Sweating out in the dry and steam sauna and then taking a nap on the hot beds was the best thing I could do after a long trip to the Neamt.
*photo taken with Lenovo Vibe Shot mobile phone
3. Neculai Popa Museum
Neculai Popa was a teacher in the 1990's and made all the wooden and stone sculptures we can see now in the museum. He was considered to be the best sculptor in the Neamt county.
When he was a young student, he met a teacher who mentored him into archaeology and that's when Neculai developed his talent and passion for sculpture. Later on, he started to make different sculptures and New Year traditional masks inspired by pre-Christian cultures of the Romanian peasants.
Neculai dedicated his life helping the young to understand their ancestors using traditional masks to let them find out more about the history of the region.
The Museum is located in a beautiful garden with 400-year-old stones looking like flower/blossom fountains. Our guide's grandfather built the house 150 years ago in a very unique way with wooden pattern very representative for this area. Nowadays, the house holds the Neculai Popa Museum with statues, Romanian masks, photographs and many other historical objects from the region.
A Neculai's autoportrait statue he made himself is part of the museum, too.
Some of the Museum masks were made by Neculai's wife (our guide's mother) as he taught her how to make them. He believed that women were better at making technically complicated, detailed masks with their delicate hands.
More info about the Neculai Popa Museum is here.
PS: the garden with apple trees around the Museum was such a lovely place that me and Anna had to take some yoga photos there. My nose got almost broken when she kicked into it by accident, but the stunning area around us is what I am going to remember from that visit, anyway.
4. Horse-back riding at Depozitul de Armasari Dumbrava Timisesti
If you are looking for some adventure in between visiting all the museums, restaurants and churches, then horse-back riding at Dumbrava Timisesti might be a right activity to consider. 
Opened already in 1904, nowadays Dumbrava takes care of 76 horses; some for competitions in the Balkan Olympic Games, some for leisure riding.
While my friends were horse-back riding, I decided not to as my herniated disc was not 100% ok yet after a yoga injury. Instead, I walked to a white horse eating his way through a field.
This beautiful creature with sunbeams behind him made my day very peaceful.
5. Neamt Fortress – Cetatea Neamtului
It took 6 years to build the Neamt Fortress in 1400's. Petru Musat began the construction, then the second part of the building process took part during the Stefan Cel Mare (Stefan III) reign.
First the bridge was built, then a garden around the fortress was designed and they digged a ditch around the citadel for protection. Only then the walls of the fortress itself were raised.
The citadel walls are now 7 to 8m high.
The citadel was attacked a lot of times in history but only conquered twice – first in 1538 by Suleiman the Magnificent (Sultan of the Ottoman empire), and then in 1691 by a Polish King Jan Sobieski. Afterwards, the citadel started losing its big role it had during the Stefan III reign.
Nowadays the museum has 20 rooms with 15th century objects, out of which the Council room and Weapons rooms are important; and also a prison where war prisoners were held.
The Neamt Fortress was also famous for making their own coins.
We entered through the main gate which has always been accessible through the bridge built on 11 tall pillars – the only way to enter the citadel. 
There's also a small church inside built by Musat and administrated by Stefan Cel Mare.
Check out a really beautiful view from the citadel with little towns and the mountains on the horizon; and a well where you need to throw a coin thinking of a wish you'd like to come true 🙂
PS: Check out the local artists, such as red-headed Ionela who makes funny clay figures inspired by a famous Romanian writer and sells them just outside of the Neamt Fortress in one of the stalls.
7. Mihail Sadoveanu Memorial House
We were greeted by a priest from the near-by church who explained us more about why Mihail Sadoveanu played an important role in the history of Romania, especially in literature.
Sadoveanu, who basically grew up as an orphan, got married at 21 and had 11 children.
He wrote many books, mostly dedicated to church and the beautiful religious life. He is considered to be the biggest Romanian novelist; also famous for many translations, adventure novels, story-telling about landscape and historical novels (e.g. about WWI; or the Moldavian Prince Stephen the Great which was then treated as part of Romanian history, not just a simple novel.)
He also translated from Hebrew into Romanian.
Sadoveanu was also both a tourist and a traveler, so after traveling for a few years he dedicated some of his books to the destinations he managed to explore, such as Netherlands or Turkey.
He was the one who helped the Government to talk with the church, but many of his religious books were unpublished after the confiscation in 1947 anyway. Although he was par of the Romanian Government (politician, President of the Senate,) they did not allow him to publish many of his books until the Communist revolution in 1989. 
Mihail Sadoveanu flew from Romania and remained in Germany and Paris for 20 years where he created the first gathering place for Orthodox Romanians outside Romania.
It is said that he used to sleep with a gun under his pillow.
The house which holds the Memorial Museum now was the writer's summer residence for hunting and fishing so he named this place "The Garden of Silence."
His last 6 years he spent at this house.
In 1961 just 4 days before dying he decided to move to Bucharest and is now buried next to Paris.
Nowadays, Sadoveanu's novels are taught at the schools all over Romania.
There's 2 museums inside the house – one for Mihail Sadoveanu (with his weapons, personal objects, original writings of some books, a beautiful black piano) and the second one to Pio
Inside you hear a soundtrack with Sadoveanu's voice reading biggest Romanian poet's poem.
8. Dragos Voda Bisons Reserve
There are 3 major attractions in this part of the county and the Bisons Reserve founded in 1968 in a small town of Vanatori is the top one, no doubt. You can walk up to a bridge that goes across the park, which is what we did but we were not lucky enough to see bisons. 
28 bisons/aurochs live in the 180 hectares enclosure around the bridge which makes it one of the very few places in Europe.
Another thing to do here is to visit the Bison Museum or observe vegetation and other wildlife (deer, foxes, wolves, bears, mouflons, carps, etc.) The Bisons Reserve is now part of the ZOO Dragos Voda which is one of the four protected areas in the natural park (personally, I am NOT a fan of "normal" ZOOs, but visit only those which are naturally proctected or where they help hurt animals.)
PS: if you are afraid of heights, do not walk to the bridge as it's 15 m high.

9. Neamt Monastery
The Neamt Monastery was first built in 1270 which probably makes it the oldest monastery in Romania. However, the people started gathering here as isolated establishment and made a community at the end of the 14th century when the major part of the monastery dates back to. It belonged to the Musati dynasty.
In 1497 Stefan III built the church here and now inside we can see the paintings from the 15th century. 
The Museum holds different icons, metal sculptures, traditional broidery and typography.
10. Hiking in the Ceahlau National Park
You can pick one of 7 main trails to hike to the Ceahlau Massif, one of the most popular hiking destinations in Romania which is part of the Eastern Carphatians (that's why the jaw-dropping nature reminded me of our mountains in Slovakia so much!)
I was silly enough to eat delicious home-made chocolate muffins with ice cream the days before the hike so unfortunately could not go hiking. Dairy causes me sinus infection and I cannot breathe at all in higher altitude so had to stay down in Durau town when the rest of our group sweated out their way swearing to the peak.
Instead of the long drastic hike to the peak, we just took an easy walk through the forest and did a quick yoga session.
Although I was not able to hike, the national park was still one of the highlights of our trip … stunning sunsets, fresh air, lush greenery, trees to hug …
11. Chill-out at in-room jacuzzi at Bistrita Hotel in Durau town
Well … where else could you find me on a cold day than chilling out in a jacuzzi? 
I loved 2 things at the Bistrita Hotel (just wish the staff spoke more English and was a bit more friendly.) Chocolate muffins with ice cream and our huge in-room jacuzzi was definitely something to remember!
12. Bicaz Dam
Just to drive around the Bicaz Dam, the biggest artificial lake in Romania, was more adventurous than I thought (especially if you get nausea from all the curves and damaged roads as my friends did) but the view is more than unforgettable! 
The dam, sometimes also called Lake Izvorul Muntelui, was built between 1950 and 1960 and covers 33 km².
You can stop by the bridge or hop on a ferryboat which will take you closer to the lake beauty.
13. Cable car in Piatra Neamt
No matter where you go in Piatra Neamt town, you can see the cable cars from almost any corner. It not only makes it easier for tourists not to get lost around the town, but it also gives a special touch to the whole visit.
If you have time, take a cable car up the mountain both during the day and at night after sunset to see the whole town in two different worlds.
14. Film Festival in Piatra Neamt 
Filmul de Piatra takes place every year at the end of August in Piatra Neamt just thanks to many volunteers. The only independent film festival in Romania is dedicated to young filmmakers.
You can watch short movies in different parts of town, such as around the main square, or even attend live music on top of the mountain where the cable cars take you.
*photo credit: Ionut Rusu, the official photographer of Filmul de Piatra
15. Churches and museums in Piatra Neamt
With my friends, we took a few hour walk around the town to see more of the local life. The town is full of restaurants, coffee and pastry shops, and also of different churches and museums.
My favorite churches were the white Hospital church with many colorful restored paintings, and the Nativity of St. John the Baptist Church which was built by the Stephen the Great at the main square. Outside, there's a gate which is famous for wedding couples who go there for a kiss (also any other couples can kiss there) 🙂
And out of the many museums, Cucuteni Culture Museum with female Goddesses and other super old painted pottery is a must visit. Then if you are interested in paintings, I also recommend the Art Museum and the Etnography Museum to learn more about the history of the region and the local habits and clothing.  
16. Live music + bonfire + full moon
There is not much else to say about this one, but bonfire nights with romantic/traditional Romanian music are one of the local habits in the Neamt County. I've heard it mostly takes place on your last night before you leave as a sort of goodbye. Just grab someone to hold tight onto 😉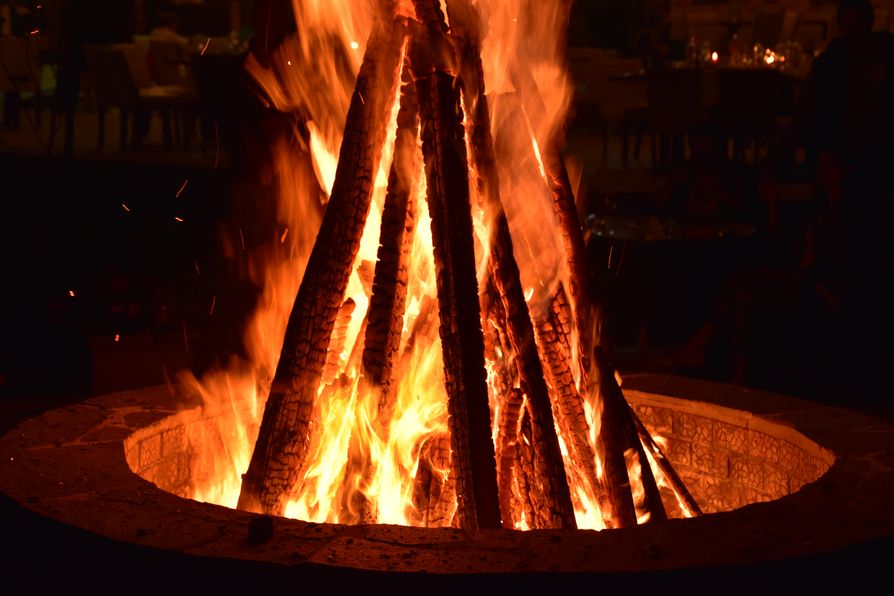 17. Eat your way through Neamt county
Once I learned I would visit Neamt County in Romania, I could not stop thinking of grilled mushrooms. It might sound weird but after my Bucharest visit where I had mushrooms at least once a day (I LOVE them), I was more than sure to munch on mushrooms every day in Neamt. And my dream came true …
However, trying to be vegan was not so easy in Neamt. Although I did manage to get vegan breakfast, and also all the main meals for both lunch and dinner (delicious okra and eggplant meals at the Central Plaza hotel in Piatra Neamt), that was not the case with desserts.
My very favorite ones were home-made ice cream and chocolate muffins at Aristocratis Pension and Bistrita Hotel, and mushroom risotto and really tasty wild mushrooms with polenta, too. 
18. Spend time with locals
No doubt, getting to know the locals is one of the must-do's when in Neamt County. Romanians might seem mostly shy, especially when they think their English is not so good (it's usually way better than they think, they might just not be used to speak so they don't feel very comfortable chatting with foreigners.)
But once you get through their just-smiling-no-talking shell, you will eventually feel their warm hearts and hospitality. I still remember very clearly all the shy smiles and occassional oops touches. And loads of good vibes 🙂
I have to say big thanks to everyone I met there, especially Horatiu, Tudor, Rares, Horia, Iontu, Silviu, Alin, Adi, Andrei, Ariel, Lavinia etc.! Thank you for your time, guys!
19. Rooftop sunset
Maybe I should not mention it here as it's not an official thing to do, but I so enjoyed the sunset from the rooftop of the Central Plaza hotel that I cannot pretend it did not happen. Cable cars, shiny hotel sign, full moon, pinky sunset and the whole Piatra Neamt town spread out underneath me. More than memorable!
You can check out more of my photos from the Neamt County and also Piatra Neamt town.
I participated in #priNeamt – the 4th edition of the most important event dedicated to promoting in the online environment of a county from Romania. Organizer: Eventur Bucharest. Powered by Petrom Romania. Main partners: Neamt County Council, City Hall of Piatra Neamț, Blue Air,Roman Plaza Hotel and Aristocratis Pension. With the support of: Ancutei Inn, Central Plaza Hotel, Bistrita Hotel, Auto Moldova, Nenea Iancu Beer House.
PS: The sunglasses I am wearing are from Yacht Club Accessories.