7 things to do in Gaafaru Maldives and where to stay
I was lucky enough to have spent late September and early October 2017 in the Maldives. In 27 days there I managed to visit more islands, both resort islands and local islands just to be able to compare them and know the difference. One of the local islands I stayed at was Gaafaru. In this article I will mention the must sees and things to do in Gaafaru Maldives.
But first, where is Gaafaru?
More about the island Gaafaru Maldives and where to stay
Gaafaru Maldives location
Maldives consist of more than 1,190 islands which form different atolls.
Gaafaru is a very small island located in the North of Male capital. It's situated exactly 61 km North from the international airport. It's separated by a deep narrow channel from the Northern most island of the North Male Atoll (that's the picnic island Kagi I mention below).
Gaafaru island is the only island of the natural atoll carrying the same name of Gaafaru.
However, Gaafaru is also part of the Kaafu Atoll. It is located in the Eastern part of the atoll.
Basically, Gaafaru is a tiny island surounded by a big reef and lagoon which is up to 30 m deep. That makes it a perfect local island experience in Maldives.
Gaafaru hotel
I really hope that this article will be useful for you if you decide to visit Gaafaru. There's not that much information online about Gaafaru Maldives yet as in 2017 the island had 1 hotel only 🙂 Yes, you hear me right. In 2017 when I visited Gaafaru there was just the
Mirian Sky Hotel Gaafaru
 which opened only in 2016. That's exactly the Gaafaru hotel where I stayed at, too. So it's logical there's not that much information about the island as tourists would not go there until 2016.
Now there's a couple of more hotels and guesthouses being built on the island which will attract more visitors. But I recommend you to visit Gaafaru asap. You might get as lucky as I did and be the only tourist on the island. Yes, when I stayed there, there were no other tourists at the Mirian Sky hotel which felt really unique to me.
Being the only guest on the whole island let me explore Gaafaru even better.
Mirian Sky Gaafaru is a lovely small hotel with 8 rooms on 2 floors. I had a room on the second floor overlooking the roofs of local houses. From the other side you could see the local mosque which was one of the unique experiences on Gaafaru. You could watch the locals praying there from the balcony.
I had 3 meals per day at Mirian Sky. Being a vegan, they didn't have any problems with that. I asked them to give me just fresh fruit and young coconuts for both breakfast and lunch, and I did get it. My first 2 meals of the day are just fruit when it's hot outside. Then for dinner I had a veggie meal (rice, grilled veggies, salads, pasta etc.) Exactly what I asked them for. I am very grateful for the chef being flexible with my vegan meals. But don't worry, if you are not vegan, you will get your meals as well 😀
All the tours I talk about below were organized directly by Mirian Sky Gaafaru. Many thanks to Appey, my tour guide, and also to the boat crew. All the three of them were super nice to me, willing to take photos of me when I needed, and customizing the tours as I wanted them. I also learned a lot from them about the locals in Gaafaru and local life in Maldives in general. We had a lot of laugh together and I do miss all three of them 🙂
---
Or you can book your Mirian Sky room directly on
Booking.com
😉
---
7 things to do in Gaafaru Maldives
1. Observe local life
As I've said, Gaafaru Maldives is a perfect place to learn more about the life of the locals. Many people go to Maldives and stay only at a resort which does not give them any chance to find out how the locals live. For that, you need to stay at a local island, such as Gaafaru. And because now in 2017 there's only 1 hotel there, the local experience will be even more unique. The locals are not really used to tourists yet which gives you an opportunity to really get to know the Maldivian habits. I went for a barefoot walk every day while in Gaafaru. I tried to go at different times of the day to see more of local activities. My favorite time was sunset when the kids were back from school and they would play at the big colorful playground not far from the port. When I was there, they got curious and wanted to play with me, too. At that time the adults would swing in the funny swings below the trees found all around the island.
TIP:
 Mingle with locals at Island Deck. Island Deck is a famous coffee shop located just a couple of metres from the Gaafaru port. You can take steps up to the roof to watch the sunset in the port. Many locals go there to get a coffee.
2. Relax on the bikini beach
Hope you know that the main religion on the local islands in Maldives is Muslim which means that you have to be covered. The same applies for the beach so you would need to swim in the Ocean with your clothes on. To attract tourists who are used to sunbathe and swim in swimwear only, some local islands have a designated Bikini beach. Imran, the owner of Mirian Sky Hotel also marked a sand bank on Gaafaru as the Gaafaru Bikini beach where you can freely wear bikini only. I loved to have that beach to myself only (again no other tourists were there at the same time). Yay, private beach! 🙂 There's some shells and corals along the beach after high tide. Feel free to admire their beauty. Oh, and the sunset from the beach is also cool. The sunset is somewhere in the port and not directly at the Bikini beach but it's still visible. I didn't really swim there much because of some algae and corals close-by. But I think it would be possible to go for a swim. There's a couple of free sunbeds on the beach to sunbathe on. If you got bored, you can rent a canoe at Mirian Sky Hotel or go on a banana boat.
You can find more of my photos on
my Instagram
😉
3. Snorkeling with turtles
I went snorkeling with sea turtles in other places too but this one was the best, no kidding! We went on a boat trip for approx. half an hour from Gaafaru and anchored not far from to coral reefs with many fish and turtle families. I was extremely happy to see 4 turtles, a baby one and 3 adults. If I'm not mistaken, all 4 of them were hawksbill turtles, just of different sizes. One of them swam so close to me and seemed enjoying the camera so much it would swim towards me for a few minutes, even when I tried to keep my distance. I managed to get a lovely turtle selfie, and a really cool video, too. The best turtle experience ever 🙂 *Just please remember NOT to touch the turtles and always keep a distance. Sea turtles are wild animals and not domesticated pets that need affection. Touching them is not natural.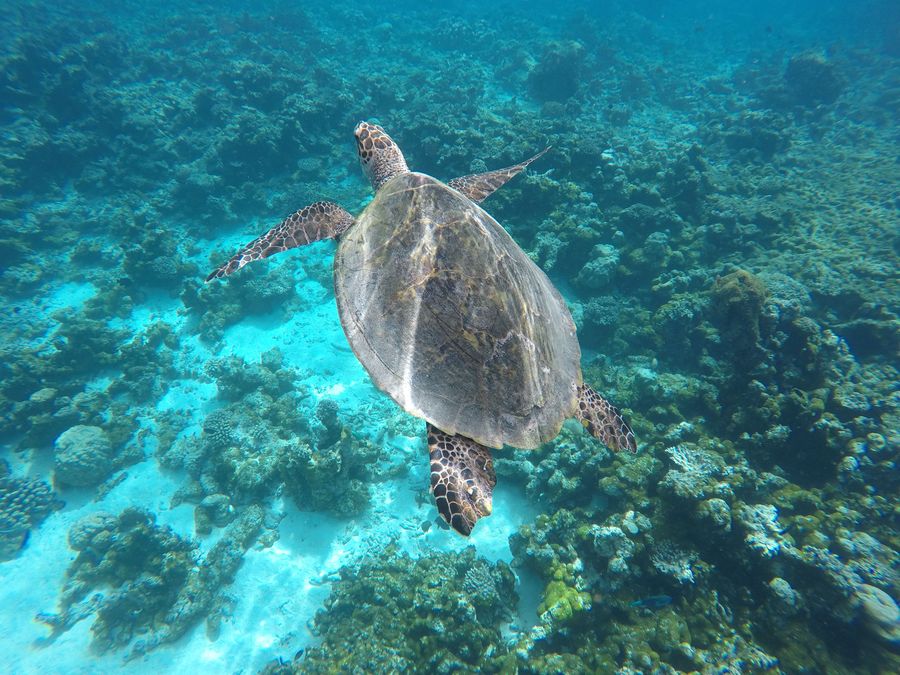 4. Snorkeling around Gaafaru shipwrecks
As Gaafaru is located on the important shipping route, we can find many old shipwrecks around the island. In the past, the reef around Gaafaru was not well visible in the storm which is what makes it now a great shipwreck diving location. It's not necessary to go diving though. Some shipwrecks are also visible when snorkeling. As
I dived only once in my life so far
, we took a boat to go snorkeling around SS Seagull shipwreck. SS Seagull is now found near the outer wall of the reef in the North of the Gaafaru Atoll. This German steamboat sank in 1879 on the way from London to Calcutta. It is possible to see parts of the wreck on the top of the reef which ranges between 6 to 10 meters in depth. The ship is split in half and is mostly covered with coral, home to many fish. If you would like to go diving there, try to find a small cave, boilers and stern located at the depth of 30 meters.
Both snorkeling and diving around the SS Seagull is enjoyed the best when the current is weak. Together with various fish, we saw a big stingray camouflaging under the sand just a few metres from us. You can see also soldierfish, groupers, jacks, blackspotted moray, barracudas, crustaceans, eagle rays etc. And my guides have also spotted nurse sharks while snorkeling around Gaafaru. Personally, I was not that lucky.
You can go snorkeling or diving to other shipwreck locations around Gaafaru as well, such as the Anchor point or Lady Chistine.
January to May are the best months for snorkeling and diving in Gaafaru. I was there in early October 2017 so thanks to cloudy and rainy weather, the sea was a bit choppy and the visibility not the best. Yet,  I was satisfied with what we managed to see around the SS Seagull shipwreck.
5. Boat trip to picnic island Kagi
One of the most common activities offered at many Maldivian hotels and resorts is a trip to a picnic island. It's funny but usually tourists do not realize that it's always a different picnic island, depending on the location of the Maldivian island you are staying at. There's no one island called Picnic island in the Maldives. Many islands are referred to as "picnic islands" because tourists take a boat and go to a different island to have picnic there, hence the name.
The picnic island where the Gaafaru tourists are taken is called Kagi. It's a lot bigger than I expected, with many sunbeds, palm trees, breath-taking white sand beach and good snorkeling not so far away. As I went snokeling almost every single day for more than 3 weeks in the Maldives before that, I decided to just relax on the beach. It was more than stunning, especially because I was there alone for 2 hours until a group of guests from a resort arrived. Until then I had the whole beach to myself only. Next time, I would love to also stay at Kagi overnight as I've heard it is possible.
To be honest, I loved all the meals I was served at the picnic island. I decided to have both breakfast and lunch there and the Mirian Sky owner agreed on that. So I got a couple of young coconuts and loads of fresh fruit for breakfast there, and then a few hours later more fruit, also a big veggie salad, another coconut and water, of course. I left with a pregnant belly 😀 But it was also my last day on the Gaafaru island so I guess they really wanted to leave an unforgettable impression on me. Good job!
6. Boat trip to sandbank Maadhooni Finolhu
A trip to the Maldives would not be complete without a sandbank visit. Three weeks before Gaafaru, I had a chance to visit Thoddoo island and take a trip to Madivaru Finolhu sandbank where we had the best snorkeling ever. Then a week later, I walked along the sandbank at the
Kuramathi Island resort
. So taking a boat trip from Gaafaru to Maadhooni Finolhu was my third sandbank visit in the Maldives. Maadhooni Finolhu sandbank is a tiny white sand island with nothing but loads of sea birds and crabs. Only wish the weather was better when we visited so we ould have stayed longer there. But I usually get really bad weather when visiting a sandbank, and this time was no difference. After taking some nice photos we had to hop on the boat again and leave asap to avoid a big storm. But then again, I was there during the rainy season (September and October 2017). Yet, in my opinion, a sandbank visit is a must when in the Maldives.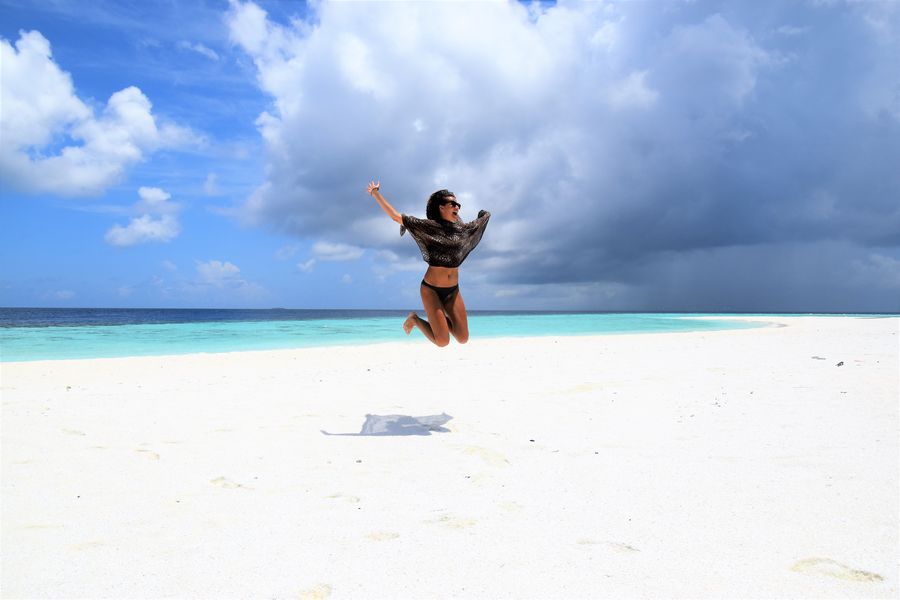 7. Dolphin cruise
Maldives are an incredible place for sea animals… turtles, fish, sharks, dolphins… Oh dolphins, you gorgeous creatures! As I can never spend enough time observing dolphins, I simply had to see them in the Maldives, too. One of the evenings on Gaafaru we took an hour sunset cruise and were so lucky to spot loads, and I mean loads of dolphins. I was just sitting on the boat looking at many dolphins jumping all around us. The Sun setting in the horizon even added to already the magnificent feeling I had. I was eternally grateful to see dozens of dolphins 🙂
---
---
I only spent 5 days on Gaafaru Maldives and can frankly say that it was not enough. I hope to revisit Maldives in April 2017 for a month and return to Gaafaru as well. There's still many activities I didn't have time to try there yet. And meeting up again with the hotel owner, guide and boat crew will be nice, too 🙂
---
TIP 2: If you are from Slovakia or Czech republic and would prefer to visit Gaafaru or other islands in Maldives with a travel agency that will organize the whole trip and accommodation for you, then I recommend you Maledivy-levne.cz.
*Ak si zo Slovenska alebo Českej republiky a radšej by si chcel ísť na Gaafaru alebo iné ostrovy na Maldivách s cestovnou agentúrou, ktorá všetko vybaví za teba, potom ti odporúčam
Maledivy-levne.cz
.
---