Pros and cons of staying at Kurumba Maldives – First resort in Maldives
Straight after my first 10 days on a local Maldivian island Thoddoo, I moved to Kurumba resort. Why? I just wanted to compare the local life in the Maldives with a traditional resort. Maldives are mostly famous for heavenly resorts, but thanks to my adventurous soul of a traveler, rather than of a tourist, I really wanted to experience both sides of Maldives. Local and resort life. And Kurumba Maldives was the first resort I ever stayed at in Maldives. Very symbolical… Because
Kurumba was also the first resort that ever opened in the Maldives already in 1972 together with Bandos resort. And thanks to its location it makes sense. Kurumba is situated just a 10-minute boat ride from the Velana international airport which is on the island next to Male, the capital of Maldives. Nowadays, Kurumba is a 5* resort that can host approx. 300 guests. Most of the guests come from the UK and the rest of Europe, and Middle East. 
This is why you should stay at Kurumba Maldives:
What I enjoyed at Kurumba Maldives 
Kurumba is so close to Male that the wifi works really well around the resort. That's a huge advantage of Kurumba's location. I was surprised how fast I could upload videos on Facebook, especially after a few days with super slow wifi at Summer Inn Thoddoo before. Fast consistent wifi at Kurumba is definitely a big plus. Especially if you know you need to get some work done online even while there, like me. You know, some people do work also on "holidays". Although I really hope you are not one of them. You really should enjoy Maldives without thinking of work and without spending half a day online. Maldives are way too beautiful for looking into your phone or laptop, trust me ;)
My villa –  very nicely decorated and just a minute walk from the  white sand beach. I loved so many funny details and signs there; e.g. "backup plan" written on the toilet paper.
Outdoor bathroom was the highlight of my stay, together with tasty food and sharks right on the beach. I wanted to cry out of happiness when I opened the door to the bathroom and saw the beautigul huge outdoor bathroom with a shower, a bathtub, another outdoor shower and 2 sinks. OMG, perfectly romantic bathroom. Hmmm.
Natural toiletries made of coconut oil – they produce their own coconut oil on the island. So cool! And all the toiletries (shampoo, soaps, shower gels etc.) that are used at the villas are made of the local coconut oil. If you only knew that people call me a "coconut queen", that's how much I love coconut, you would understand my pure happiness when I saw the coconut soap for the first time :) 
Did you know that "kurumba" means "young coconut"?
There's 8 restaurants and 4 bars on such a small island! Incredible, right? So even if you stay for longer than a week, you can always eat at a different restaurant and not get bored of the same food. Thumbs up for this! And yes, Kurumba is a super small island.
I had one breakfast and one dinner at Thila restaurant by the ocean. There's a very good breakfast buffet, also with gluten-free pastries and vegan meals (e.g. coconut yoghurt with fruit) which I really appreciated. You can also order a meal from the menu. I just told the chef to make me something vegan very quickly. And he came up with a toast with loads of my favorite veggies, such as broccoli and avocado. And later for dinner, we sat at a table just by the Ocean. It was there were I first saw a shark swimming just next to our table. My first shark in Maldives, yay!
One of the nights, we watched Bodu Beru traditional Maldivian dance at the bar. It was very interesting to see how fast the local men dance and play musical instruments. Great experience!
Kurumba Maldives has a really awesome spa called Veli spa. On my first day I tried Akarakaraa Theyo Dhemun massage, which is a signature 60-minute full body massage. It was done by a Thai masseuse with local organic coconut oil and also hot herbal bags. Sand and local herbs in the herbal bags helped to leave my skin super soft after the massage. I only wish it lasted longer! The massage was so good I was falling asleep :) Afterwards, we could relax at the relaxing zone sipping on cold infused water or hot tea and munching on nuts. Mmm Veli spa is a must do when staying at Kurumba Maldives. 
Yoga  – there's a yoga class 6 times a week from 11.30 am to 12.15 pm. I think the time is not the best as it's very hot and humid at lunch time. It would be definitely better to practice yoga or earlier, or later in the day. Anyway, I was extremely happy to have a chance to attend at least one yoga class. So loved it! The yoga teacher was a sweet and funny Indian woman. 3 other guests joined the class as well and we started with a guided meditation. As we all had back and neck pain, we mostly focused on releasing the pain doing different backbends, such as cobra etc. In the end, a few Pranayama techniques were introduced, too. We were trying to learn how to hold the breath. Let me tell you, despite of the heat and mosquitoes, it was such a pleasant yoga class. I so needed it after a couple of days of less yoga than usual.
Snorkeling – I had my own snorkel mask with me but you can rent snorkel gear for free if you return it by 7 pm on the same day. I went snokeling just in front of our villa and saw a baby shark there :)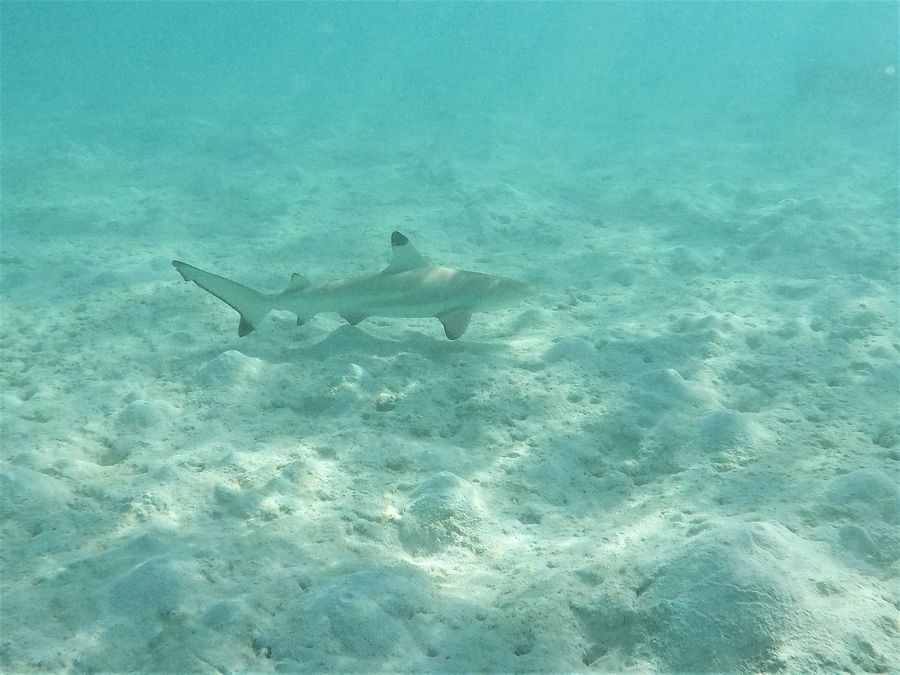 And my video from snorkeling:
Buffet food at the main restaurant – I was impressed by both breakfast and lunch buffet… so many healthy options, vegan meals included, loads of fresh juices, sauces, hummus, fresh salads etc. I give Kurumba a big thumb up for their buffet.
Main swimming pool – there's one quite big swimming pool for all the Kurumba guests (some villas have private ones) but unfortunately I didn't have time to spend by the pool. Was so busy taking photos around the island and tasting the food, sorry… There's also another smaller pool by the gym. Not that nice but definitely more quiet ;)
Orchid garden – the whole vegetation around Kurumba is amazing and I really admired it. But the nicest part is the orchid garden. Dozens or even hundreds of different orchid species there! Go and have a look ;)
Sunsets on the beach were jaw-dropping! Sunset is always my favorite time of the day and if I can watch it on the beach, even better :)
Here is my video from day 1 at Kurumba: 
---
---
Compare my review with others about Kurumba on Tripadvisor and if you like the resort, you can even book your stay directly there :)
---
What I didn't like at Kurumba Maldives:
Just 1.5 l of water per villa per day – I was shocked to see this! In that heat 2 people get just 1.5 l of water per day which means only 0.75 l per person?? I am a super healthy person and drink more than 4 l of water per day, and do not drink with my meals (it's slowing down your digestion). When I was not drinking water with meals and instead I refilled my bottle, the staff looked me in a weird way. But the worse was the marketing girl who told me that although I'm on a press stay, I need to buy my own water! Excuse me?! So I am working here for a few days giving the resort promotion and I don't even get water and have to "steal" it from the restaurant so I don't die in 35 Celsius??? No more comments about this.
Being very close to the airport is also a disadvantage. You can hear and see planes flying above the island which is something that some people could mind. Personally, it was not a big problem for me as I used to work as a flight attendant for 2 years and I simply love observing planes. It just gave me the feeling that we were not in a quiet destination somewhere in the Maldivian paradise. To me, Maldives should be as secluded as it can get and unfortunately, Kurumba didn't feel like it very much.
And from one side of Kurumba island, the one facing the airport, you can see many cargo ferries, ships and even the surrounding islands with loads of buildings in the background. If you go to Maldives, you just want to see the Ocean around you, and not construction and buildings, right? This doesn't help with a secluded location feeling either. However, most of the villas are on located on the other side, so it's just the view from restaurants. Not too bad. 
My stay at Kurumba was a press stay. Unfortunately, I have to admit that the communication with marketing was not the best. At a certain point it was not as professional as I'd expect it to be at a 5* resort. I'd rather do not go into details but it was an incredible mess. Haven't seen anything like that in any other resort I've ever stayed at. But maybe it happened because the manager was rather new. However, you as a regular guest might not have any problems with marketing as most probably you would not be in touch with them. So no worries ;) But I'm talking of my professional travel blogger view… that was not the best :/
---
TIP: After Kurumba Maldives, I went to another resort which I liked a lot more (except the food and spa, that was better at Kurumba). It's located approx. 60 to 90 minutes by speedboat from Velana International Airport in the Rasdhoo Atoll and it's called Kuramathi Island Resort. Here is the article about my stay at Kuramathi :) 
---
*Many thanks to Kurumba staff for my pleasant stay. Just wish the communication with the marketing was better. Anyway, feel free to check out more information about this resort on Kurumba website. I do recommend the resort for families and couples who woould like to get to a resort asap after landing to Velana International Airport. It's a lovely resort on a small island with its pros and cons.