Crazy canyoning Slovenia with Eurorafting
My first time in Slovenia in 2013 was just beach in Portoroz with friends, and then a quick visit to Ljubljana on the way back home. My second time in May 2017 was a completely different experience. During a very adventurous weekend we decided to do canyoning Slovenia, and other 2 activities, rafting and zipline.
Let me tell you, I was so scared before the trip! 
The whole trip was organized by Eurorafting, an agency from Slovakia which takes local tourists from Slovakia to Slovenia to fulfill their adrenaline needs. Together with Milan we were picked up at 2 pm on Friday. The van took us from Bratislava to Bovec through Austria and Italy.
It took us approx. 5 to 6 hours to drive from Bratislava to Bovec.
Within those 6 hours we drove through 4 countries. Love how small Europe is 🙂
*Many other people were driving their own cars. We had a choice, or own car or a van from Eurorafting.
I hadn't really check photos of Bovec area much as I prefered to get surprised. And oh boy, I so was! Already half an hour before getting into Bovec I could not stop staring out of the car window. The Julian Alps mountains around Bovec were breath-taking!
We were renting an apartment in Čezsoča, a small village just outside of Bovec. Even there you had a choice, or to stay at an apartment, or camping.
Our first night (Friday night) we just had dinner with other people who were joining us on the trip. Jano, the owner of Eurorafting also told us all the necessary information about the following 2 days; all the what, were, how and when we needed to know.
The whole group was divided into two smaller ones: one group was doing rafting first on Saturday, and then canyoning on Sunday; the other vice versa. We were supposed to do rafting first, but then it changed and our first day was canyoning. Yes!
I was actually very happy for the change as I wanted to do the most difficult activity for me in the beginning and then just enjoy the rest of the weekend. 
Already at the dinner we met with Jenny, Ondrej and Lukas, also from Slovakia, who were going to do the same activities with us. They seemed a lot of fun, easy to talk to and I really liked them. 
At dinner I also noticed another guy with super cool tattoos. We kept staring at each other for the rest of the trip but I'd better keep that story to myself 😛 
While others kept chatting after dinner, we walked back to the apartment and worked online for a bit laughing with Milan. The night was not the best as I felt cold and couldn't sleep. Milan was a bit sick so he would snore all night long. I don't think I slept for more than 2 hours.
Getting ready for canyoning Slovenia
On Saturday morning our van driver Peto picked us up at the apartment and we drove for a few minutes to our meeting pointa, and then to the parking where the entrance to the Sušec Gorge is located. There we chose the best neoprene suits, neoprene shoes, helmets and girls also life jackets for canyoning.  We left all the unnecessary things in the van, and just took a waterproof camera with us.
I was scared like hell!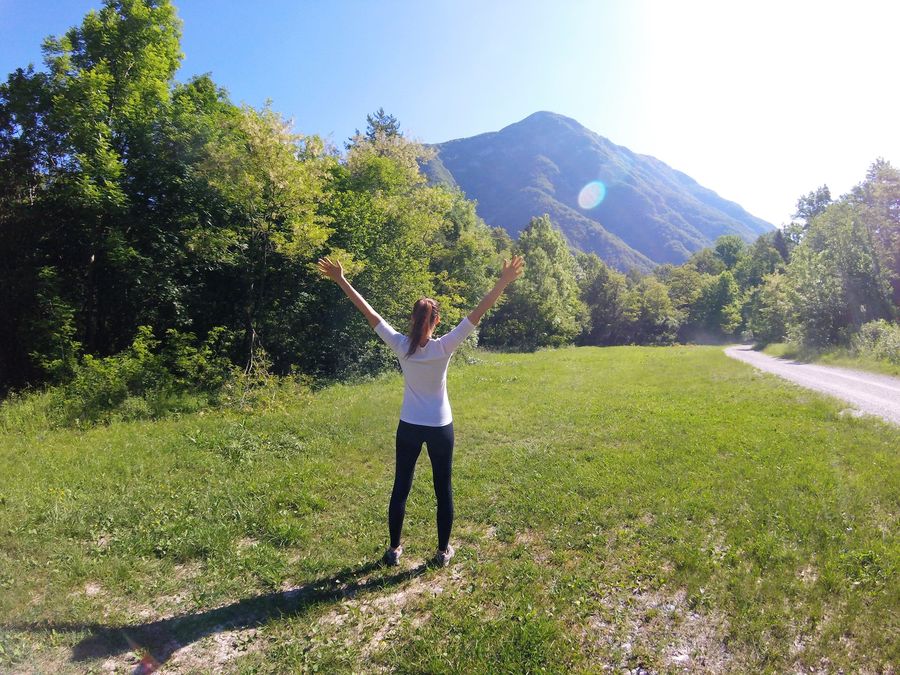 ………………………………………………………………………………………………………………………………………….
Let me repeat, I was so afraid of canyoning it's even impossible to describe.

I hate waves, I'm scared of water since I nearly drowned in Mexico twice in one day.

I am also scared of heights, especially when jumping into the water. I cannot even remember when was the last time I jumped into a swimming pool.  

Another thing I'm scared of is rappeling/abseiling down. It just feels weird to me to straight my legs and have the rest of my body so far from the rocks.
………………………………………………………………………………………………………………………………………….
Overcoming my fears
However, I keep telling others they should get out of their comfort zone and cross their own boundaries. It would be weird if I just said it to others without being an example, right?
So here I was, going to do canyoning – one of the adventure activities I was always the most scared of.
Crazy canyoning Slovenia
"Canyoning is going through water canyons in the direction of water flow using variety of techniques, such as walking, jumping into lagoons, sliding through natural tobogans, swimming, rappeling or scrambling."
I looked at the high waterfall at the entrance to the Sušec Gorge. "No way I'm jumping down that one." I shook my head no. It seriously looked impossible.
Canyoning in the Sušec Gorge is allowed by permit only from 9 am to 6 pm from March 15 to October 31. You can approach the gorge only at the designated entry/exit points and in the high water it is forbidden whatsoever.
Surprisingly, the toughest part of the whole canyoning experience for me was climbing up the hill for half an hour. I was so tired after very little sleep and was supposed to get my period. It made me feel so dizzy I almost fainted on the way up. At one point I even wanted to say to the instructor I'd quit and walk back down. 
But once we reached the point where we were going to start the canyoning itself, I calmed down and refreshed myself drinking water from the cold river. As usual, putting the rest of the wetsuits on was loads of fun. In all the layers, I felt like a bear-snake hybrid.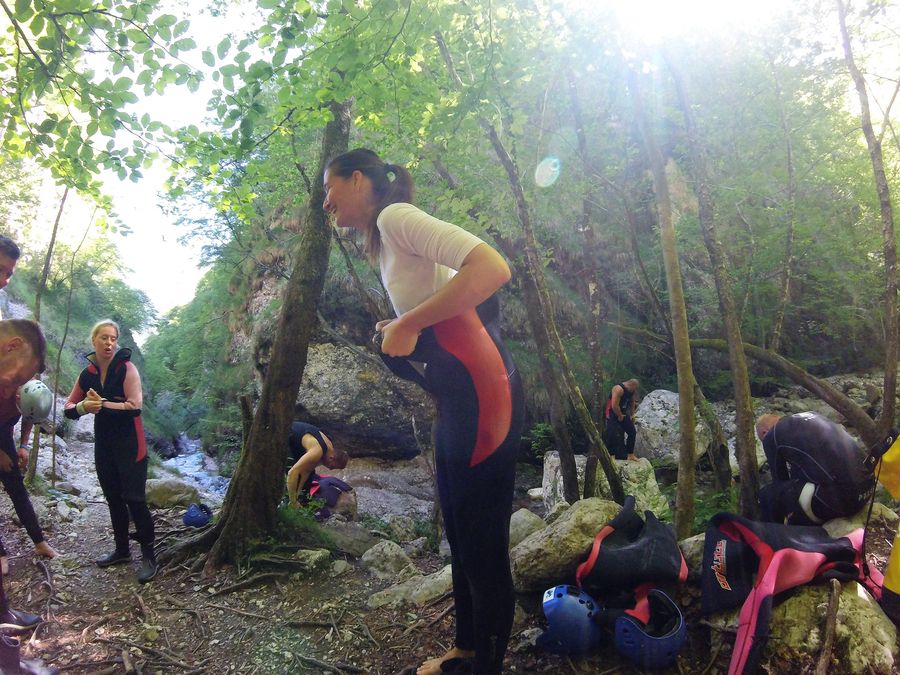 The water had somewhere between 3 to 5 Celsius so without wetsuits, we would freeze. I also had a thermo shirt and leggings underneath. Some guys were shivering even in the wetsuits. I could only feel cold feet and hands in the beginning, then was surprisingly fine. 
The whole canyoning took us approx. 3 hours  but it all depends on the number of people in your group. The more people, the longer it takes. Our instructors Jano and Ondrej told us what to do before each little waterfall. Ondrej was the first one to go and then catch us down there, while Jano was the last one keeping an eye on everyone's safety. Lukas also helped me a few times. Which woman wouldn't enjoy a couple of gentlemen giving her a hand? O:)
It was just me and Jenny, the only two girls in our group and unlikely to the guys, we were not that much into jumping off the cliffs. I was seriously scared of just one waterfall, refused to jump, and opted for sliding down instead. 
………………………………………………………………………………………………….
To be honest, I was having so much fun sliding down!
…………………………………………………………………………………………………
The best for me where "the scariest" caves and rappel that came last. Unforgettable experience! Maybe I staretd to feel comfortable already, maybe I knew it was the last things to go through to get back to the parking. I don't know. The important thing is, I fell in love with canyoning in the last 20 minutes of it.
Canyoning Slovenia challenged me in many ways… heights, cold water, scary waterfalls, narrow canyons, rappeling… 
I was incredibly proud of myself for overcoming my many fears at once. I ended up with just one bruise on my knee.
Not only survived canyoning, but even had lot of fun.
Check out videos from canyoning in Slovenia below. The first one is in Slovak but with brief English subtitles. The second video is more fun, but only in Slovak. I am sure that the videos show all the adrenaline better than the photos.
After canyoning, we also did zipline in the mountains and on the following day rafting in the Soča river. I wrote about zipline in Bovec in a separate article, and also about rafting in Slovenia.
---
TIP: Never leave your home country without travel insurance, especially when you are planning on doing some adventure sports. If you are from Slovakia, then I recommend you to check travel insurance at Netfinancie cestovne poistenie . It's very easy and you can book insurance within 5 minutes.
---
Have you done canyoning? Where? If not, would you dare? Share your thoughts in the comments below.
If you speak Slovak, check Eurorafting for more information about the trips they offer. I can highly recommend to go on an adventurous weekend in Slovenia with them. Thanks guys for helping me out 🙂