Having the best time at crazy high zipline Slovenia Bovec
The last time I visited Slovenia to do rafting and canyoning with Eurorafting, another adventure activity we did with my friend was also zipline. I've done zipline so many times at different places around the world, such as outside of Las Vegas, in Mexico, on Bastimentos island in Panama etc. But now when I think about it, zipline Slovenia Bovec was probably the highest and the longest zipline I've ever survived.
Zipline is the adventure activity I personally enjoy the most.
Zipline Slovenia Bovec
After canyoning, we went to the Bovec city center to the zipline Slovenia office. Bovec is a small mountain town surrounded by the peaks of the Julian Alps in Northwestern Slovenia. It's a perfect place for adventure souls who are into rafting, canyoning, ziplining, paragliding, hiking, cycling, skydiving or even golfing.
At the office we got our gear and walked to the car which took us from Bovec town up to the hills through the serpentines. Once we got out of the car, I was left with my mouth open. We could see the whole valley spreading below us. I will never EVER forget that view which, for a little while, made me even more scared of what was ahead of us. 
We were asked to put on the gear, helmets and gloves and then walked to the starting point. There 2 guides explained everything to us: how to carry our legs when ziplining, how to break, what to do in case of not making it till the end of the wire etc. Each one of us had to try it all on a short zipline wire to be sure we unserstood all the rules.
Then we walked to the first wire. It still looked scary to me not even being able to see the end of the zipline wire. 
I am seriously scared of heights but try to do zipline everywhere I can. The first 5 seconds are always a nightmare to me but then I scream it all out. When I start screaming, the initial fear is replaced with happiness and excitement. I have to say this zipline Slovenia was one of the best ones ever. We agreed on it together with my friend Milan who hadn't done better zipline anywhere else either.
Four out of five wires I ziplined on my own. Only when they attached Milan to me I was afraid we would not reach the zipline wire end. At that time his 80 kg felt like 200 to me when flying through the air 😀 You can see my face before ziplining with Milan. Not only I had to "carry" Milan's legs around me, I also had to hold the gopro to take photos of us.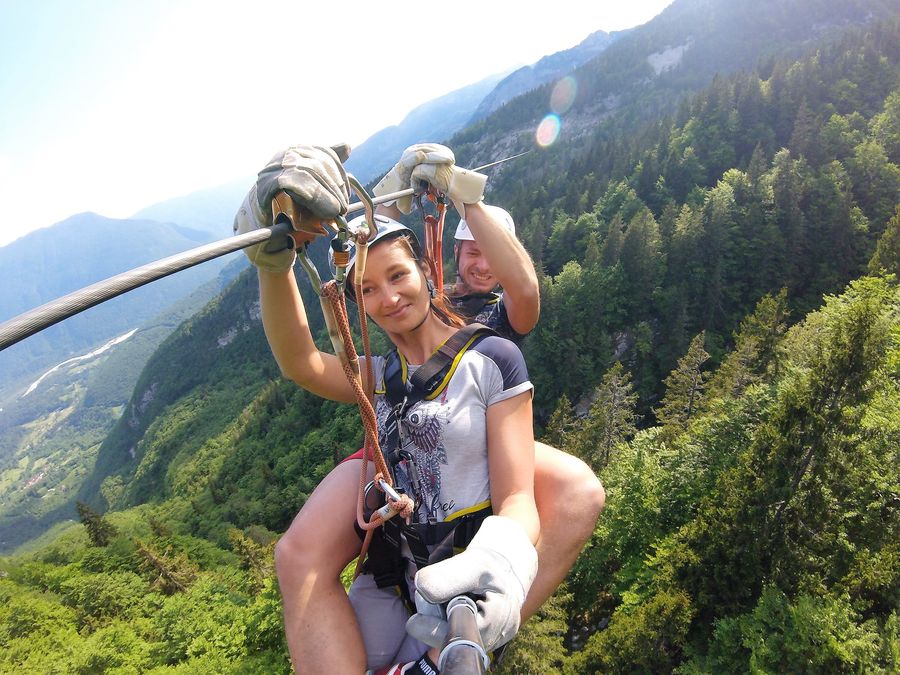 I seriously enjoyed the whole zipline experience to maximum. Screaming and looking around the stunning valley was orgasmic…
Observing the valley and trees below while being pushed by wind? Oh, YES! 
At some point I was even jealous of the zipline guides who can enjoy the freedom of flying with the best views on a daily basis. Wouldn't mind that, either.
Zipline Slovenia important facts:
we started at the altitude of 1.300 m a.s.l.
5 zipline wires
the longest wire was 750 m long
the 5 wires are 3.2 km long altogether
flew more than 200 metres above the trees
flew 45 to 70 km per hour
---
TIP: Have you read my articles about rafting in Slovenia already? And what do you think of all my fears of canyoning in Slovenia? Did I survive canyoning?
---
If you'd like to do zipline in Slovenia and you are on a trip with Eurorafting, they will be happy to arrange it for you.
……….
Have you ever done zipline? Where? Does this zipline Slovenia Bovec look appealing to you? Would you dare to do it? Please share in the comments below.