Discover the top 10 vegan restaurants in Los Angeles
One of the major challenges of traveling for vegans is the lack of dining options, especially in cities where eateries are largely meat-based. Those visiting Los Angeles, however, will not encounter such a problem. While veganism may seem like a new trend, the City of Angels has been innovating plant-based dining for a long time now. In fact, L.A. is one of the cities in the world where the word "vegan" does not prompt jokes but is rather embraced as a lifestyle.
Los Angeles is known for a lot of things – Hollywood, lovely weather, shopping, and a diverse dining scene that caters to everyone, including vegan options. Here, veganism is commonplace, as evident in the abundance of plant-based eateries across the city. 
Below, we have put together the top 10 vegan restaurants in Los Angeles. This list ranges from casual spots to fine dining establishments and includes both local and international cuisines. (TIP: Look for a luggage storage locker in the city where you can leave your items before dining out.)
Established in 2013, Crossroads Kitchen is the brainchild of plant-based celebrity chef Tal Ronnen, who is dedicated to turning vegan meals into delicious dishes that everyone can enjoy. Situated in West Holywood, Crossroads is perhaps the most high-end vegan restaurant in Los Angeles and one that is constantly hounded by both vegans and non-vegans. The menu at the restaurant is diverse, imaginative, and packed with flavor, including bestsellers like faux oysters, vegan carbonara, and the signature Farinatta – an arugula salad topped with tomato pesto and layered over an umami pancake.
Who says you have to give up Italian food when going vegan? At Pura Vita in West Hollywood, you can enjoy authentic and delicious Italian fare without giving up your plant-based diet. Opened by Italian-American chef Tara Punzone, who has been practicing the vegan diet for over 30 years, Pura Vita is the go-to spot for all things Italian, including pizza, pasta, gelato, and other favorites. Because of its popularity, the restaurant has two other locations – one is the Pura Vita Pizzeria next door, which serves vegan pizza from scratch, and the other is located in Redondo Beach. 
Another beloved restaurant in L.A.'s vegan community, Shojin is a 100% plant-based and macrobiotic dining spot in Little Tokyo, downtown Los Angeles (they have another location in Culver City). Aside from being all-vegan, the menu at Shojin is also organic and gluten-free, catering to diners with all types of diets. Some of the bestsellers at this dining spot include their baked "crab" rolled in soy paper, tofu and avocado roll, and their kabocha squash ramen.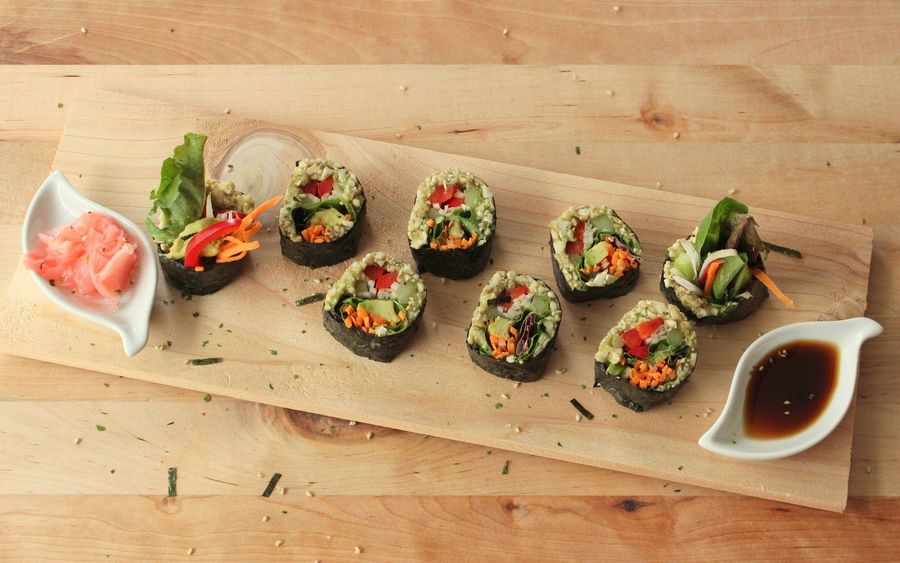 Located in the hip Venice district, Plant Food + Wine is an essential for those looking for delectable vegan food. The place is inviting in itself; it features a picturesque patio where guests can dine while enjoying the surroundings. But what really draws the diners is its exquisite menu (curated by renowned vegan chef Matthew Kenney) which features dishes such as a vegan cheese platter and plant-based Cacio e Pepe. Don't forget to pair your order with one of their varieties of organic vegan wines.
While Nic's on Beverly is relatively new in the scene, having opened only in 2019, it has quickly won the hearts of the local vegan community. Situated in Beverly Grove, this exclusively-vegan restaurant serves brunch, dinner, and even dessert, making it a great option any time of the day. Even the omnivores who dine here rave about the vegan Detroit-style pizza at Nic's. Other bestsellers include their Nashville-style "chicken" sandwich, vegan wedge salad, and their falafel burger.
Founded in 2015 by Chef Ilan Hall, who won the second season of Top Chef, Ramen Hood is a casual dining spot in the Grand Central Market in downtown LA. As its name suggests, this restaurant offers vegan versions of everyone's favorite noodle dish with several add-on options and side dishes. The ramen served here looks like the real thing but it is completely plant-based, replacing all meat with vegan-friendly ingredients such as shiitake mushrooms, sunflower seeds, soy, and kelp. 
Stuff I Eat in Inglewood has a homey feel that instantly draws diners of all kinds. The restaurant serves vegan soul food and comfort food that everyone loves to eat, thus its name. The menu is comprised of dishes such as burritos, fries, BBQ tofu, vegan mac and cheese, and faux ribs and the portions are quite generous. Additionally, Stuff I Eat is committed to decreasing all types of waste and uses only eco-friendly items in their restaurant. 
Nestled within L.A.'s Fairfax district, Rahel Ethiopian Vegan Cuisine is truly worth trying for some unique plant-based fare in the city. Found in an area known as "Little Ethiopia", the menu at Rahel features traditional Ethiopian fare but in a vegan version. The restaurant itself has a cozy and homey feel and has since gained a loyal following from both vegan and non-vegan diners who wanted to be introduced to Ethiopian cuisine. They offer a variety of stews (known as wots) served with warm injeras (Ethiopian flatbread) and they also have an all-day buffet style option.
Having In-N-Out is pretty much a tradition when visiting L.A. but for vegans, this is obviously a no-go. Don't fret, however, because there is a burger joint that will cater to your needs – Monty's Good Burger. This casual burger spot along the famous Sunset Boulevard is well-known in the community for its no-guilt vegan burgers, made with the Impossible Burger patty, Bosch Bakery bun, vegan cheese, and other locally-sourced ingredients. They also sell delicious soy-based shakes that pair really with their burgers.
Café Gratitude is a quaint California vegan restaurant chain that is not only dedicated to serving good food but also to spread the message of positivity. Staying true to its name, the restaurant's menu contains dishes that are named after affirmations, such as "I am sharing" nachos, "I am terrific" vegan pad thai, and more. The wait staff may even ask you questions like "What are you grateful for today?" while taking your order. Pro tip: Order their vegan tiramisu, which is definitely one of the best in the city. 
---
---
TIP: Here you can read about the best vegan-friendly global cuisines. It's very interesting to see in which countries it's rather easy to find vegan meals :)
---
---
*Which vegan meals do you love the most? Tell me in the comments below.