Eat 7 best vegetarian and vegan meals in Eilat
After a huge success of my post about best 11 places to eat vegetarian and vegan in Tel Aviv, I decided to write something similar about Eilat restaurants.
To be honest, when I received the invitation to explore Eilat, after my first Israeli visit a year ago I could not wait to stuck my face with vegan meals again. Israel is one of the best countries in the world for vegetarian and vegan meals, no doubt, and I could not wait. 
Are you vegan or vegetarian visiting Eilat? Or just want to try something healthier? Then have a read and make sure you have some good food close by as your mouth will start watering 🙂
7 best vegetarian and vegan meals in Eilat:
1. Humusof 
Whate else should I start this list off with if not with hummus? I am a huge hummus lover and on one hand I am happy I do not live in Israel as I would put on weight eating kilos of hummus every day. But, at least I enjoyed as much hummus during my Eilat visit as possible. I think the best hummus in Eilat is made by Dan at the Humusof, a small local restaurant in the industrial zone at the Hamutsar street.
Humusof is Kosher and vegan friendly, just tell them to make you vegan hummus without eggs. You won't leave this place without licking your fingers, trust me. I could eat there every day, oh my!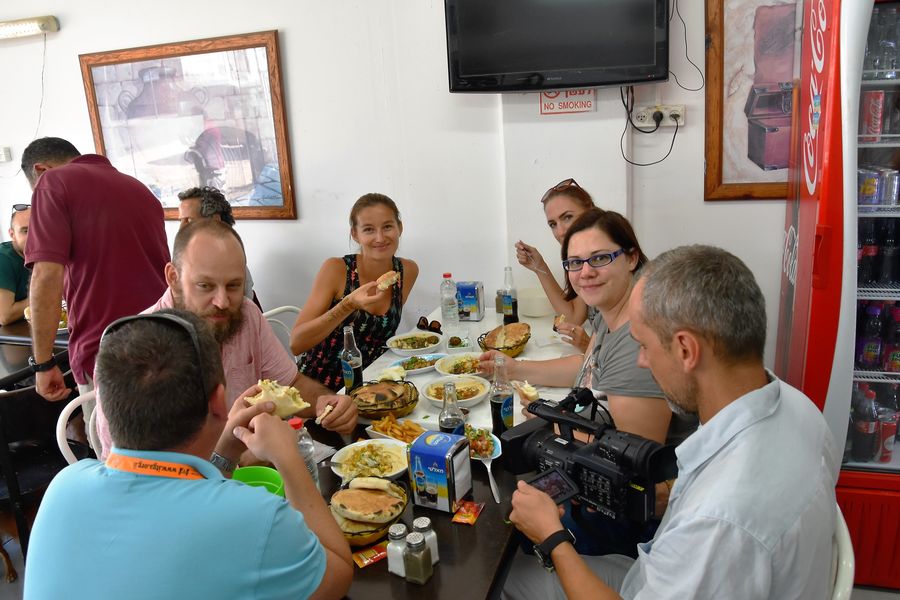 2. Achla Platinum Grill
Although Achla is a recommended Eilat Kosher BBQ restaurant, at first I was scared I would not get anything good there as it is supposed to focus on meat. Boy, was I wrong! The waitres and the owner surrounded us with vegetarian and vegan salads, hummus and many different tasting plates, even a kind of avocado guacamole. And then I also got loads of rice with grilled veggies when the rest of our group ordered main meat meals. It was really impossible to eat everything that was on the table. But all the meals I did taste were super delicious.
More info about Achla Platinum Grill Eilat is here.
3. Bar Beach
As the name suggests, Bar Beach is a beach restaurant on the Aqua beach. You can do many adventurous sports there near-by and then hop on a chair at the restaurant and order hummus with mushrooms, artichokes and grilled vegetables (which is what I was offered). Also salads, hummus and tahini plates before the main meals were very tasty and would even be enough to fulfill our cravings.
More info about Bar beach restaurant Eilat is here.
4. 5th Avenue
5th Avenue is a chic New York-style restaurant which converts into a meeting cocktail bar later on (after 10 pm if I remember it right). We started off with a lovely dinner there consisting also of vegan sushi (veggie sushi rolls with rice and sea weed), fresh salad and bread. Unfortunately, then when we got desserts and other meals, it was too dark to take good photos so I apologize for just one sushi photo. However, the desserts were the best! Ice cream, chocolate sundae etc. So recommended 😉
More info about the 5th Avenue Eilat is here.
5. Pastory 
Pastory was the first restaurant in Eilat where we had dinner. I was surprised to see Italian dish menu in Southern Israel and even more amazed to find out they make fresh pasta right there. And I could even order gluten-free penne with dried tomatoes, garlic, olive oil and herbs. Yummy! And then the desserts! OMG, it was there where I saw for the first time how dark hot chocolate is poured on a white chocolate dome sundae which starts melting. The desserts there are vegetarian, not vegan though.
More info about Pastory restaurant Eilat is here.
6. Dolphin Reef
I am sure no one would go to the Dolphin Reef just to eat as it's not a restaurant only but a peaceful place where you can go to the beach, interact with wild dolphins and get a relaxing pool treatment. You so should and spend some time at the Dolphin Reef and while there, order a vegan lasagna. I believe it is not gluten-free but so tasty!
Very rarely I see vegan lasagna around the world so just had to try this one when I got a chance. It was the first time I ate lasagna with a tahini sauce and a fresh salad with nuts. Not a bad combination at all 🙂
More about Dolphin Reef Eilat can be found on their website.
7. Camel ranch
I am sure right now you are making a wow/what faces, especially if you have been to the Camel ranch just outside of Eilat. There you can ride camels or do other kind of adventure, and then watch your guide making laffa bread with labneh goat cheese and za'atar (green spices). Because of the goat cheese, this meal is vegetarian, not vegan. Very authentic, eaten under a tent.
Find out more about Camel ranch Eilat on their website.