Fjords around the World – From Norway to chilly Chile
Fjords have an uncanny way of making anyone rediscover that "wide-eyed kid" part of them. To make you forget about life in the city or a 9-to-5 and just enjoy an unspoiled natural landscape for once. While there are quite a few fjords around the world, only some countries benefit from their beauty.
Many consider them to be an important symbol of Norway, in fact. Although they'll start with it, Agness and Cez of etramping.com won't limit themselves to Norway. It would be a shame not to discover all the different wonders the world has to offer. You might not even have known that two of these places have fjords in the first place! Unless you're from the area, that is.
Norway
Where do we even start? Norway houses some of the most spectacular fjords around the world, and it would be difficult to pick out some favorites. We'll try our best, though. After some careful consideration, we've decided to set our eyes on three particular areas.
First off, there's the Lysefjord in south-west Norway. It's a beloved attraction to tourists worldwide that are looking for some jaw-dropping scenery. Hikers will be pleased with the experience as they make their way to the Pulpit Rock in order to admire the fjord in its full splendor. Along the way, you'll find pleasant spots for a picnic, if you're feeling hungry.
Next, there's the Nærøyfjord – a cruise is the best way to travel through this branch of the Sognefjord (one of the largest fjords around the world). It will take you along comfy Norwegian villages and lively Northern landscapes. Of course, you can also go boating in the area, or hike in the mountains and lush forests surrounding the fjord.
But the best part is probably the Geirangerfjord. This UNESCO World Heritage Site can be awe-inspiring for even the most cynical of travelers. Its thundering waterfalls, rich forests, and colossal mountains perfectly demonstrate how Nordic epics and mythologies were inspired. A cruise through these parts makes for the ideal holiday for all nature-lovers.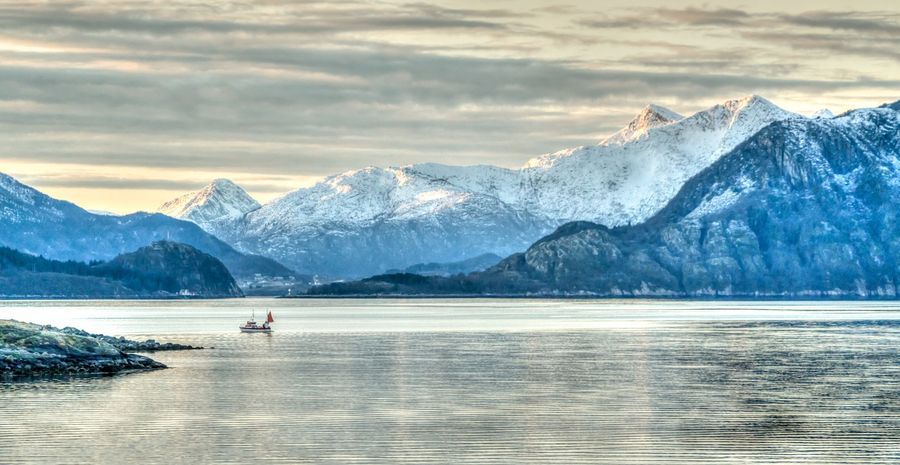 Alaska, U.S.A.
While the region is a sight to behold, don't expect to be able to cruise freely around every nook and cranny there is to see. Take Misty Fjords for example. This southern Alaskan natural monument – glorious as it is – can (at times) be one of the most dangerous fjords around the world.
Large ships can't get exactly fit through the narrow natural "corridors." This means you're often stuck having to kayak your way around. Sure, it's quite a wonderful experience if you can get over the challenging flow and ebb of the tides. But the storms (which can pop up on a whim) don't exactly help either.
Regardless, passionate photographers will have a field day in this great example of Mother Nature's sculpting abilities. If you can afford the flightseeing trips, you're in for a treat. Landing on a lake is a breathtaking experience. While walking around some of the islands, you can encounter Alaskan wildlife, such as grizzly bears and their cute cubs.
Antarctica
We couldn't have ignored the El Dorado of fjords around the world on our list. Stock up on warm clothes, hot chocolate, and enjoy a scenic Antarctic cruise. Seals, penguins, whales and other critters aren't used to human presence, so most likely they'll be observing you, as much as you're observing them.
The fjords around this icy continent are areas ripe with biodiversity, so be on the lookout. You can see the cycle of life in its most primal state. Albatrosses, swans and over 40 other bird species dive the area for fish that aren't swept up by the colossal whales.
If you're feeling adventurous, you can even go kayaking in the freezing waters and observe the wildlife up close. A popular destination for tourists is Neko Harbor, known for its magnificent icebergs. And also for the penguins which hang out where people debark from the cruise ships. Not a care in the world!
New Zealand
Most people around the world know New Zealand as the place where "Lord of the Rings" was filmed. From the Matamata region illustrating the Shire and Hobbiton, down to Mackenzie Country and the Southern Lakes – New Zealand prides itself with some of the most picturesque sights that side of the Southern Hemisphere.
But it's really Fiordland National Park that hides what we're interested in. If you haven't guessed yet, Fiordland is home to both some of the most beautiful fjords around the world, along with the enchanting Te Anau forest. If you're in the area, give the Te Anau Glowworm Caves a visit. You won't regret it one second of the trip.
Otherwise, feel free and enjoy the dark blue waters of Milford Sound fjord, along with the peaks worthy of being in a movie. Don't ignore the plenty waterfalls around the area, either. If you want to go even more majestic, Doubtful Sound fjord and its diverse flora and fauna await you as well.
Patagonia, Chile
Who would have thought that a country that also has a (just as beautiful) desert area would have some of the most scenic fjords around the world? Southern Chile (the area of Patagonia, to be exact) is an impressive location to grab a cruise line and just lose yourself in the scenery.
It's a great place to spot seals, Orcas, and the spectacular Southern Right Whale as they swim about looking for prey. Icebergs, snowy mountains and other hypnotic sights await you on the cruise.
The Aisén region, in particular, is littered with lakes, channels, and of course the ever-present fjords. It is here that you can find the Laguna San Rafael National Park and feast your eyes on the seemingly deep-blue glaciers in the area. Since it's only accessible by flight or sea, you'll have to rely on a cruise to admire the stunning views.
Don't forget to put your phone or camera down once you've captured its natural beauty. After all, it's not your phone that will keep these memories forever.
---
TIP: Here you can read about my experience at the Torres del Paine national park, which was more than fun, except the rain 😀
---
Which fjords around the world do you find the most appealing? Share with us in the comments below.