At Guachimontones pyramids in Jalisco, Mexico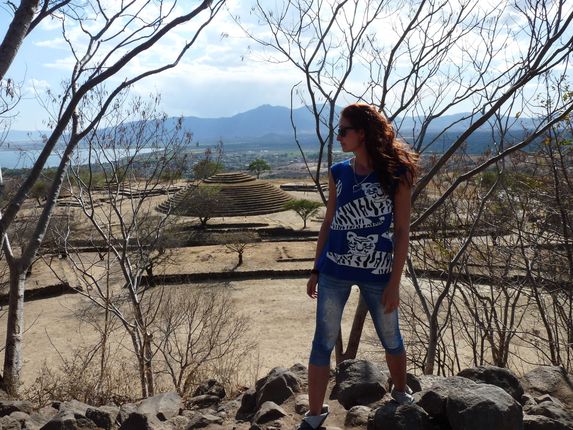 I bet 99% of you have never heard of the so called Guachimontones situated in the state of Jalisco, Mexico. For my shame, I was one of you as well just a little time ago. Even many people of Jalisco who live close to Guachimontones do not know the place exists. And it is only an hour and a half from Guadalajara, above the village of Teuchitlán.
Once a population of 40,ooo, now the ruins of Guachimontones were actually discovered already in 1969 but it took 30 years  for the government of Jalisco to invest here and start the excavations. Nowadays it is one of the most important archaeological sites in the Western Mexico and since 1996 belongs to the UNESCO World Heritage Sites. More pyramids were discovered in the area, with one of them already excavated completely and ready to visit. Unfortunately, it is not allowed to climb the main pyramid called Circle 2.
Although, you can go up the biggest pyramid in Guachimontones, which is still under the hill, covered with trees, bushes and stones. It will let you go back in history and imagine the other pyramid looking the same when it was discovered after it was abandoned for many years. From there enjoy the view of all Guachimontones and more towns, lake and mountains behind. Such an amazing place! Looks very romantic but it is full of history.
The excavated pyramid is surrounded by the bases of the houses where the native inhabitants used to live, an amphitheatre, a terrace. There is a place where they used to play la pelota, famous but dangerous game, during which many died. During the rainy season everything is covered with green grass, it looks fabulous.
There is no entrance fee, but you can hire the guard there to tell you something about the history and pay him some pesos.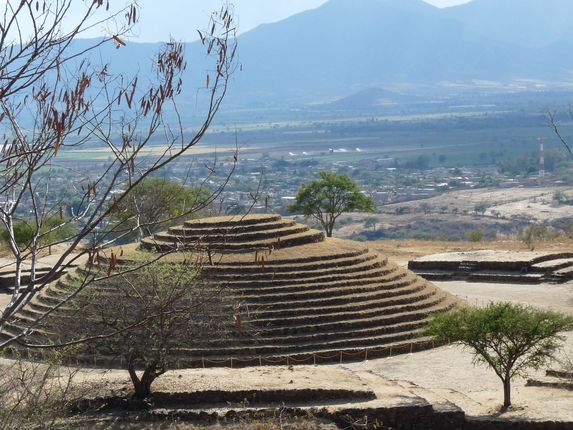 The most interesting thing about Guachimontones is that the pyramids are circular, not like the rest of the pyramids. There is only one more place in Mexico with a circular pyramid – Cuicuilco in Distrito Federal.
What brings even more uniqueness to this extraordinary place is the fact that the investigators still have not found out which Indian tribe used to live here and build the circular pyramids. We guess it must have been the tribe with the same name as the village under Guachimontones carries now – Teuchitlán; which means a place of Gods/divine. Probably, the Teuchitlán native Indians inhabited the area from 300 B.C. to 900 A.D. when they left before the Aztecs came.
Around 150 pieces of archaeological objects found in the area are given to the Museum of Guachimontones being built nowadays.
I hope to come back one day and see all the pyramids excavated and visit the Museum. Already looking forward to it. Guachimontones was the less known yet archaeological sites I visited in Mexico.