How I spent a month in Maldives – what to do in Maldives besides relaxing
 In 2017 I explored 12 Maldivian islands for the period of a month. I spent there three weeks in September and one week in October. Many people think that there is almost nothing to do in Maldives. But that's so wrong! I have to admit that I did not even have time to relax there as much as I'd like to. I kept myself busy… taking photos, snorkeling, walking, eating, talking to locals and observing their life… What to do in Maldives, you are asking? 
Every day for the entire month I wrote a paragraph about what I did. I also shared a daily video on my
Facebook Fanpage
. I kept all my notes for this article. Hopefully it will make it easier for you to undertsand how I spent my time there. I'm trying to give you ideas about what you can do in Maldives if you ever visit.
Loads of people have asked me if I didn't get bored in Maldives. They think the only thing you can do there is sunbathing and swimming. But that's so far away from the truth. Bored? Never! And even less in the Maldives.
How I spent a month in Maldives
Maldives day 1
I decided to take a video per day during my entire trip in the Maldives so you know more of what I was doing there. When I came up with the idea, I was not sure if the wifi would be strong enough to post them every day. But I was determined to do my best with daily videos. My first day was over quickly.
Well, it took me almost 32 hours to get from Kosice, through Istanbul to Male capital and Thoddoo island where I was staying for a week at the Summer Inn Thoddoo. The sea was super rough on the way to Thoddoo… people wee throwing up like crazy but thankfully, I don't suffer from sea sickness. I only got a bit wet from the waves. 
But after the first swim and sunset on the Thoddoo beach, I was very happy and could not wait to catch up with sleep after feeling like a zombie in the past few days. The first video is not very good as I was exhausted but the next ones will be better, promise.
Maldives day 2
Today it felt like a real Sunday because all I did was relax, take a nap, sunbathe, swim and snorkel 
😀
 Ate loads of tropical fruit and also practiced yoga for an hour on the beach before sunset. When I wrote this paragraph, I was eating a big veggie dinner at the Summer Inn Thoddoo where they were really taking a great care of me 
🙂
 Had a perfect day today, except 6 new mosquito bites because they were even on the beach under the palm trees and they managed to bite me even when it was windy 
:/
 As you can see in the video, I wasn't able to record fish very well because the sea current kept moving me quickly away. I tried!
Maldives day 3
 The best part of the video starts after 1 min and 9 seconds so please watch carefully if you want to see the underwater world in the Malives :
)
 Today after a 45 minute boat trip from Thoddoo we arrived to the
Madivaru Finolhu sandbank
close to the Rasdhoo island. First, I took many photos of the sandbank which looked simply stunning with the sun shining. But then it started to rain heavily so we decided to better go snorkeling as we were soaking wet already anyway.
Snorkeling in the rain is always a good idea. I haven't seen that many fish for a while 
🙂
 The last time in Koh Tao in Thailand in January 2017. I could honestly snorkel there all day.
Then we hopped on the boat again and went to the
Rasdhoo
island, where I observed the life of the locals for a bit. And then we took the boat to go back to Summer Inn Thoddoo where I was staying. It was raining again when I was on my way to the beach so went back to the hotel instead and spent some time working on my laptop until the weather got better 
🙂
 In the evening I went for another walk around the island. To be honest, I didn't really mind the rain, and I still walked barefoot which was a very pleasant feeling in the rain 
🙂
 Oh, and I saw a flying fish which flew for 30 seconds above the sea!
Maldives day 4
My day today was half relax and half work online on my laptop. Or maybe the bigger "half" was working. I was still on the Thoddoo island and after breakfast at Summer Inn Thoddoo, I took a 10 minute walk to the Thoddoo bikini beach. I only managed to go for a walk along the coast and go snorkeling in Maldives again, but just once. Then at 11.40 am dark clouds came in, and we all started to run away from the beach. Just when I entered my room, it started to rain dogs and cats. For 5 hours wifi didn't work at all because of the heavy rain which lasted until the evening.
So I used the time for my working on my laptop and doing things I could do offline. If you didn't know it, I have been making a living of this travel blog since 2010 already 
🙂 
I haven't done much during the day. But it was supposed to rain less and less every day since the following day. At least I really hoped the weather forecast was right. I went to Maldives to enjoy the sun and the beach, in the first place, right?
Maldives day 5
I wanted to upload the latest video the night before (on day 5) but we had no wifi since 6 pm at all until the following morning of my day 6. The weather forecast was saying it would rain all day but in the end it didn't. It rained in the morning when I went for a walk and then it was mostly cloudy and very windy for the rest of the day. I went for a walk around the island 3 times and walked almost 8 km.
Thoddoo is a small local Maldivian island which is just 2 km long and 1 km wide.
In the afternoon I also went to take a dip in the sea for an hour and the sea was warmer than the air outside with the strong wind. In the evening I just edited a video and some photos and went to bed at 10.30 pm to catch up with sleep. For the first time in 2 weeks I went to sleep so early and not after midnight. Just because the wifi did not work 🙂
Maldives day 6
I had a lovely day again. It was a bit sunny from time to time, so I spent a couple of hours on the beach, sunbathing, doing skin peeling with sand, swimming and observing little crabs walking around me. Then I went for a walk around the island again, sipped on a young coconut in the port, took more photos and then big yummy veggie dinner at Summer Inn Thoddoo. It did not rain at all, was warmer than the days before and also more humid. I also got some good news about staying on Thoddoo island until the 19th, which is 3 days longer than I was supposed to. Yay, more beach time!
Maldives day 7
After a quick morning motorbike ride around the island and drinking a young coconut without a straw (I had it all around my face), I spent 7 hours on the Thoddoo beach. Went snorkeling a couple of times and the first time the current took me like 500 m away from my sunbed and it was even difficult to get out of the sea :/
There's a turtle family living there and I was trying to finally see them and take a video but the current decided it was still not a good idea. Tried 3 times already but didn't manage to see the turtles. Then I just snorkeled close to the shore, and later I also did some yoga on the beach. After yoga I spent some time observing all the other animals I could find: small and big crabs, walking shells, lizards, iguanas, geckos, fish, ants and on the way back to Summer Inn Thoddoo also big fruit bats. They are half of eagle size! I managed to edit my day 7 video while having a nice dinner. But wifi didn't work well enough to upload it. Tried twice but both times the wifi got disconnected :/
Summary of my first 7 days in Maldives:
beach: 7 days
barefoot: 99% of the time, except 30 minutes when on the motorbike and walking around the Rasdhoo island
big spiders in my room: 2
young coconuts drank: 5
make-up: 0
live conversation in person: max 30 minutes per day
nose peeled off: 1
scratched knee: 2
photos and videos taken: 79 GB
yoga: 3 times
got wet in the rain: 5 times
mosquito bites: uncountable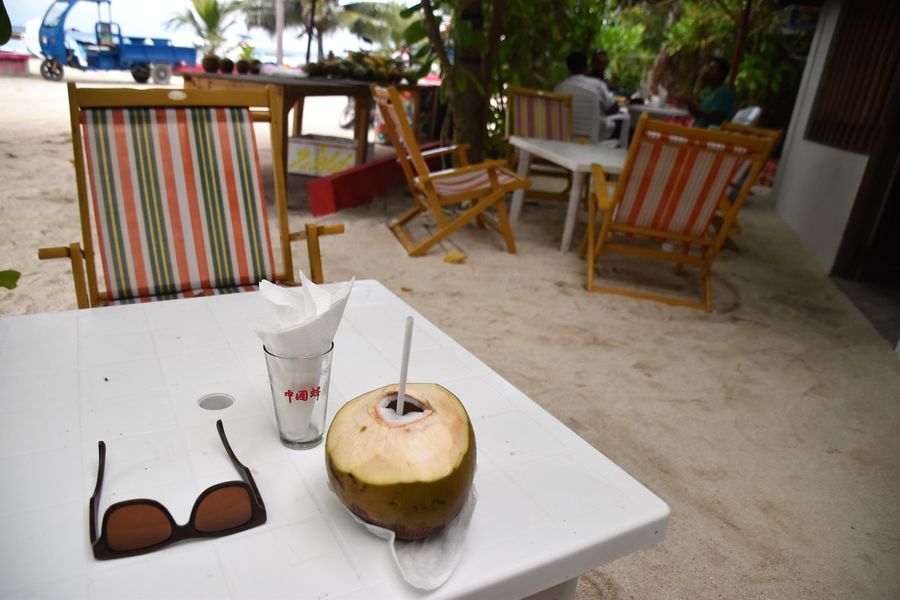 Maldives day 8
Ali from Summer Inn Thoddoo took me on a plantation tour on motorbike around Thoddoo island. He showed me some fields, what they grow on the island and how. Thoddoo is the biggest producer of watermelon in Maldives and also produces many other fruit and veggies.
Later on I also walked around the fields on my own again. I saw 2 kinds of watermelon, papaya, raddish, coconuts, bananas, different kinds of salads and leafy greens, cucumbers, eggplants etc. I so loved to see the local agriculture and local men working in the fields. Everything they grow on Thoddoo is super yummy! Have you ever seen fufu fruit? It's a vine that looks like a melon (also called winter melon) but it's used as vegetable, for example for curry.
Maldives day 9
I gave up on trying to upload the 2 missing videos from day 7 and 8 on Facebook. Wifi was horrible the past few days, extremely slow or non-existent 🙁 I couldn't sleep well and in the morning felt a bit tired so later on I took a nap on the beach. Then I spotted a sundog (rainbow around the Sun) which was on the sky for like 3 hours. It so made my day! I kept looking up to the skies so many times until it disappeared. Then I walked around the village, relaxed in a swing at the port watching the locals uploading fruit and veggies to the boat and taking the empty boxes back. It was a bit grey most of the day but still enjoyed it a lot.
Maldives day 10
As it was my last day on the Thoddoo island, I decided to relax and enjoy the moment, not thinking about anything else but the present moment. In the morning I went for a walk around the village, then had breakfast and walked to the beach. I finished reading a book there, snorkeled, sunbathed on the sand, watched another sundog (rainbow around the sun), and observed iguanas and crabs. A crab even came so close to me it would touch my fingers a few times which is a rare thing. Usually crabs start to run away as soon as they spot any movement around them.
Afterwards, after a cool shower at the hotel I walked back to the beach to watch sunset there. It turned out so pinky! My last dinner was papaya and mango, and then Indian veggie curry with rice. They made me the same meal a few days ago and I loved it so much, I asked them to cook it for me again. So sweet of them at the Summer Inn Thoddoo that they did. Will be really sad to leave this beautiful island that got deep under my skin 🙂
---
---
TIP: Here you can find more about the hotel I stayed at – Summer Inn Thoddoo.
TIP 2: Thoddoo is an extremely interesting island. Here's 25 things you should know about Thoddoo.
---
---
Maldives day 11
After 10 days I left the Thoddoo island. I so enjoyed it on Thoddoo that I really did not want to leave. I took a speedboat with local people to the airport. This time the spedboat was less bumpy as the sea was calm. There I was picked up by a boat from Kurumba resort, where I was staying for a few days with a friend of mine. I was alone on my first 10 days in Maldives, while the following 10 days were with a friend. This is how my luxury villa looked like… not bad, right? I've also had an hour full body signature at the Veli spa, then we watched the sunset on the beach, and saw baby reef sharks while enjoying a dinner by the sea. No complains at all 🙂
Maldives day 12
I tried to relax a little bit at Kurumba. Went to the beach a few times, also to the pool, tasted delicious meals, and took many photos, as usual. Before lunch I did an hour yoga with an Indian yoga teacher at the resort, and after lunch I went to snorkel around. Close to the beach I saw mostly smaller very colorful fish but when I was just about to get out of the sea, my intuition was telling me to turn back.
There was a shark! It was quite small, maybe half a meter, but it still got me a bit scared. I was sure it would not do anything to me, but when it was swimming in circles around me 4 times, I hesitated if to stay still or start swimming away. In the end the shark decided for me and it swam away on its own. It was a weird feeling… just me and the shark… but I did go snorkeling in order to see a shark no matter what. And I made it 🙂 What an incredible experience! Would you be scared if you were in my skin?
Let me tell you, snorkeling in Maldives is the best! Loads of different sharks, rays, fish, jellyfish, turtles etc are guaranteed.
Oh and btw, this morning at breakfast a girl came to me saying she knew me from internet. It turned out she is from my home town in Slovakia, but I don't know her at all. What a coincidence, right? I mean that we met for the first time in the Maldives and not in our home town. The world is so small 🙂 
---
---
TIP: Here's more about Kurumba resort, if you'd like to learn more about it.
---
---
Maldives day 13
After breakfast at Kurumba resort, we checked out from our villa and took 2 different boats to Kuramathi resort island. I saw the island from far already a week ago when at Rasdhoo so I knew I would like it. But to be honest, I fell in love with it straight away. There's so much vegetation around, and really nice beaches with sharks swimming around the coast, and a sand bank to walk along at sunset. It's not a 5* resort, just a 4* but you will get a 5* feeling there for sure. The sharks make up for that 1* ?
Maldives day 14
It  was such a lovely day. Took many photos around the Kuramathi Island, by the pool, on the beach, at restaurants etc. We went snorkeling and saw 3 sharks swimming around us, yay ? And then I saw 11 smaller sharks very close to the shore, just a few metres from our beach villa. I was walking along the coast for an hour observing the sharks chasing and biting each other. So cool to just dip in the sea and see sharks around me! I also had an hour full body Swedish massage. Oh yes! But my laptop didn't work for half a day which made me really upset. It simply switched off and did not switch on again.
Maldives day 15
We left Kuramathi on a boat to the airport and then took another boat to
Adaaran Prestige Vadoo resort
. I was happy like a kid all day! Just because my dream of staying at an overwater bungalow came true. My bungalow was like the nicest place ever 🙂 Just looking around made me happy and peaceful. Just took some photos around, went snorkeling for 10 minutes around the bungalow, got amazing food, did yoga in the plunge pool and watched a pinky sunset. Life is good 
❤
And my laptop started to work again so I was the happiest girl ever, indeed 🙂
---
---
TIP: 
Kuramathi resort
is a perfect place for young people, couples and families. You would love it there, I'm sure.
---
---
Maldives day 16
I spent the whole day at the Adaaran Prestige Vadoo resort mostly taking photos and videos around. I woke up after a 4h sleep at 5.45 am to watch the sunrise from my overwater villa which I hardly ever do as I am not a morning person. But it was so worth it, gave me loads energy for the whole day. Then I spent a few hours at the plunge pool observing fish swimming around the bungalow, and even spotted a shark and a huge purple jellyfish which was half of the shark size! Had also too many good meals so it felt like I've put on 2 kg since I came to the Maldives. Everyone was feeding me so much and my flat belly was slowly disappearing as I hardly did any exercise while there, besides swimming :/
Then we watched how a staff member was feeding sharks, manta rays and big fish. OMG! I realized that all these huge creatures live in the Ocean just around the bungalows where I go for a swim and snorkel hmm… Anyway, I don't really support this kind of feeding as it's not natural for those animals at all so I really hope they will stop doing so at resorts. Then the sunset was very pinky again. Seeing both sunrise and sunset on the same daywas priceless. 
❤
---
---
---
---
Maldives day 17
One of my big dreams came true and I flew on a sea plane for the first time ever. I mean I've been on hundreds of flights on different planes, more than a thousand of flights to be precise, but today it was my first time on a sea plane and I loved observing so many fabulous Maldivian islands below us. And then after just 25 minutes we landed at LUX* South Ari Atoll.
OMG my overwater bungalow was so spacious and modern and had a pretty sick private pool! Just look at it… It was love at first sight. They even have many vegan options at the resort restaurants so I didn't have to ask them to make special meals for me. BIG thumbs up for that! Oh and of course, we watched a cool sunset on the beach again. This place was taking my breath away… speechless…
Maldives day 18
I had no breakfast as I was still full from dinner on the previous day. We went snorkeling in the morning with whale sharks, it was so much fun to jump into the water from a boat looking for these amazing huge creatures. We managed to see 2 different whale sharks, one is 5 m big and the second one even 6 metres! It's very difficult to describe how small I felt while with them. So much respect! And then after a yummy lunch by the pool, we had some fun on a jetski. After that I spent the evening on a boat watching sunset from the top deck. And we spotted a nurse shark swimming around our boat! All these sharks during my trip in the Maldives seemed so surreal to me. So many different ones around 🙂
Maldives day 19
We went snorkeling with sea turtles just 30 minutes by boat from the Lux South Ari. I was so happy to spot a hawksbill turtle right when we jumped into the water. It was quite small and was eating something around the corals, but pretty cute. Later on also a green sea turtle swam around us and for the first time ever I've seen a turtle eating a jellyfish! And not just a small jellyfish. But the green turtle was munching on a really big purple cauliflower jellyfish. Did you know that turtles eat jellyfish? I had no idea until that day 🙂 As you can see, snorkeling with turtles is just one of many things to do in Maldives.
Maldives day 20
Had a really cool day. Woke up early for the sunrise and meditation at the yoga studio. Then took more photos, had a yummy breakfast and even wrote a wish on a ribbon and tied it up to a Banyan tree. It's a Maldivian tradition meaning that your wish will come true in the next Full Moon. Then I had a really amazing full body relaxing massage at the spa. What an awesome day, right?
Maldives day 21
It was my last full day at Lux South Ari Atoll and initially I wanted to relax all day. But instead, I spent the whole day taking photos and videos all around the island. I also had an hour photoshoot with a professional photographer Naalio. I thought my face would melt completely! It was so hot I was afraid I was making weird faces on all the photos 😀 And just for the photoshoot I put make-up on after 3 weeks for the 1st time in the Maldives but it was so bright and sunny that I had my sunglasses on all the time anyway… That's why my nose got really red :/
Btw, my friend that was visiting the resorts with me for 10 days left today already and because I hate goodbyes, been feeling a bit weird all day. I also cycled around the island a few times, swam in the pool, watched both sunrise and sunset from the pier outside of my overwater bungalow and did a live Facebook and Instagram video. Overall, I had a lovely day, but was a bit nervous that I don't have enough time to do everything I'd like to. And also, a big wooden splinter got deep into my finger during the photoshoot and then I kicked really hard with my right leg into the sunbed so got a new bruise :/ Would never think I could be so busy on a small island as I was today! All I wanted was to sleep… but I mean, makes sense, after just a 4h sleep the night before to catch the sunrise and loads of running around all day…
Summary of my first 21 days (3 weeks) in the Maldives:
beach: 21 (every day)
barefoot: 90% of the time, except when the floor/sand was so hot at mid-day that it was burning my feet
make-up: 1
different accommodation: 5 (1 guesthouse, 4 resorts)
massage: 3 hours
phone calls: 5
live videos: 4
bruises on legs: 13
photos and videos taken: 259 GB
SD card full: 6
yoga: 5 times
mosquito bites: uncountable
days without a new mosquito bite: 3
sunset on the beach: 7
sunrise seen: 3
sea turtles seen: 2
whale sharks seen: 2
sharks seen: more than 20
hugs: some (but not enough)
arguments: 2
new flip flops received: 2 pairs
bicycle: more than 20 km
walk: less than usual (not 10,000 steps per day on average)
Maldives day 22
I stayed in bed finally for 8 hours straight, because the 3 weeks before I've been sleeping less than normal. I'd say 6 hours on average. Then I got a huge floating breakfast in my Lux South Ari villa. What an incredible experience to stand/sit in the swimming pool and eat breakfast for an hour looking at the ocean! Thanks so much for that ?
After breakfast I packed up my suitcase, went for one last bicycle ride around the island, called my mum from the free telephone box, said goodbye to the hotel managers, and hopped on a 15 pax sea plane. The plane was 90 minutes delayed because of the clouds and some rain on the way. It also rained a bit on the island after a few days full of sunshine only. The general manager made a joke about the skies crying because I was leaving their resort. Frankly, I was sad as well when leaving because Lux is one of the best hotels I've ever stayed at, and I've been to way too many.
I will so miss this place! But at least the 25 minute flight was enjoyable. It was a pleasure to look down at the turquoise water around the islands surrounded with the dark blue ocean further away. Unforgettable feeling! Then I took a few minute boat from the Velana airport to Male capital, where I was picked up by Appey, a staff member from Mirian Sky hotel where I was going next. While waiting for a speedboat, had a fresh papaya juice at a local coffee shop. I'm so surprised at all the Western looking coffee shops in Male that are serving muffins, sandwiches, cakes etc.
Then it took us an hour on a speedboat to get from Male to Gaafaru. There was free water, and each guest even got a pack of apple juice and a sweet strawberry snack. I gave mine to a local lady sitting next to me as she kept smiling at me all the speedboat ride. And there was also free, very fast wifi! Maldives, you will never cease to surprise me! Was not surprised though to see that I was the only foreigner on the speedboat. Once we got to the Gaafaru port, another Mirian Sky staff member was waiting for us there. That's the hotel where I was staying for the next 5 nights and it's located just a 5-minute walk from the port. I was so happy they greeted me with a fresh young coconut and a fruit platter ? Oh, there's a mosque just next to the hotel so I was hoping to get to see some of their prayers.
Maldives day 23
On my first day on the Gaafaru island with Mirian Sky we went snorkeling to 2 shipwrecks. The first one was SS Seagull, a big German steamship from 1879 with an anchor at 6 meters. We could see loads of fish around, and also a big stingray! I don't know the name of the second shipwreck which was not so far away, but unfortunately, it's very damaged already and the visibility was not the best once we got there. However, what a cool experience it was to snorkel around shipwrecks! That was my Titanic moment ?
Have you ever seen a shipwreck in real, too? Later in the afternoon I spent some time on the bikini beach, alone, because I was the only foreigner on the whole Gaafaru island. Just me and approx. 1,400 locals? Oh, and the sunset on the beach was pretty cool, too! 
Maldives day 24
Had another amazing day today on Gaafaru. First we took a half an hour boat to a coral reef where sea turtles live. I managed to see 5 different hawksbill turtles, one of them was just a baby. The 4th one I saw was swimming along me for a few minutes. Even when I tried to keep my distance, the turtle would always swim by me ♥  After snorkeling we went to Maadhooni Finolhu sandbank where there was no one but me and my 2 guides. As usual, it rained a bit while there… that's my luck with sandbanks, always :/ Still a very lovely place. Then it rained like crazy in the afternoon and once it finally stopped, I went for a walk around the Gaafaru island and watched the sunset on the beach.
Maldives day 25
After loads of rain at night and early morning, I spent a few hours on the Gaafaru bikini beach just a 2-minute walk from Mirian Sky. It was just cloudy and windy, but not raining any more. I was on the beach until lunch time observing crows and crabs everywhere around me. Then I walked around the island and had fun on a swing. There's hundreds of swings, crows and little crabs around the island.
Then Appey, my hotel guide, took me on a walk around the island for a bit, and he also showed me the souvenir shop. But
the highlight of the day was when we did an hour sunset boat trip watching dolphins
. So many of these cute animals were jumping in front of our boat. Saying I was mesmerized would be an understatement. Plus, the sunset was super cool from the boat, too. Maldives, I am in love with you also thanks to all the animals living there 
❤
Maldives day 26
It's my last day on Gaafaru island so I decided to enjoy it to the fullest. In the morning we took a boat with my 3 lovely guides from Mirian Sky to the Kagi picnic island approx. 20 min away. They served me a huge fruit and coconut breakfast there. Then I spent a few hours on the beach, just walking, floating, observing ghost crabs and corals… alone… until a group of guests from a nearby resort island came over. I also had a big lunch on the island, and drank 5 small young coconuts altogether.
One of the guides even climbed a coconut palm tree to get them for me. All my three guides were so cute and would do anything I'd ask for. Dear men reading this article… Can you please get inspired by them? 🙂
Surprisingly enough, after 26 days I got the most tan today before leaving Maldives tomorrow. In the afternoon, once we got back to Gaafaru, I walked around the island, watched sunset on the beach and had fun with locals. I will so miss this island! And whole Maldives, too ? Can I just stay??? 
---
---
TIP: 
If you are looking for non-touristy local Maldivian island, then Gaafaru might be the best choice. Here's
7 things to do on Gaafaru
and its surroundings.
---
---
Maldives day 27
After another night with little sleep I walked to the Gaafaru port, said goodbye to my guides and took a boat to Male. It was less bumpy than expected and I even managed to meditate on the boat. Again, just me and many locals. No other foreigners at all. Loved this about my whole Gaafaru visit, that there were no other tourists but me when I visited. It made my stay even more special.
Then in Male I was picked up by Imran, the owner of Mirian Sky who took me around the capital city on his motorbike. Male is a hectic city with traffic jams and even more coffee shops. Imran's best friend joined us shortly, and later on also another friend and 2 cousins. All these 5 Maldivian men with me were from Gaafaru but living in Male. It was so much fun to watch them speaking, drinking coffee and eating traditional areca nuts with leaves and spices (which I do not like at all). They were all very nice and I despite of again being the only foreigner where we went to, I felt very safe with them.
Then I took a quick boat trip from Male to Velana international airport located on the nearby island. As I still had 6 hours until my flight, I paid for an expensive massage only to get free wifi for an hour plus an hour back massage. I don't even know what I did for the rest of my time at the airport, mostly looking for almost non-existent wifi. And at 10.45 pm I hopped onboard my flight to Istanbul. Exhausted, yet very happy and grateful for my unforgettable 27 days in Maldives. But at the same time… very sad as well… sad to be leaving. But hey Maldives, I'm already looking forward to going back in 2018 🙂 
Maldives day 28
After a month of sleeping less than 6 hours on average per night, "sleeping" on 4 airplanes and in 7 different beds in Maldives, I finally got home in Eastern Slovakia safe and sound. Could not wait to sleep in my own bed again after 4 weeks. Oh yes! Wish I could sleep for at least 3 days straight. Could someone come over and give me a massage while I'm asleep? 🙂 Those were my thoughts after a month in Maldives where according to many of you, I got enough of "relax".
Maldives, you were incredibly beautiful and so good to me that I just had to enjoy you as much as possible instead of sleeping. It sounds weird but I almost had no time to relax in those islands of paradise. And yes, I was like a walking zombie after my trip, exhausted is an understatement. Just 2 nights out of 30 I slept for more than 6 hours, imagine. But at least I've got hundreds of unforgettable memories no one is ever going to take away from me 
❤
 So now let's unpacked my suitcase and jump into my own bed…
---
---
TIP:
 Now that you can see how many things I did in Maldives in 4 weeks, you can read about all my expenses. You think Maldives are incredibly expensive? Check out
how much I spent there
. 
---
---
If you enjoyed my Maldives photos, you can check
my Instagram
for more photos, such as this one below 😉