5 reasons why I believe I was Aztec woman in previous life
I was Aztec woman in previous life. It might sound weird but I am pretty sure of it. Of course, as much as I can only be sure of something that happened centuries ago.
First thing to notice here is that I do believe in karma and in reincarnation which is why I'm trying to be nice to other people.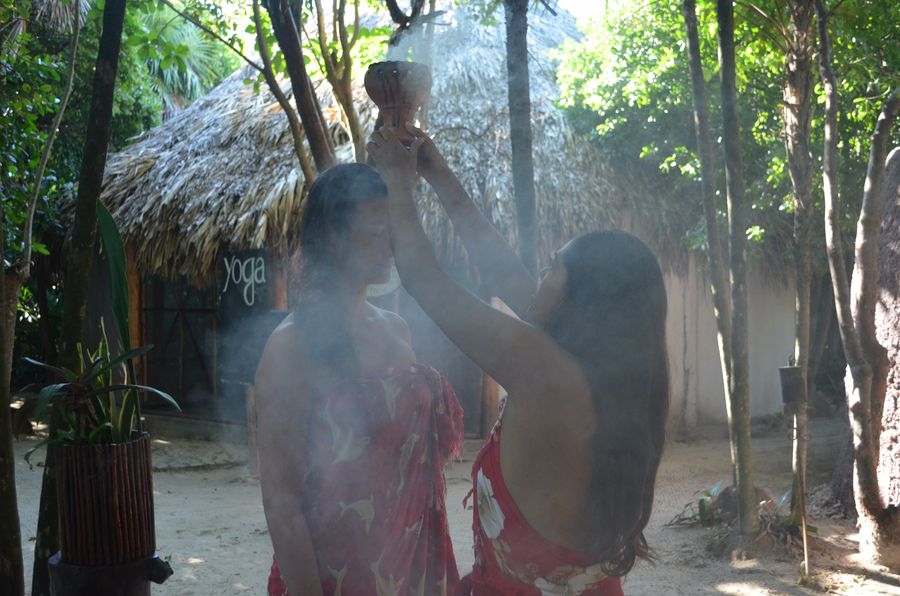 5 reasons why I believe I was Aztec woman in previous life
1. Love Mexico
I've always had a strong love of Mexico since I was a kid. If someone had asked me what my favorite place was, my answer would always be Mexico. And that was even before my first visit to Mexico in 2011. Can you imagine? Since 2011 I've revisited Mexico a couple of times and all my trips only confirmed I was right about the country.
I mention Mexico because the Aztec Indians were mostly living in the territory of current United Mexican States and its surroundings. Their capital was Tenochtitlan which lies in the current Mexico City, also the capital of Mexico.
---
TIP: I don't love Mexico just because Spanish language is my favorite language and Mexican Spanish is cute. There's more than 26 reasons why I love Mexico. Go have a read 🙂
---
2. My University thesis about Aztecs
I studied English and Spanish Philology  in Olomouc, Czech republic. When I had to choose my final thesis topic at the University, I didn't think twice. The Aztecs came to my mind at the very first moment. Don't ask me why, it makes not much sense to me eithe. Just thinking of some of their cruel rituals still makes me sick. But I seriously wanted to write about the Aztec religion, pyramids and rituals. First my BA thesis, then my MA thesis were both about the Aztec religion. 
I was lucky to have an online Mexican friend whose dad was a history teacher. So they sent me some books about the Aztecs  in Spanish as in Slovakia and Czech republic there was a very limited choice. I could use those books as a research for my thesis.
---
TIP: I am crazy about pyramids. Have visited more than 17 archaeological sites just in Mexico.
---
3. Nose like Aztecs
When I was visiting Isla Mujeres island in Mexico for the second time, I posted a photo of me looking at a statue of an Mexican Indian man (native Mexican). On my Facebook fanpage some people started to comment the photo saying we had the same nose. I mean I do know it was the Mayas living on Isla Mujeres, and I am not sure if the Aztecs ever got there. But it doesn't change the fact that I do have a native Mexican nose.
Those facebook comments were a wake-up call for me. Until that time I'd never noticed it was true. No one, not even one single person in my family has such a weird nose as me. It looks as if it was broken in the middle. Although I've had my nose hurt many times when playing like a child and then a teenager, it was never broken. That must be an Aztec
---
TIP: I am talking of one of the photos I took at Punta Sur in Isla Mujeres. Check it out.
---
4. Meditations
Maybe you know that I've been doing daily meditations since 2012 when I started with yoga. It wouldn't be anything special if in many meditations I did not see myself as an Aztec woman walking hand in hand with a handsome Aztec man and a child. What's even more surprising is that in the deep meditation we are with my Aztec family right in Teotihuacan.
Teotihuacan are very famous pyramids approx. 40 km Northeast from Mexico City. We are not sure who built the Mesoamerican pyramids but it definitely happened centuries before the Aztecs came to the area. Although it was not the Aztecs who were responsible for the construction of the majestic pyramids, they did claim a common ancestry with the Teotihuacanos. The Azctes were those who used the "Teotihuacan" name for the pyramids which in their Nahuatl language means " The Place of Gods", or the place were Gods were born.
There might be a connection between my Aztec life meditations in Teotihuacan and my real life there centuries ago. Don't you think? Teotihuacan feels incredibly magical to me. I don't remember if I've ever felt that much energy and connection than when I am visiting Teotihuacan pyramids of Sun and Moon.
---
TIP: Here's my photos from Teotihuacan pyramids visit. Just look at the first sentence of that article to understand my deep love for this place.
---
5. People call me "native Indian woman" 
In my life, way too many people have called me "native Indian woman" or "squaw" for me not to notice it. I never talked to all those people about my previous life thoughts until they used that expression. Once I even got a package full of fruit covered with chocolate from a fan of mine and his note was saying: "To my native Indian woman…" As I am sure nothing is a coincidence in life, nor is the fact that so many people see a native Indian woman somewhere in me. That makes it just one of the reasons I actually do believe I was an Aztec woman in previous life.