Island hopping: exploring Koh Phi Phi Leh
Koh Phi Phi Leh is second biggest Islands among the Phi Phi group. It is located on the southern side of Phi Phi archipelago in Thailand. The island is protected by high cliffs. Underneath the water, it is surrounded by colourful coral reefs and marine life.
Tourists come here for a day trip because there are no places to stay on Koh Phi Phi Leh. Therefore, you need to take a boat trip from Krabi, a ferry from Phuket to Phi Phi or join an island hopping tour! Island Hopping is one of the most popular activities. Upon arrival, you need to pay the national park entrance fees, which are 400 THB ($12) for adult and 200 ($6) for a child.
Island Hopping vs. Boat Trip
Island hopping consists of short journeys from one island to another during one day. On the other hand, a boat trip is a single or return journey to an island. Each activity has its own pros and cons. However, in the end, it's all depends on your preference and how much time you have.
An Island hopping tour usually consists of two to three islands in one itinerary. It gives you a complete journey to the Phi Phi group within a short time. The tour operator will accommodate all your needs, includes tour schedule, travelling expenses, tour guides and sometimes includes meals.
However, if you have time and willingness to explore the island on your own, a boat trip might be a better option. A boat trip is the most shared and simple transportation to get to Koh Phi Phi Leh. Long-tail trips cost around 700 THB ($20) per person, and a motorboat trip costs 2500 THB ($72) per person.
If you want to make your experience slightly different, sunset cruise or liveaboard might be something you want to try. Because of its flexibility, many people visit Koh Phi Phi Leh as one of their destinations.
Koh Phi Phi Leh Must Visit Places
Maya Bay
Maya Bay, the most famous bay in the Phi Phi Islands. A Hollywood blockbuster movie, 'The Movie', starring Leonardo DiCaprio has lifted up the island popularity since 2000.
Maya Bay offers a stunning landscape like no other beaches. Besides an endless ocean view, you will also see high limestone cliffs. The cliffs raise up to 100 metres above the sea on three sides of the beach.
Some beaches that only show up at low tide, so if you are lucky you might be able to discover them.
However, due to its popularity, the bay can get overcrowded with tourists. Therefore, a tour group can only spend a set amount of time here and take turns with other visitors.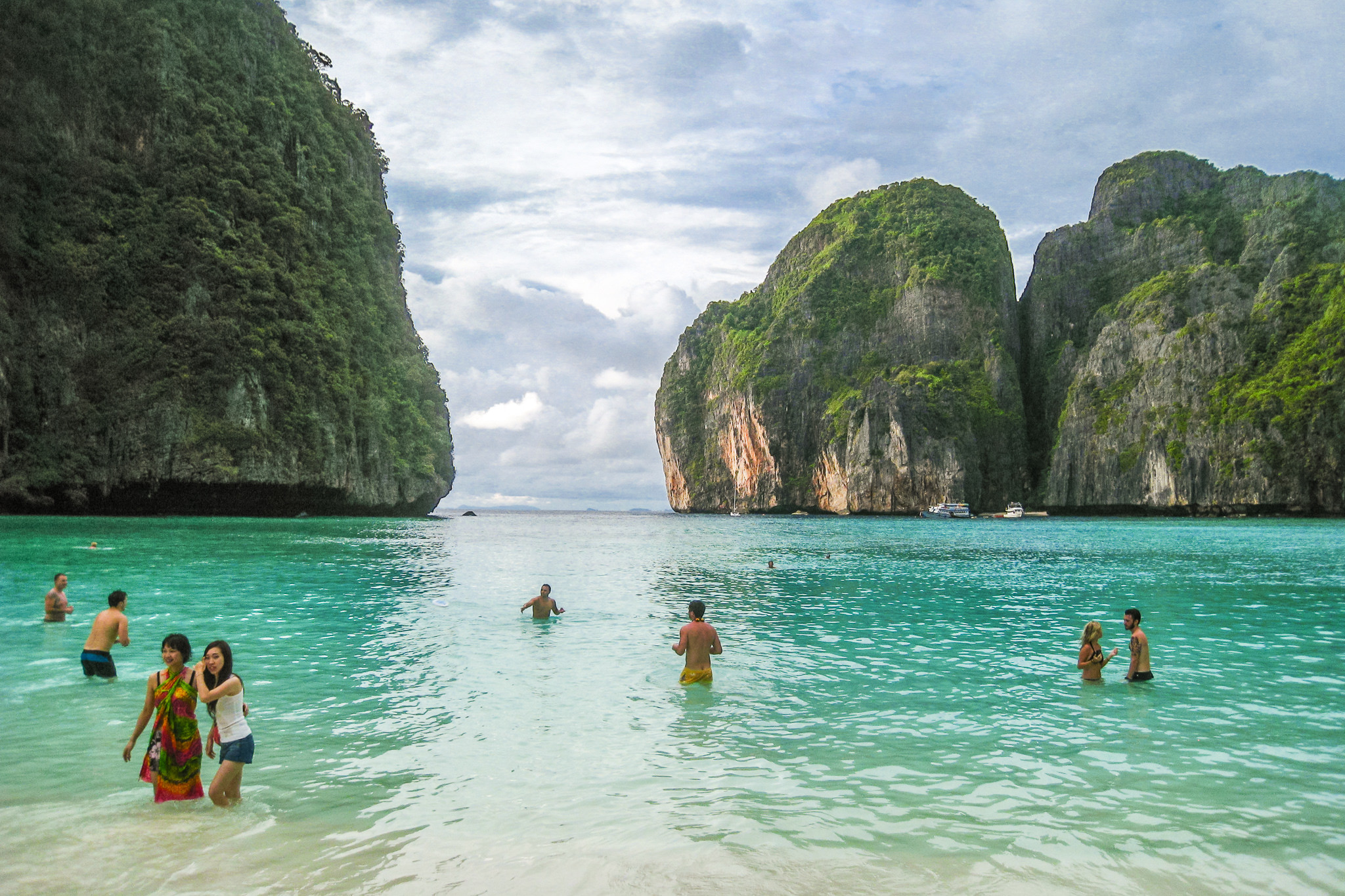 Viking Cave
Viking Cave is located under a tall limestone cliff on the northern side of Koh Phi Phi Leh. In Thai, Viking Cave is called Tham Phaya Nak. The name is inspired by the paintings on the eastern southern walls of the cave. It shows various of boats and a long Scandinavian viking boat.
The Viking Cave size is about 3.2 kilometres square, with ten to fifteen metres in height. Usually, tour boats will get very near to the entrance so you can see the inside of it.
Besides a tourist attraction, Viking Cave is also a good source of money. It is the place to hunt and harvest swiftlet bird nests. In Chinese culture, they believe that the bird's nest is good for our health and skin. However, it is not cheap. On average the birds nest is US$2,500 per kilogramme.
Things to do in Koh Phi Phi Leh
Dive and Snorkel
Koh Phi Phi Leh is a hotspot for divers. Its crystal clear waters host colourful coral reefs and many kinds of fish. There are two very close diving spots from Koh Phi Phi Leh, which are Koh Bida and Hin Bida.
Koh Bida is located two kilometres south of Koh Phi Phi Leh. Here you can spot blacktip sharks, leopard sharks, nurse sharks, turtles and moray eels. If you happen to visit here between December to February, you might spot a manta ray or even a whale shark!
Hin Bida is a massive rocky outcrop, 8 kilometres south-east of Koh Bida. The underwater world consists of hard and soft corals. In just three to eight metres deep, you can enjoy colourful reefs. Hin Bida is the habitat of leopard sharks.
Kayak from Koh Phi Phi Don
Do you want to explore Koh Phi Phi Leh and keep staying active? Kayaking is the answer. It is both a watersports and transportation choice to get to the island.
To rent a kayak, you need to start from Koh Phi Phi Don. Most of the operators are located in Tonsai Village. The primary destination in Koh Phi Phi Leh is Maya Bay.
It will take around one and a half hour to paddle from Tonsai Village to Maya Bay. You can paddle at your own pace so you can enjoy every moment. The whole journey will make you sweat. However, the experience is rewarding.
Where to go after Koh Phi Phi Leh?
After finish exploring Koh Phi Phi Leh, Bamboo Island and Mosquito Island are waiting for you. These two islands are the smallest islands in Phi Phi group.
Bamboo Island is a no-rock, white sand only island. It is categorised as a remote island where there are no permanent facilities on the island. Besides its beach and stunning ocean view, most people come here to enjoy the underwater world. Water activities like diving and snorkelling are the main attractions of this island.
Mosquito Island is the smallest island among all. By its name, you can tell that mosquitos are a big part of this island. At the northeastern side of the island, there is a three-headed pinnacle set that creates a fantastic ocean view.
Despite its impressive beach, get yourself out from this island before the sun goes down, or else you will be a bit annoyed by the mosquitos.
TIP: if you are in the area and need a hotel in Phuket, check the hotels where I stayed at. I can recommend you Deevana or Thavorn Beach Village & Spa 🙂