Where to stay on Bastimentos – Red Frog Beach Resort
"Adventure by day, luxury by night"
… is what characterizes the Red Frog Beach Resort the best.
And it's exactly the motto of my Adventure and Spa project I started in early 2013 – do some adventure activities in the morning and then regain energy in spa in the afternoon. So I guess it does not surprise you that when I was planning to revisit Bocas islands, I just had to explore the Red Frog Beach Resort for some time too.
Here, at Red Frog, you get a lot of adventure when driving your golf cart along the muddy roads or just hiking around, and then luxury when getting a spa treatment in the afternoon and then going back to your luxury villa, put your air con on, swim in the pool and relax …
So I took a boat from Bocas Town on Isla Colon to Bastimentos island where the Red Frog Beach Resort is located (the boats are run by Jampan tours – it's $4 per person one way or $7 round trip. The boats run 6 or 7 times per day with the last one going back from Bastimentos to Isla Colon at 5.30 pm. Then there is also Red Frog shuttle later on at night hours for $5 one way which is still half price of a water taxi.)
What I loved about Red Frog Beach Resort:
location – having a private villa for myself only was the best experience ever. I am one of those introverts who is easy-going and might seem very extroverted but to recharge my batteries I need to spend time on my own and have my personal space and here at my own huge Red Frog villa I was more than happier with so much space for myself only. The villa 8 is also decorated with some cool stuff, like little buses, shells or a colorful Panama Viejo painting (hello Panama City memories!) which made my stay prettier. I do enjoy spending some time just contemplating over details.
staff – everyone was really sweet with me and I not only enjoyed our conversations, but also made some good friends
golf cart – I dislike driving and I am even scared of driving since I had an accident on a motorbike a few years back so when I heard I would have to drive a golf cart myself to get around I got terrified, I do admit it. On the other hand I usually walk all the time and using my FitBit Flex bracelet I try to get at least 10,000 steps every day to stay fit when traveling so I was pretty happy that the fear of driving would force me to walk around the Bastimentos island. But then, when I saw how much I would need to walk (and let me tell you, there are hills around Red Frog) and especially at dark going back to my villa far away from anything else with just a flash light, I did say yes to the golf cart. And to be honest, the first ride was terrifying but then I got so much into it that I felt like a happy kid with a new toy, fun adventures! And there's a cute little waterfall too – each time driving around I had to stop there for a few seconds and just contemplate.
swimming pool – not sure if I should mention it but I so enjoyed my secluded pool. I could swim and sunbathe naked (pretend you didn't just read it but I hate having the different bikini lines all over my body and hardly ever I can find a place to sunbathe on my own like I could at my Red Frog Beach villa.) Priceless!
fully-equipped kitchen – I am one of those people who dislike cooking but having my own kitchen was wonderful as I could make fresh salads, smoothies and healthy Bionature chlorella drinks. That's all I need. Believe it or not, in Villa 8 I actually thought I wanted to have a kitchen like that one day (and it's the biggest world nomad saying this who never even wanted to have a base; and now I even want to have my own kitchen?!) Well, you cannot imagine my happiness when coming back from the beach, opening the fridge full of fresh veggies, tuning in an online Slovak radio and then making my own salad when dancing around. Yummy!
big king size bed – it was so easy to get a nice night sleep in such a comfy bed like that. Plus, I could choose pillows I liked the most out of a few of different sizes and shapes.
books in the villa. I don't usually travel with books as they are heavy and reading ebooks on my phone is not easy with strong daylight by the pool so it was cool to just grab a book from the shelf and read it sunbathing. There were even some yoga/mantra Indian books to choose from, yay! If you are into TV, movies or games, you would be able to do that when staying at Red Frog Beach Resort villas too but I don't personally watch TV at all when traveling.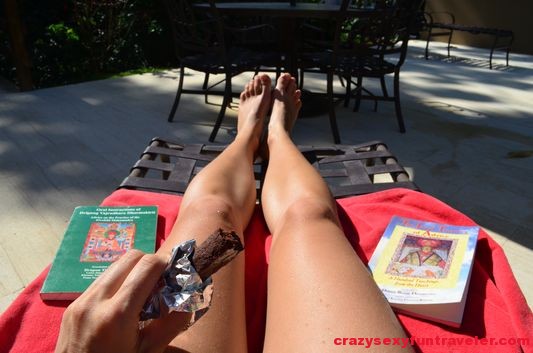 being in the jungle – waking up to the sound of the different jungle animals, surrounded with colorful flowers and hummingbirds around me was exactly what a nature person like me needed. Although I cannot always differentiate all the most-probably-disgusting insects making noise a few metres from me, I can definitely state that nature makes me happy. Not bad to look at a banana tree when sunbathing with my hummingbird mates, right?
El Susurro spa treatments – Oh My God! You have to get one of the massages at the spa, and I tell you this as a spa expert getting loads of different treatments around the world. You will not forget El Susurro spa in here, believe me.
beaches: there's a few beaches on the Bastimentos island and because of a few reasons (bad weather, relaxing/working mood or because I forgot my hiking shoes over at Isla Colon) I only visited the two main beaches while on the island – the famous Red Frog Beach and also the quiet Turtle Beach. Both beaches are known for high waves which is exactly what I am scared of since the 2 accidents I had in the past but a beach is still a beach and I could always cool down in there and clear up my head making my feet wet. And, there's local guys on the Red Frog Beach selling fresh coconut water and then even chop it for you to eat the meat, I mean, heaven! If you want to be surrounded with a bunch of other tourists, watch surfers or hang out with local families, the Red Frog Beach is the place to go; otherwise walk to the peaceful Turtle Beach where you might even have it all to yourself. Oh, and as you can see, I brought my EQUA BPA-free bottle even to the beach, I cannot travel without it any more 🙂
And the Turtle Beach – shame it was cloudy and just about to rain when I went there so the photos don't look very tempting but it's the right place to spend some time at if you long for peace and quiet.
random meetings – when a friend of mine could not come over because of the weather, I decided to take my golf cart around the Red Frog Beach Resort and walk along the beach when drizzling, just to relax for a few minutes. The world proved to be so small again that when walking I saw a familiar face – it was Nicol – the same girl that was with me on the Frankfurt – Panama City flight, then stayed at the same hostel in Panama City and then we met a few times over there again. Now she was just hanging out on the Red Frog Beach for a few hours and I ran into her, incredible! We went to take photos to the Cristobel Point with crazy waves splashing into our face and then strolled along the Turtle Beach when it started pouring down like crazy. Thankfully I had my golf cart and could give Nicol a ride afterwards back to the marina to get a boat back to Bocas Town. I would not like her to walk in that wild heavy rain on the muddy dirt roads. And it turned out to be hell of an adventure, so much fun driving the golf cart in the rain in the jungle, trust me. I felt like doing the craziest thing ever and screamed laughing when avoiding all the puddles did not work. Yeah, we are talking a quick transition from someone who was frightened to even turn the golf cart key to fast crazy driving around and laughing out of happiness with the rain splashing into my face.
restaurants – there's Kayukos next to Bocas Bound hostel and then Punta Lava restaurant on the Red Frog Beach, both offer some vegetarian options too. The restaurants were ok, but to be honest, there's a lot to make better when it comes to food on the Bastimentos island.
As I relaxed as much as I could, plus tried to get some work done while visiting the Red Frog Beach Resort, I did not do many of the things that were on my bucket list before my visit. Also, it rained for 2 out of 4 days when I was there which meant I had to leave all the hiking for my next time. Hence, unfortunately, the only red frog on Bastimentos I really saw was a big wooden one filled with limes at the Punta Lava restaurant. But, this way I left something to look forward to when I revisit Red Frog Beach one day …
My stay at the Red Frog Beach Resort was a press stay as part of my Adventure and Spa project. Thank you so much for such a great opportunity. I cannot wait to go back one day and really do all the hikes there.
*** It took me 5 hours to write this post.