Safari and Fasanolandia
One day I convinced some friends to go to Safari which is like 1 hour north by car from Brindisi. There again, for like 1000 time already, I realized how much I love animals. I guess I have this from my father who studied veterinary and we used to have so many pets at home when I was a child.
To be honest, the whole day in Safari I was feeling great, so happy! The animals give you that feeling, it's so peaceful, it makes you forget about all the problems in the world at least for a moment.
The safari is very well organized for this quite chaotic country Italy, I was nicely surprised. It has 2 parts, first you stay in your car and drive with the animals all around you. Sometimes you have to wait a bit as the road is full of them – goats, horses, zebras, monkeys, bears, deer, elephants, lamas, camels etc. I have to say, it's much better than a normal zoo. You see how animals cooperate with each other like in real nature outside there, somewhere in Kenya.
For me, the most amazing was to enter the gate to lions (dangerous animals are separated by gates who are being open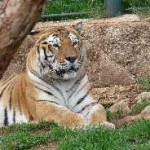 and closed by men working there). It was dangerous to take pictures, we had to be very quick and close the windows so they couldn't attack us. Actually, there are signs everywhere that you have to keep your windows closed all the time, but my friend's car was so dirty, we couldn't take good pictures through the windows, so we were taking the risk.
A big impression left those couple of minutes with tigers. I could spend hours and hours watching them, their colours are wonderful and they look so smart. I'd love a pet like this :)
Funny were camels, dromedaries and giraffes, absolutely harmless, they were putting their heads inside the car and licking everything. Very cute are the little monkeys jumping on your car or a little 'bambi' that makes you part of a fairytale for a second.
Ostriches were on the road following the cars and biting everything with their beaks. It makes you laugh, especially how they run – you just notice long tiny legs and neck, and the feathers kind of 'jumping' on the ass. Two ostriches even escaped from Safari and enjoyed fresh bushes' leaves for lunch. But I did not enjoyed them just next to me.
Trust me, that moment I could describe as pure fear! I was just about to run away, but thank god an employee came to make them go inside again. He saved my life as obviously I could not run faster than 60 km per hour like ostriches.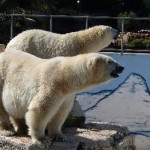 Then, when you see all the animals from your car, you get outside the fenced area back to the entrance again and park the car (2 euro). And take a walk to the second part of Safari which looks more like a typical zoo. You can enjoy here watching polar bears playing, hippos (just a piece of advice, please do not breathe when close to them, horrible smell), rhinoceros… There's a lake with small islands where little monkeys live and you can take a boat for a small fee to watch them being fed while seals are swimming around the boat.
A great show I've never seen anywhere before is a small train which is like a cage, the driver locks you inside and takes you to baboons, they are jumping all over the train, screaming, very aggressive but funny a bit too with their pink ass. This time, we change the roles, you feel like an animal inside the cage and the baboons are observing you from outside.
In the area, you can find also buildings with birds, aquariums with snakes, turtles, fish, spiders, alligators etc. To enter every building/attraction use the ticket for Safari (19 euro) or it's 2 euro per each.

Twice a day they do a 20-minute show with penguins (3 euro) and dolphins (6 euro). If you've never seen a dolphin show, it's definitely worth it. All my hair was up during all 20 minutes of the show. Dolphins are so cute and smart. Check out as well dinosaur exhibition (they move if you press the button), old ships exhibition, 4D cinema (was closed when we were there so no idea what it is, sorry), Museo della manovella – old machines.
Safari is connected with Fasanolandia – plenty of carrousels for children and adults, such as roller coasters, cars, a wheel, scary house and many more. Each of them costs 2 euro, or you can save some money if you get a 1-day pass for 9 euro for 6 carrousels. To have enough energy for the whole day in Safari and Fasanolandia, there are some restaurants, buffets and bars to keep you on your feet. Or take home-made food and have a picnic with your family in picnic area.
I have to say that I was very positively surprised by this Safari and Fasanolandia, it made me realize once again how much I love animals. The impression i got from watching lions, tigers and dolphins will stay in me for a long time.
You can get tired of working and spending time with people, but it can never happen to you with animals. They give your life the meaning.