The craziest thing – skydiving in Gran Canaria
What is the craziest thing you've ever done? Was it one of your dreams? Or just something that came spontaneously without even thinking properly before doing it? Or you just got drunk and did something crazy as many people? For me, probably the craziest moment was tandem jump.
In November 2009 I went to Gran Canaria for my birthday to relax from everything and everyone.
Maybe not what one can imagine when it comes to celebrating a birthday. No parties, no alcohol, no people … just relax at the beach alone.
Exactly what I needed. I went there for 6 days and stayed at an all inclusive 4* hotel.
You know, I had to treat myself well at least once a year.  It was my birthday present, after all. Once I came there, I was checking all the possible leaflets to know what to see. I planned to swim with seals and dolphins on my last day, as it has always been one of my dreams.
But then on my 5th day, at the reception I saw a leaflet about tandem jump and skydiving. It's something I was dreaming about for years. Something I had fear of, respect to but at the same time something I was dying to do.
I called them straight away and booked it for the next day, it was Sunday so they had to come there just because of me, that's why I did not get a student discount. But I'm one of those people who don't really care about money if they want something. We live only once, right? So I booked the tandem jump and wrote on my facebook I was going to do it. I did not tell my mother though as I knew she would freak out.
The day D came and I guess people feel like I was feeling the whole day when they are high. So excited, like flying in the air. But even a better feeling came later on. Guys explained me everything, including the positions I have to stay at during different parts of the jump.
Then we went to a small plane without any door which was very weird for me as a cabin crew. It was 5 of us. The pilot, me, my instructor I was attached to, the cameraman and the owner of the skydiving school. For 15 min we flew over Gran Canaria and I saw beginning of the sunset from so close.
Then it all came when we reached 4 km height. I had to get out of the plane with all my body like lying in the air at the belly with the knees bent and calves up, and facing down the earth, with the instructor behind me still inside the plane. I have to admit, I was scared like hell those 3 seconds when I was at that position.
I was asking myself WHY. Why was I even doing it???
Then we jumped and the answer to the "why" came straight to me.
We both screamed a lot during the free fall but it was so releasing. Just to give you an idea, multiply an orgasm by 1,000 times and that's close to what you feel those 60 seconds of free fall.
It was the longest minute in my life, I guess. Then the owner of the skydiving school followed us and he started moving us in the air touching our legs and arms. We did not expect it at all. Usually, if you jump for the first time, it's not the procedure they do with first-timers.
But it was unbelievable to move like that in the air. And so easy. Then the instructor pulled the string and our parachute opened.
Another different feeling came now to me for the next 5 minutes, so so relaxing watching the sunset over Maspalomas dunes, mountains and sea with Tenerife close. And then the landing at the beach. How do they know exactly where to land? Amazing! I was shaking for another 5 minutes, I still remember.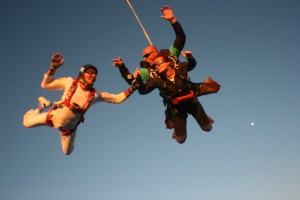 And my mother called me just after we jumped on the ground and I took off all the things of me, asking what the hell I was doing, as she saw it on facebook and said, I am totally crazy and out of my mind doing this and even spending so much money at something that can kill me. I know, maybe she was right. 370 euro for a couple of minutes of pleasure. But it was so worth it, for me priceless!
Literally, I was flying above the sunset. Two things I love the most.
The feeling I will never forget, the feeling I want to have again and again and I'm sure I will repeat the tandem jump soon. I'm even thinking of doing the training course and then jump on my own and do the proper skydiving. This is one of the things that make you feel like brand new and alive again. This is what I need.
Tandem jump in Gran Canaria was the best birthday present I could ever get. The best thing I could spend money for. The best minutes of my life. And probably the craziest thing I've ever done so far. But God knows what I do next.
And what was the craziest thing of your life, guys? Have you done skydiving?