46th Karlovy Vary Film Festival
In the beginning of July 2011, I visited Karlovy Vary. It was not just my first time there, but my first time visiting the International Film Festival, too.
This year was already the 46th Film Festival in Karlovy Vary from the 1st to 9th July (always starts on Friday and ends on the following Saturday.)
Of course, I could not miss a photo at the red carpet 🙂
Every year many people gets the prices – Golden Globes at the festival, e.g. for the best actress, the best movie, the best scenarist etc. The Globe looks exactly the same like the Globe statues next to the red carpet and inside the movie halls.
A lot of movies are played in many places in Karlovy Vary, some of them are the world premieres. It is better to buy the tickets before, as usually for the same day you are there, there are none left.
We visited the world premiere of the Canadian movie ROMEO ONZE (ROMEO 11). As it was a premiere, there was the producer of the movie Paul Barbeau, and its main characters, Ali Ammar in the role of Romeo 11 and Joseph Bou Nassar playing his father. The director and the scenarist, Ivan Grbovic with his wife Sara Mishara, could not come because of the premature birth of their first child.
The best thing was, they sat in the V.I.P. row 12 just in front of us (together with the best Czech scenarist Zdeněk Svěrák) so it was really interesting to watch the movie and the see the reaction of the actors and the producer right there, in person.
Then, after the premiere, we took a picture with Ali Ammar and Joseph Bou Nassar.
And one with the producer Paul Barbeau, too.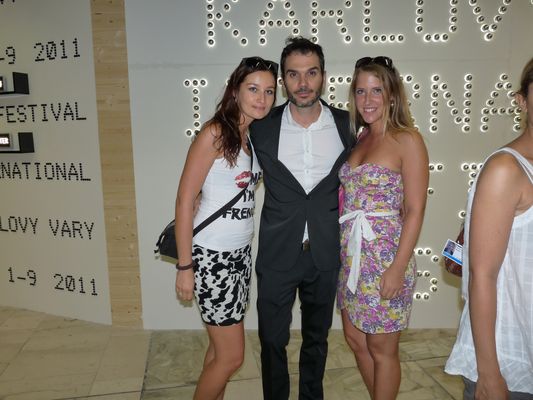 I am glad I decided to survive a 16-hour trip to the 46th Karlovy Vary International Film Festival, it was something different again. If you are somewhere over there next summer, you should definitely go as well.