Best spa treatments at Spa 5 Alzbetiny lazne Karlovy Vary
I really hope you know that Karlovy Vary in Czech republic are mostly known for their spa. Out of all the spa options the town offers, I chose 3 different kinds of spa where I spent loads of time while in town. One of my picks were also Alzbetiny lazne Karlovy Vary, or Alžbětiny lázně in Czech, which are also called Spa 5 (Lázně V). The spas in Karlovy Vary used to be also designated by numbers.
Czech word lázně means spa. But in the past it used to have a bit of a negative connotation meaning "spa for elder/sick people." Which is also why, a few years ago, I'd never even thought of visiting lazne until I get over 50 or 60.
But the meaning of the lazne word has changed so much over the past years, that I decided to visit Karlovy Vary spa.
I chose Alzbetiny lazne because of more reasons:
It's the biggest spa complex in Czech republic.
Elizabeth Baths were named after the Empress Elizabeth, informally called Sissi. And I loved her since my childhood.
I stayed at the Revelton Suites apartment and all their guests get a 15% discount on Alzbetiny lazne procedures.
In winter some spa procedures are offered with 60% discount. Which means more procedures for the same price.
Alzbetiny lazne are a very traditional spa house which is what I exactly wanted to experience. They use 20% of the hot mineral water which makes them the biggest consumer of local thermal water in town.
Just to recap, so you are not confused… All the following names can be used for the same spa: Alzbetiny lazne Karlovy Vary, Alžbětiny lázně, Spa V, Spa V, Lázně V, Elizabeth Baths, Elizabeth Spa.
Alzbetiny lazne is a majestic chateau style building opened in 1906 in Smetanovy sady park. Up to 2,000 procedures were done daily at the spa in the beginning of the 20th century. Now the spa is a joint-stock company owned by the town of Karlovy Vary.
I've heard that the spa is supposed to undergo reconstruction in the next couple of years, once they find enough investors. It does not look the newest, that's true, but the procedures are done professionally which is what matters the most.
I personally spent an entire Monday at the Spa 5. It was after freezing in Cheb when I returned to Karlovy Vary and was more than grateful for some relaxing me time.
The best spa treatments at Spa 5 Alzbetiny lazne Karlovy Vary
Pool and sauna
The first thing I did in the morning at the Spa 5 was to go for a swim. The 25 m swimming pool is long enough for a good swim. As it was on a Monday morning, there were just 4 other people which I appreciated. I prefer to swim in silence having space to myself.
In the corner, there's also a smaller relaxing pool with warmer water and water jets for a massage. ANd a jacuzzi in the other corner. The whole swimming area was reconstructed in 2004. After swimming, I spent a few minutes first in dry sauna, and then after relaxing, also in steam sauna. Sauna is awesome to prepare my skin and also the rest of the body for other procedures.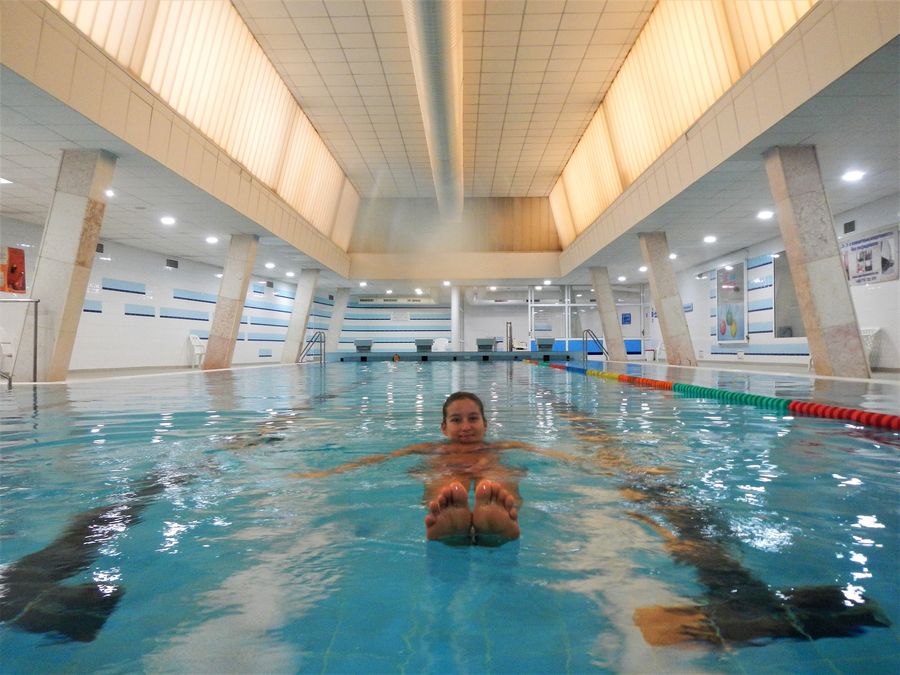 Peat wrap
After the sauna I found my procedure room, was asked to enter and get undressed. I have to say that almost all the spa procedures ae usually done naked but because I needed to take photos for the article, they let me wear bikini.
It made me laugh to see the spa therapist coming with a big bucket full of peat. You can choose on which joints and/or back you want it to be put. I picked the whole back, shoulders and knees. Peat was heated up to pleasant 45 Celsius degrees. The therapist put it under my back and knees, and also on top of knees and shoulders. Hmmm… I cold stay like that for the entire day, trust me!
Did you know that peat is awesome for muscle relaxation and also joint problems?
That was my first peat wrap ever. I spent 20 minutes relaxing alone to the ABBA music on the radio. Then the therapist came, unwrapped me and removed peat off me. I could take a shower to clean the rest of peat. And then relax for 10 minutes on another bed wrapped in a sheet and a thick blanket. The blanket reminded me of the one my grandparents have.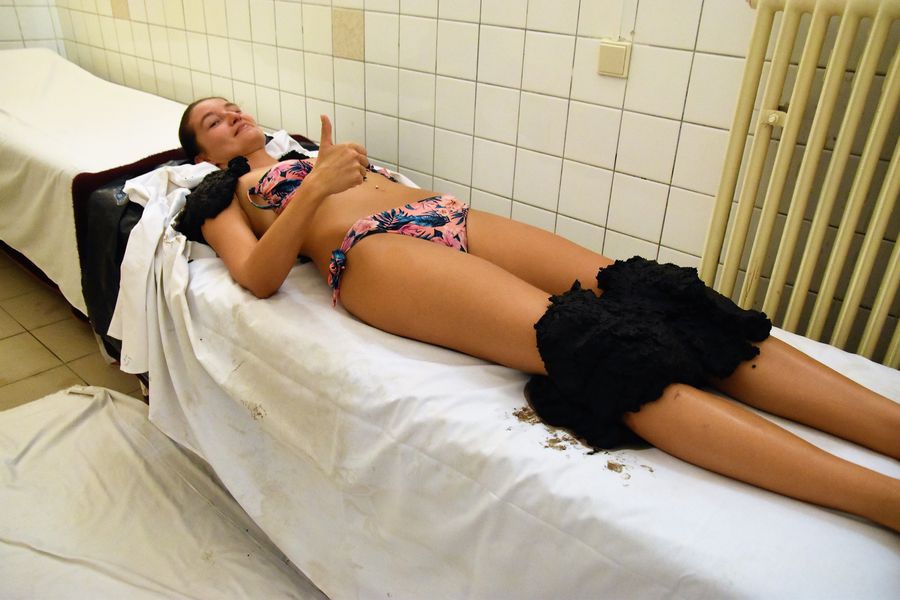 Mint herbal pearl bath
Pearl baths are hot mineral water baths (cca 37  to 40 Celsius) with 85% concentrated herbal mix enriched with essential oils. You can choose from lavender, mint, dwarf pine or lemon grass flavor. They all have different effects on your body. Pearl baths in general improve blood circulation and relaxation, and micro-massage the skin.
I had a 20-minute mint hot bath because mint releases tension, calms down the nervous system and its smell is also great for better breathing. I entered the spa room, undressed again and sat in the bath tub with hot water where the therapist added super green herbal mixture essence.
I could use a pillow under my head and then just switch off my mind completely until the spa therapist came back to help me get out of the bath. She wrapped me in a sheet, got me on the bed and wrapped again in a thick blanket. I could dress up and leave after 10 minutes.
Underwater massage
It was my first time to get intense underwater massage so I had no expectations. It turned out to be so cool! Once undressed, the therapist helped me to enter the bath tub with hot water (36 to 38 Celsius degrees). Then she used a water jet to release muscle tension all around my body.
First around ankles, then the entire leg up, one arm, the whole back, another arm and leg; then I turned back (belly down) and was massaged from the back. I mostly enjoyed the massage around the joints, such as ankles, knees and elbows; and also on my butt in the end. Very good! I so wish this was a 2-hour massage instead of a 15-minute treatment!
Afterwards, a 10-minute relax on the recovery bed followed, similarly to my previous procedures. I left like a brand new person.
Indian head massage + face mask Champagne
Ancient techniques are used to release the tension in the head and neck area mostly caused by stress nd tiredness. Head massage also improves sleep disorders, stimulates lymph and blood system and improves concentration.
I changed the therapy room again and was asked to sit on a chair. For the head massage I could wear my dress so I didn't feel cold. First, my shoulders and neck were massaged, followed by hair massage pressing also on some points around head. Quiet music and the super sweet therapist added to the whole relaxing experience.
Then I could lie down on the bed already without the dress so it didn't get dirty. The spa therapist first cleaned my face and cleavage, and then put champagne mask there with a brush. It had a lovely smell of grapes. Once it was all on my face, I could relax all wrapped again for approx. 2o to 25 minutes letting the vitamins A, B5 and E in the mask do its wonders. I was all wrapped in a blanket until the therapist came back and lightly massaged the rest of the mask into the skin. I left with what we call a "baby butt" skin 🙂
Salt chamber
The salt chamber is made only from natural salts from the Dead Sea, Poland, Siberia and Pakistan. The ionized micro-climate in the cave improves breathing and skin diseases, blood circulation, allergies, overall health and improves your mood as well.
It's suprising to say but if I remember right, that was also my first time in a salt chamber. All dressed with my jacket on, I only put plastic covers on my shoes and chose a sun chair I wanted to lie on. The therapist switched off the lights once other guests sat comfortably with blankets on, too. Then we could relax for 45 minutes in dark to nice music and water sound.
I have to admit I fell asleep, the whole experience was super relaxing. Highly recommended.
Infra-red sauna
My day at the Alzbetiny lazne Karlovy Vary was finished with an infra-red session. Out of all the kinds of sauna, infra-red is my favorite one. It's also the most beneficial one because the infra-red rays penetrate deep into the skin layers. And what you sweat out is not only water, but also cholesterol, toxins and fat. And the temperature inside is also more pleasant.
Infra-red sauna improves blood circulation, immune system, eases muscle and joint pain, reduces headaches and detoxifies the body.
I spent 40 minutes in the sauna heated up to 60 Celsius, and then took a cold shower and relaxed on a chair reading a magazine for another 20 minutes.
Things to know:
There's free wifi in some parts of spa. The best connection is in the center on the main floor. I was posting Instagram stories and replying to emails when I got free time between the spa procedures.
It's a good idea to bring your own towel and slippers, or even a bath robe if you go to the swimming pool area.
It's recommended to relax for a couple of minutes after each treatment to get your body back to normal. This is why after each spa procedure you also get a 10-minute relax on the bed before you stand up and leave.
They have a Pomodoro alarm in each therapy room which is set for you to relax after the procedures so you don't need to check the time yourself.
If you are a woman, then I recommend you to wear a comfy dress. It's a lot easier to put on just a dress in between the procedures, than to put any jeans/leggings etc. Just slippers and a dress and you are ready to walk to a different therapy room for your next procedure.
If you go to infra-red sauna, towels are provided. But to other saunas bring your own towel.
Huge thanks to all the Alzbetiny lazne therapists for my perfect treatments and for taking photos of me. Getting spa procedures at Spa 5 was part of my Adventure and spa project and also #K700 campaign with Czech tourism to promote destinations connected to King Charles IV. My Czech and Slovak fans can also visit and like Ceska republika on Facebook.