Vegan Jerusalem – 8 best places to eat vegan in Jerusalem
One of the reasons why I fell in love with Israel is that there are loads of vegetarian and vegan restaurants around the country, out of which many are also in Jerusalem. Because the country is so small, you can get fresh fruit and veggies easily almost anywhere. Once I saw that my post about
vegan meals in Tel Aviv
got really popular, I decided to write a similar article about vegan in Jerusalem. Vegan Jerusalem is so doable.
Tip: Traditional Israeli salad made of tomatoes, cucumber, red onion, parsley and olive oil  can be found almost in every restaurant. It's vegan and so delicious! 
 Vegan Jerusalem
8 best places to eat vegan in Jerusalem
1. Juices at Uzi-Eli The Etrogman Citronman
Location: HaEgoz Street inside of the Machane Yehuda market
Machane Yehuda is sometimes spelled as Machne Yehuda, or simply Yehuda or Yehda market but all these names reffer to the main market in Jerusalem.
Machane Yehuda market is definitely a place to go. You can buy different kinds of fruit, veggies, nuts and seeds there. There's so many vegan choices you won't know what to eat first, trust me. As that the market is my favorite place in Jerusalem, and not just to get food, but also to simply walk around, breathe in the busy atmosphere and watch local sellers interracting with tourists. Well, except the last hours before Sabbath on Friday afternoon, when the market gets too crowded for my taste.
Uzi-Eli The Etrogman is a perfect place to start with when you have an empty stomach. They offer a variety of different fresh juices and other drinks made of many medicinal plants and fresh fruit. It's also very popular among locals, young soldiers included, which shows it is indeed a quality place. I tried 6 different juices, all yummy! But not all the drinks they sell there are vegan, so please make sure they have no animal milk when ordering. Cheers 🙂
Uzi-Eli the Etrogman belongs to Mr. Uzi-Eli, a spiritual healer and mentor who could also advise you about your health and how to feel better.
2. Vegan crepe at Gela
Location: Etz Hayim Street 59 inside of the Machane Yehuda market
I found Gela by accident when walking around the market. When I saw a vegan-friendly.co.il label there, I had to go in and ask what vegan things they offered. I was extremely amazed to hear crepes, ice cream, frozen yoghurt and other vegan desserts. Oh yes! I even convinced my non-vegan friend to get a vegan crepe there with me. It was cold outside so a warm banana chocolate crepe could not disappoint. And it did not, indeed. I highly recommend this place both in warm and cold weather as you will always find something to satisfy your sweet tooth.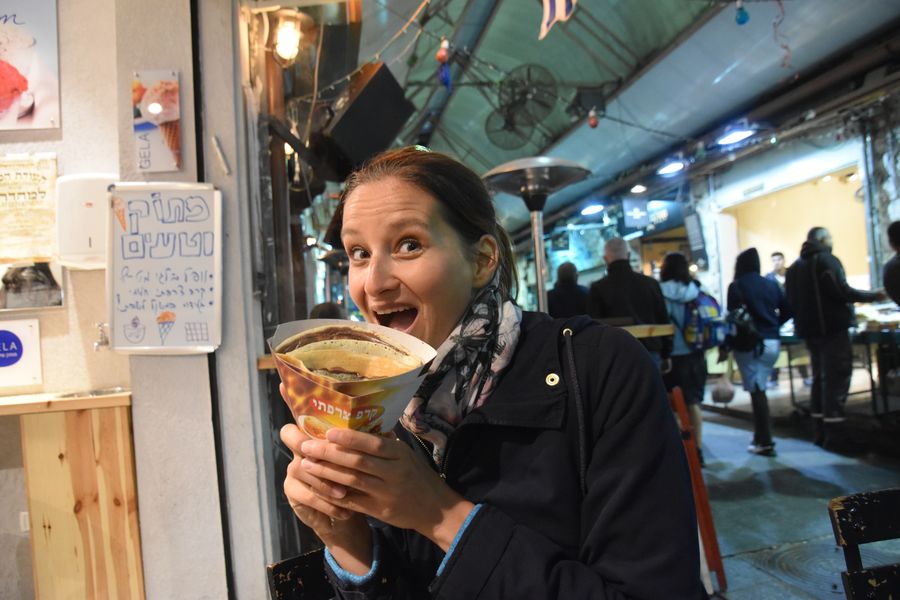 3. Hummus at Hummus Arbes
Location: Shilo Street 1, just across the street from the Machane Yehuda market
If you are a big hummus lover as much as I am, then you need to pay a visit to the Hummus Arbes restaurant. I recommend you NOT to go there on Friday before Sabbath as it will be overcrowded with locals and you might need to wait for too long to get your meal. Most probably you wouldn't even be able to find an empty seat anyway. Other days from Sunday to Thursday should be fine, though. 
There's a few varieties of hummus, such as with chickpeas, mushrooms etc. Both times I went there I ordered hummus with chickpeas on top. I can still remember the fresh hummus taste on my tongue after the first bite. OMG, please take me back!
4. Ice cream at Cookie Cream
Location: Ha-Eshkol Street 6 just a few metres from the Hachapuria towards the Machane Yehuda market
Cookie Cream is an ice cream place with some vegan ice cream flavors (the rest are vegetarian). You can get ice cream in between 2 soft freshly baked cookies. I give them a thumb up for gluten-free cookie option. I don't think it's necessary to speak more about ice cream, right? I'm sure you are sold already…
PS: The ice cream guy is so hot! But don't tell anyone 😀
5. Georgian pastry at Hachapuria 
Location: Ha-Shikma Street 5 just at the corner of the Machane Yehuda market
If you don't mind gluten and you would like to taste something not so traditional in Israel, then you could go to Hachapuria and taste authentic Georgian pastries. They have half emroli pastries with different fillings. Vegan emroli are filled with potato or black beans. Plus you also get carrots and sauce on the side.
6. Shraga Cafe
Location:  Yanay Street 3 in Downtown
Shraga started as a small family-run cafe in Baq'a neighborhood in 1998. They use fresh local ingredients and have many vegan and gluten-free meals to choose from. The cafe is vegetarian and uses traditional Israeli meals taken from all around the country which they transformed into more modern vegetarian/vegan options. Thumbs up for the idea!
We tried artichokes with thyme followed by 2 vegan soups. Then the main course was Arabic vegan maklubba rice and root vegetables, and stuffed farm cabbage roll with barley and whole rice. The cabbage roll so reminded me of our traditional cabbage rolls in Eastern Slovakia which I've been eating since my childhood. Aw, and they also serve home-made raw vegan chocolate hearts! Everything we tasted was finger-licking so I can frankly recommend Shraga Cafe for their fresh vegan cuisine.
7. Vegan pizza at Anna Ticho House
Location:  Harav Agan 10, Ticho House building in downtown 
Anna is an Italian restaurant situated in the historical landmark building Ticho house. It used to be home of Anna Ticho, an artist who donated her house to the Israeli Museum after her death. Nowadays, Anna is a training restaurant for young people with limited opportunities together with the Dualis Fund Group.
If you ask for vegan meals, the waiter will show you many options on the menu or they can prepare you something special. They served me tasty veggie salad, grilled veggies, vegan pizza and also vegan risotto. Way too much food… All the meals were like heaven in my mouth! Very well prepared.
8. Hummus and falafel at Ikermawi
Location:  Al Anbia'a Street 2, opposite the Damascus gate
I wrote this little restaurant at the end NOT because it's my least favorite, but only because the first 5 on the list are all located inside or just near the Machane Yehuda market and the 6, 7 and 8 are in other parts of the city. The hummus they serve here is also very yummy, in my opinion comparable to Hummus Arbes. Here you can get tasty falafel and pickles with your hummus. Finger-licking, I promise! So if you are visiting the Old City, then definitely stop by at the Ikermawi to get loaded with hummus. You won't regret it 🙂
Bitemojo app
I found out about Ikermawi restaurant thanks to the
Bitemojo
. It is the first stop of the
Food tour between the East and West Jerusalem
. The restaurants I mentioned in the points 1, 3, 4 and 5 are also the Bitemojo recommendations, but those are part of a different tour called
The Machne Yehuda veggie food tour
. 
Bitemojo is a mobile application which you can download for free to your smartphone. Then you just choose a tour you'd like to do, pay for it, and start whenever you have time. The app will show you where to go on the map, what interesting landmarks are on the way (with information about them) and then the restaurants where you can get a bite. You will simply go there, show your Bitemojo tour on phone and they will give you a meal included in the tour price. Simple and very helpful. Without Bitemojo I would never discover all these hidden gems with super tasty food. Plus, you can also learn about the restaurants, their owners, food you are eating, and interesting buildings on the way. What a great idea for an app!
All you need for Bitemojo experience:
smartphone with Bitemojo app downloaded
mobile data on
GPS on
good shoes to walk 1 – 3 km
empty stomach
Would you taste the meals I talked about in this article? Would you add other places where to eat vegan in Jerusalem? What would be/was your vegan Jerusalem experience? Share with us in the comments below.