3 reasons to go on a vegan cruise
If you were following my social media channels in November 2019, then you know I did a vegan cruise on the Douro river for 8 days. To be precise, I celebrated my 35th birthday there. Yay! It was a very special experience, full of finger-licking vegan food, unforgettable sceneries and new friendships. If you are still wondering if you'd enjoy a trip like this, I decided to put up a short list of top 3 reasons to go on a vegan cruise. 
3 reasons to go on a vegan cruise
First, let me just explain briefly what a vegan cruise means. There's ONLY vegan food served onboard a vegan cruise. That means no meat, no fish, no milk and cheese and other dairy products, no honey, no eggs etc. Simply put, nothing that comes from an animal. Only plant-based (vegan) food can be found on a vegan cruise.
1. Food – perfect for vegans and vegetarians
If you are vegan, then it's a no brainer. It makes so much sense to go on a fully vegan cruise because you know how difficult it can be in some destinations to get vegan food, right?
But imagine this… On a vegan cruise you will not have to double check if they understood what your dietary restrictions/preferences mean. You can just eat anything you find around. Yay!
I have been vegan since July 2013. I have to confess that it made it so much easier for me to be on a vegan cruise.
The whole "is it really vegan?" problem was not a case in there which finally gave me a break. Trust me, it is not easy to travel as a vegan in most countries in the world where they still don't understand what it means and offer me fish or fried cheese. 
No need to be vegan (yet). If you are vegetarian, lactose intolerant or simply choose to avoid meat or dairy as much as possible, a vegan cruise is the right place to be, too. You will be able to munch on all the meals found on the vegan cruise as well. And seeing all the delicious plant-based meals might even convince you to go fully vegan. You will notice it is not that difficult to make vegan meals and you don't have to survive on lettuce and tomatoes only. There's so much more 🙂
Frankly, there was so much food on the vegan cruise. I'd even say it's a foodie trip. Trust me, there's no way you would get hungry on the vegan cruise. We had buffet breakfast with a lot of sweet and savoury options, buffet lunch, afternoon tea and cake (with 2 different choices of desserts), a 4-course dinner and a late night snack at 10.30 pm. And there were cookies in the bar all day long in case sugar cravings hit you. I have to admit there was way too much food and we were all overeating, especially the first days. 
I also have to give my thumbs up for the variety of food. We even had beans, guacamole, fried bananas (which reminded me of my beloved
Mexico
and Central America), pizza, pasta, many fresh vegetables and fruit (both European and exotic), chocolate, ice cream, smoothies, cereals, yoghurts etc.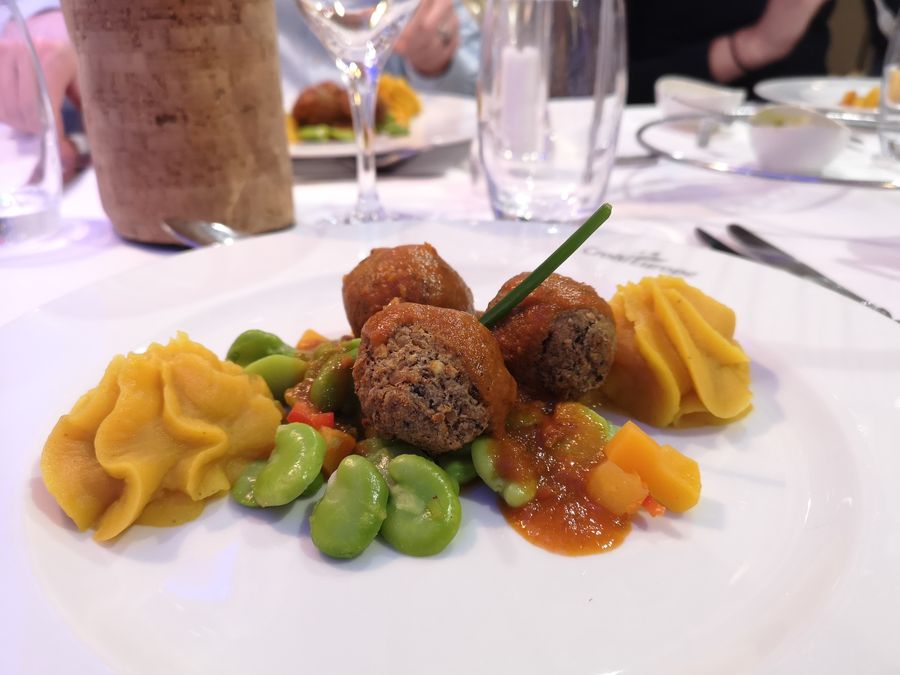 Pozrite si tento príspevok na Instagrame

 
2. Eco-friendly
There's a few reasons why going on a vegan cruise is a very eco-friendly trip to do. I hope there's no need to explain why you should think of ways to save our planet, right?
Eating vegan food is the best way to reduce your environmental impact on Earth. It is the most sustainable food for the environment.
Not participating in animal death nor animal abuse is definitely better not only for your health and karma, but also for the environment in general. A study done by the University of Oxford showed that vegan diet can reduce individual's carbon footprint from food up to incredible 73%. Did you know that avoiding meat and dairy has a bigger environmental impact than driving an electric car or not taking any flights?
Onboard the vegan cruise you will get organic vegan toilettries. No chemicals contribute not only to healthier skin but to a more eco-friendly lifestyle, too.
Vegan cruises do not use any heavy fossil fuels (unlikely to most regular cruises done by huge companies, such as the current cruises around the Mediterranean sea). The Vegan cruises company is also working on getting a green cruise ship in future that could sail for 12 hours without any fuel. That would be even more greener travel. I cannot wait to see that happen 🙂
3. Like-minded people
It is so easy to enjoy a vegan cruise to maximum if you are vegan or vegetarian.
Not only when it comes to finding vegan food to eat, but also when speaking of having to deal with the same questions and prejudices, such as:
"but you need calcium in milk to have strong bones"
"meat is healthy"
"ok but where do you get your protein?" etc.
I am sure we are all familiar with these sentenses that are not true any more.
However, most probably you will not have to listen to the same silly things against veganism over and over again when onboard a vegan cruise. Because let me be honest, it gets annoying. Speaking from my own experience, it is definitely more pleasant to travel with like-minded travelers who understand why vegan diet is the best diet for us. 
---
---
TIP 1: If you are still not sure why to become vegan and change your diet to plant-based, check out my ebook How to be fit when traveling. Big part of the ebook focuses on vegan diet, especially raw vegan and how it has improved my life. If you are not vegan yet or you are but your partner/family are not yet, this ebook might change your/their opinion.
TIP 2: If you are interested in learning more about vegan cruises, head over to my article about my fantastic experience on the vegan cruise on the Douro river in Portugal and Spain.  
TIP 3: Here's my photo album from the vegan cruise mentioned above. I personally took all of the photos 😉
---
---
To find out more about vegan cruises all around the world, have a look at vegan cruises website.