Advantages of plant-based diet – why am I mostly raw vegan?
I know this is mostly a travel blog, not a food blog, but I keep getting the same question over and over again. What do I do to stay healthy on the road? Why am I vegan? What are the advantages of this plant-based diet?
The consumption of cheap processed food with little to no nutritional value coupled with a sedentary lifestyle has dealt a hard blow to the health of our nation. Obesity has long been on the rise, as well as diabetes and heart disease. Increasing activity levels can make an impact on our health, but without healthy eating, it has a very limited impact.
Many are eating large amounts of food they should only occasionally eat, and not enough of the foods they should be eating to attain the healthiest life possible. A plant-based diet that emphasizes vegetables and whole grains, along with cooked beans and peas, fruits, nuts, and seeds is a way to reclaim optimal nutrition. In addition, seafood and lean meats should take precedence over fatty meat choices.
Advantageous approach
There are many plant-based diet approaches promoted in books, on television, and online. They include The Mediterranean diet which is an approach that emphasizes lots of fresh vegetables with seafood and olive oil. Followers of this diet have been seen to have lower rates of cancer and heart disease. Dawn Jackson Blatner's Flexitarian Diet is a flexible approach that encourages consumption of more plants while minimizing the role of meat in the diet.
Personally, I prefer mostly raw vegan diet consisting of at least 80% of raw fruits and veggies, and the rest cooked veggies (no animal protein though.) I also have participated on a few raw vegan and detox courses and lead raw vegan courses myself, too.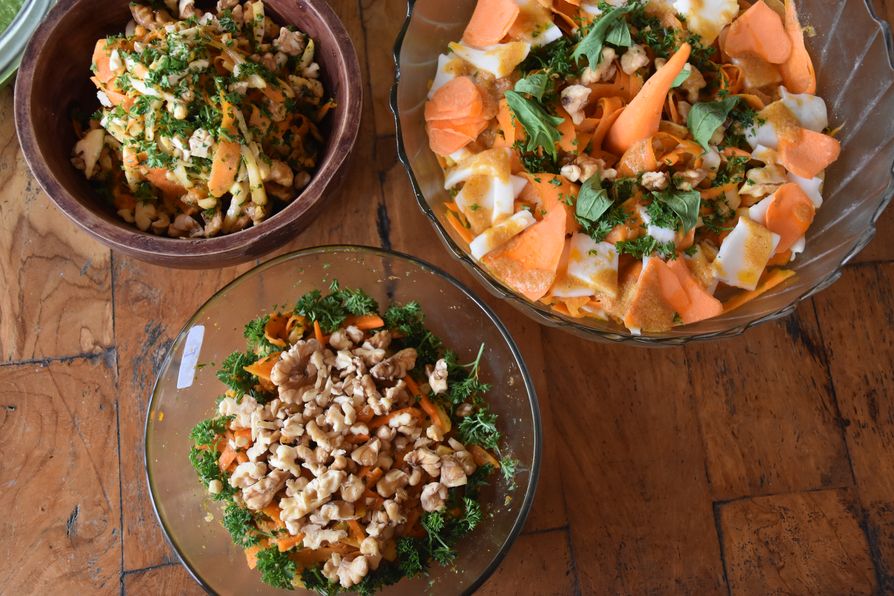 Advantages of plant-based diet making a positive change to your health
Diabetes prevention
Type 2 diabetes is an epidemic in many countries. Although there is a small hereditary component to this disease (type 1), type 2 can be prevented or at least managed by eating a healthier diet. Adding more fresh fruit and vegetables to your diet can help regulate blood glucose levels. The isoflavones in cabbage do this and can also help reduce inflammation.
Hypertension tamer
Getting high blood pressure in check can be facilitated by getting lots of fiber from plant-based sources. Whole grains and fresh produce are excellent for upping fiber intake in general. Apples and raspberries are fruits that are especially filled with fiber. Broccoli, beans, nuts, and seeds are also top fiber sources.
Weight loss
Most processed foods are high in carbohydrates which, unless burned by the body's activity, end up converted in the body to sugars that are stored in the form of fat on our bodies. Eating a diet of refined carbohydrates gluts the body with sugar and deprives it of vitamins, minerals, and protein. A move to lower carbohydrate whole plant foods will begin the body's transition to its optimum weight.
Healthier skin and eyes
Healthier skin and eyes can benefit from a variety of vitamins found in plants. Endive is high in calcium, iron, and the antioxidant vitamins A, C, and E which helps protect skin cells from damage.
Adding some pumpkin puree to your healthy spaghetti recipe also adds these same vitamins as cabbage and promotes the building of collagen. Pumpkin is also one of the most concentrated natural sources of carotenoid compound, one of which is lutein that is absorbed by the retina and helps protect against macular degeneration.
Lower risk of cardiovascular disease and lower cholesterol
Replacing red meat with plant-based sources of protein like legumes and nuts go a long way to reducing your risk of cardiovascular disease. A diet that is full of plants is also full of fiber sources that scrub the bad cholesterol out of the body.A champion of lowering cholesterol is the mustard green.
Quick tips
A plant-based diet needs to not include eating large amounts refined starches or sugar. Do not use palm oil, which can cause inflammation that may lead to disease (and its production is not good for the environment). Hydrogenated oils also should NOT be used because they are one molecule away from plastic and will clog up your bloodstream over time and cause your heart to work harder. If you ned to use oils, the best are cold-pressed oils, such as coconut oil.
Make sure that you include variety in your diet by varying the plant choices that you use. It will add interest into your meals as well as variety in the vitamins and minerals that you are consuming. Introducing even a few changes per week towards giving you more vegetables and fruits in your diet will add up over time and equate to a healthier lifestyle.
---
---
TIP: For more information on plant-based diet, check out my How to be fit when traveling ebook.
---
---