Best 11 places to eat vegan and vegetarian in Tel Aviv
I have to admit that I am always a bit scared of visiting new countries not because of the safety issue, but because of my weird sometimes unexplainable dietary restrictions.
I follow certain habits when I travel on my own or when I am at home in Slovakia, but each time I travel in a group or I participate on press trips, it's a whole new world to me. We spend hours eating too much which is not only a huge change for my stomach and not the best idea for my figure but also each trip proves my power will is not strong enough.  
I mean I still have not touched any meat/fish/sea food since June 2013 at all but I do sometimes "cheat" and become vegetarian.
Chocolate, ice cream and rarely some cheese are so appealing to me that from time to time I cannot say no. And if a group of people eats desserts after every lunch and dinner around me, how can I stay withstand the pressure and just look at them?
My only obsession is chocolate, but vegan/raw vegan is more than fine to me. However, it's not so easy to find it when traveling.
But a lot of dairy makes me sick and I get sinus infection which can completely change my plans (such as it did in
Neamt in Romania
when I could not to the best hike of the whole trip because I could not breathe at all.)
My point is that I'm still trying to get vegan main dishes and sometimes try chocolate or ice cream desserts when eating out on press trips in foreign countries. Gotta try local delicacies, right?
I have to say that it was a nice surprise for me to see so many vegan-friendly meals and restaurants in Tel Aviv, and the whole Israel, and I did not even look for them specifically.
I've heard, though, there are many vegetarian and/or vegan restaurants serving no meat/no animal products whatsoever in Tel Aviv but as I travelled with meat-eaters, I did not try those this time.
 So … here are some of my recommendations for vegan meals and non-vegan/vegetarian desserts 🙂
The best 11 places to eat vegan and vegetarian in Tel Aviv:
1. Pomegranate juice
OMG, Israel is THE place to get freshly squeezed pomegranate juice. You can find uncountable number of small stalls with locals selling juice from this healthy fruit all around. Its benefits for your body are never-ending. Pomegranate contains vitamin C and K, potassium, punicalagins antioxidant (3 times stronger than green tea) and it even contains protein! It has anti-inflammatory effects, lowers the blood pressure and thus the risk of heart diseases, fights the cancer cells and bacterial infections.
Right, you see, you need to get as much pomegranate juice as possible when in Tel Aviv. The easiest way to find one is at the Carmel market or around the Jaffa Flea Market.
100% pomegranate juice is not very cheap – you pay 3 – 5 euros usually per 2 dcl but your body will thank you. 
PS: vegan
2. Tamara Juice
Continuing with the juices, a friend of mine took me for a short business chat to Tamara Juice stall which is located at the corner of Ben-Gurion Boulevard and Dizengoff shopping street. He had no idea I am so into juices and green smoothies, and I did not know this juice stall is one of the most famous ones in Tel Aviv. 
Not only you can choose from a variety of different fresh juices, smoothies, fruit salads, fruit ice cream (also pomegranate flavour), I even found acai bowl with fruit! You can even add acai to your smoothies (acai is one of my favorite fruits from Brazil.)
They don't have a website, but they do have a Tamara Facebook and Instagram which you can check for more info (or food porn photos!)
PS: vegan and vegetarian
3. Breakfast at Benedict
I remember when I was walking at night with a friend back to my Dan Hotel when he pointed out a restaurant that was open at 1 am when we passed by. "This is a breakfast place" he said, "they are open 24/7, very famous in Tel Aviv."
And he was right … a few days after we also had breakfast there. The funny thins is you are greeted there by the waiters "Good morning" each time you come, no matter the time of the day, even at night.
The food there is truly delicious!
They have one salty vegan option (chickpea pancake with veggie salad, eggplant, lentils and guacamole,) and also vegan pancakes at Benedict. They are both designated with V vegan. Many vegetarian meals can be found on the menu, too.
PS: vegan and vegetarian 
4. Hummus at Han Manuli
Hummus, hummus, and more hummus that's what you can get pretty much anywhere in Tel Aviv. You can never go wrong with hummus and salad. I like pita bread, too, but to be honest in 95% of the time I only eat pita when it comes with hummus.
*Did you know that hummus was originally a morning thing eaten before breakfast which was then turned into lunch or dinner?
*Many people eat hummus with lemons and onions.
I recommend yo too try hummus, bulgur, beets and other vegetarian/vegan (if without cream) at Han Manuli at the Jaffa Old City. They also have good fresh orange juice there to drink before the meal 😉
The second photo is how the restaurant looks like from the outside.
For another great hummus place, check out what I wrote about the Carmel market below.
5. Vegan paella at Vicky Cristina
Vicky Cristina is one of the most unique restaurants in Tel Aviv located in the transformed old Train Station complex (Tachana in Hebrew) at the edge of the Neve Tzedek neighbourhood.
I don't really know how the restaurant looks like on a normal day as we visited during the La Boqueria 5th year anniversary celebration, but the atmosphere was very difficult to describe. I did feel like in Barcelona and not in Israel.
Spanish tapas, live music, paella, dancing, hand-clapping and Antoni Gaudi's design? Si, por favor!
I used to enjoy Spanish cuisine years ago but since my try on veganism, it's been hard to find vegan dishes (olives make me sick vs. I love olive oil, weird!)
However, during the celebration there was a really great chef preparing different kinds of paellas, vegan one including. So I had 2 bowls 🙂 
PS: vegan and vegetarian
6. Vegan appetizers at Benny Hadayag
We had a dinner at Benny Hadayag located in the port of Tel Aviv on our first night of the trip and ot only the sunset there was breath-taking, the meals that came then, was not short of unforgettable!
At first I was a bit worried if I would get any vegan meals at a fish/sea food restaurant (the name means Benny the Fisherman), but both the quality and the amount of vegan appetizers put a smile on my face.
My favorite was hummus, many different salads (carrots, beets, tomatoes, greens, eggplant) and sauces, and delicious artichokes.
And they also serve delicious desserts, such as chocolate muffin and traditional malabi (the white and red dessert made of rose water, milk/coconut milk, cornstarch and raspberry syrup.)
PS: vegan and vegetarian
7. Chocolate at Max Brenner
I remember clearly when a friend of mine during our trip around Neamt County in Romania was trying to convince me about top 1 thing to do in Israel. Guess what she said? Chocolate at Max Brenner! She told me this after seeing my chocolate obsession … and at that time I had no idea I would eat there even twice 🙂
Right the first night of our trip in Tel Aviv, we walked around one of the Max Brenner restaurants located in the port. I wanted to jump in but there was no time as we were headed to Benny Hadayag.
2 days later, a friend of mine asked me out but I was so tired that I kept refusing his offer until he invited me to taste chocolate at Max Brenner. Hell yeah, I was in! OMG, that was chocolate overload at midnight … I don't think I need to tell you more about that orgasmic moment.
And on our last day in Tel Aviv we shared our last group meal together having lunch at Max Brenner.
They have 2 main salty vegan meals out of which I chose a huge bowl of fresh Fattoush salad with tahini (the second one was fried tofu & rice.) Both vegan options are marked with green vegan on the menu.   
Then, it was time for my biggest vice once again – desserts! The menu offers pretty much anything chocolate – chocolate pizza, chocolate shots, spicy Mexican hot chocolate, fruit and marshmallows with chocolate fountain, cookies with ice cream etc. Oh my!!! Exactly because of places like Max Brenner I cannot be 100% vegan all the time…
PS: vegan and vegetarian
PS2: really cute waiter!
8. Vegan pita at Miznon
Miznon at King George St 30 is a place offering gourmet fast food made of organic high quality local ingredients. There are other two Miznon restaurants in different locations in Tel Aviv (Ibn Gvirol St 23 and HaNechoshet 1.) The well-known Israeli chef Eyal Shani opened Miznon in Tel Aviv and in Paris.
You can watch the cooks preparing your pitas at the open kitchen while munching on tahini and other sauces ready for you there at the corner. I've tried 2 different vegan pitas, the one with grilled veggies was too spicy for me but the other one with cauliflower was extremely delicious!
How about desserts in a pita bread? Get a pita with banana with nutella (that's what we had – more tasty than it sounds) or ice cream in pita (try and let me know.)
They also offer 2 really yummy vegan meals – baked cauliflower with salt and olive oil, and sweet potatoes.
PS: vegan and vegetarian
9. Italian vegan at Night Kitchen
One of the not so many restaurants that change many dishes daily, Night Kitchen is located in the city centre. It's also famous for its wine list (which I did not try as I've not drunk any alcohol since 1.1.2009.)
I did enjoy not only Guy Hochman (a famous Israeli Youtuber) company there, but of couse a few dishes, too. Mostly tomatoes with croutons, vegan focaccia, and the gnocchi with veggies, OMG! I can still feel the taste on the top of my tongue.
10. Carmel market
Carmel market is the major market in Tel Aviv (closed on Friday late afternoon and Saturdays for sabbath) and it's one of the biggest markets in Israel. Both locals and tourists come here to do their grocery shopping and taste local delicacies.
99.9% of the fruits and veggies are grown locally. Israel is the land of 17 nationalities who brought their home cuisine which is possible to taste at the Carmel market.
You can get hundreds of kinds of fruits and veggies at the Carmel market, even a few exotic ones brought from abroad by the many foreigners. The first one is figh, the second one guava, yummy!
I had a chance to walk around the Carmel market twice, on my first an on my last day of the Tel Aviv trip. Obviously, many stalls and little restaurants do not have names there so it's not so easy to give you any tips about where to eat, but I'll try.
We tried really great hummus with mushrooms at Shlomo & Doron on 29 Yishkon Street at the edge of the Carmel market. This is definitely one of the best hummus places in Tel Aviv. The taste is a bit different to all the other hummus plates I've tried, thumbs up! And you can try it with yemenite flatbread Sahlouf. Shlomo & Doron even won the Delicious Israel 2014 Hummus Hotspot Award!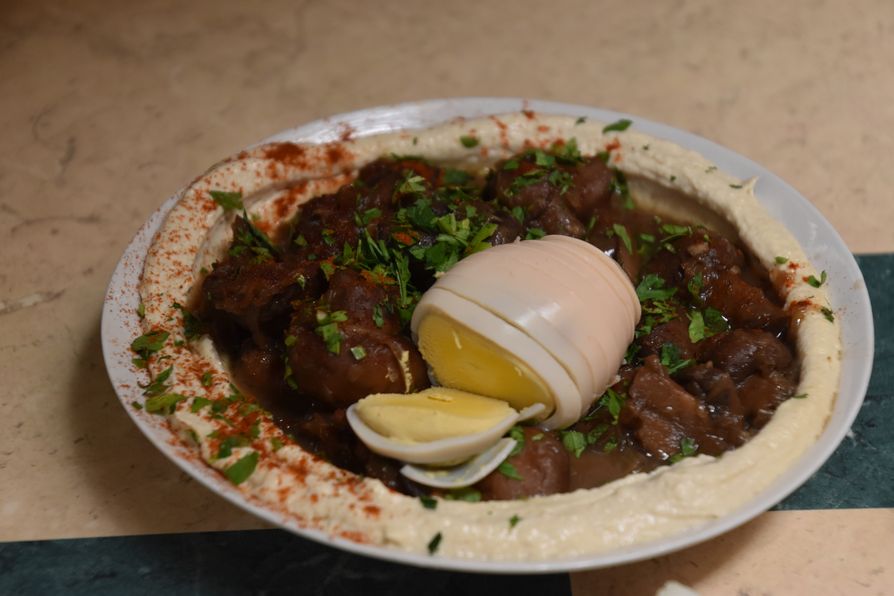 Vegan/vegetarian/ burika in pita made by Shai Tako at Burika Center (pretty recognizable as Shai shouts "burika, burika" and attracts hungry people with his smile.) Burik/burika is a deep fried pastry with potatoes and eggs. 
Original Yemenite Nechama at the Vishkon St 10 made by the owner Nechama for many years. Nechama is a Yemenite Jewish lady born in Tel Aviv who owns the last authentic place in the Yemenite Quarter in Tel Aviv making traditional Yemenite pastries. My colleagues tried spicy vegetarian bread filled with eggs and tomato sauce and Schug (sometimes spelled Zhug or skhug) with peppers, garlic, black pepper and coriander on the side. This is the one I did not try as I am not a fan of spicy (unless it's Indian spicy) and I try to avoid eggs as much as I can. However, the guys there with me licked their fingers 🙂
Turkish bourekas. The owner's mother used to prepare these daily and they've been making them here for many years following the same traditional recipes. We tried cheese (vegetarian) or potato (vegan) filo pastries.
11. Fruit and veggies at Paleo market
This tip will sound weird if I'm trying to promote vegetarian/vegan cuisine in here, I admit. But my friends took me to the market which takes place on Friday once a month in the Northern part of Tel Aviv and there were many veggie options, too.
You can eat right there (fresh fruits, veggies, juices with spirulina, fresh coconuts) or buy some both local and exotic fruits to take with you (dates, figs, guava, pineapple, yellow kiwi.)
Finding out more about vegan and vegetarian in Tel Aviv was possible mostly thanks to AllOver TLV. Our guide was Or Rein. You can contact Or via his email orirein@gmail.com. I highly recommend his services.