Chiang Mai detox retreat Chivasuka – 3 juicing days
Chiang Mai detox retreat Chivasuka
Day 3 – juicing
We started our morning with:
stomach acid test – approx. 100 ml water with 1/3 of teaspoon of sodium bicarbonate
a few min later parasite drink – papaya blended with papaya seeds
30 min later warm water with apple cider vinegar and chili
30 min later green juice
30 min later breakfast
We woke up at 7 am to drink all the drinks mentioned above and have an earlier breakfast. While slowly getting the drinks to work in our bodies, I sat down on my bed to feel warmer and read 80 pages about meditation.  
At 8.30 am we had breakfast. I had a juice of pineapple, rose apple and 2 oranges; and also an enzyme pill and a milk thistle pill. The rest of them had the same as the day before: fruit, muesli, coconut yoghurt, and vegan milk.
I only had a juice because it was the beginning of my 3 days of juices only. Yes, just liquids, no solid food whatsoever.
After breakfast I took my camera and we went for a short walk around the tea plantation situated behind our bungalows. To make the experience even more memorable, we enjoyed a cup of white tea there at the Tea house. The view from there is mesmerizing! You are looking down the hill with all the tea bushes, and can also see evergreen hills on the horizon. What a perfect morning we had with a cup of white tea!
Then we came back to the bungalow, dad took a nap and I was writing an article. For lunch, I had a green juice of cucumbers, peanuts, lime and some other ingredients similar to those the others had in their solid meals. 
I felt super energized and very productive; not tired at all and was also in a great mood maybe because I earned some money even while on the detox retreat with very limited wifi time. After writing for 2 hours, I got a light headache and also felt super thirsty even after drinking all those litres. And even felt a slight hunger for a second but it was stomach just making noises.
Weird thing? I burped a couple of times during the day, but just very few small burps. If you read my previous article about our firt two days of detox, then you know, I never ever burp 🙂
Aw, did I mention it was a Full Moon when we were there? Full Moon was a perfect timing for the juice detox.
You should eat less or even fast on each Full Moon.
Even animals do it somehow automatically listening to their instinct that they do not eat almost at all at the Full Moon, or just very little.
For some reason I cannot remember at all what I drank for dinner (but it was a veggie juice, for sure) 😀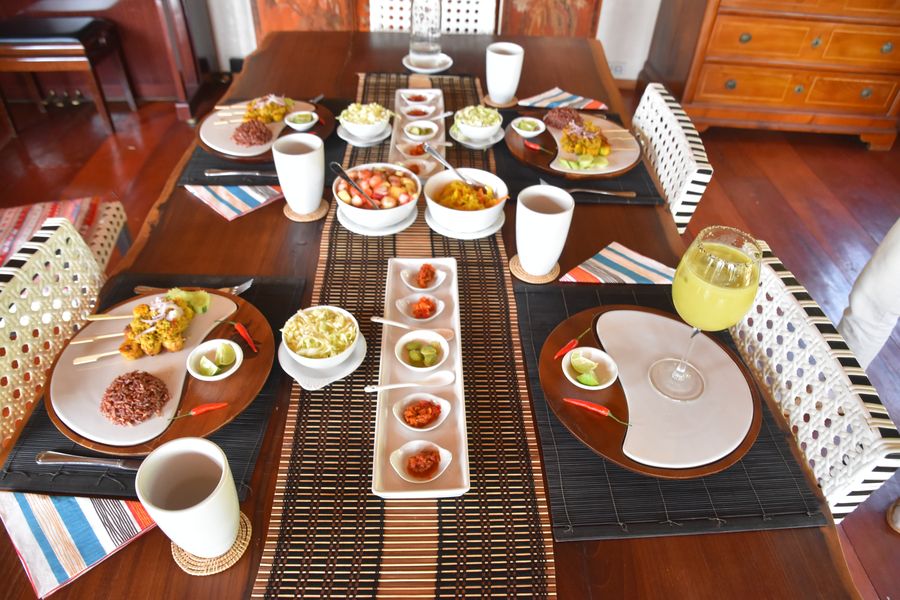 Day 4 – juicing
Morning drinks:
No papaya drink as Jan run out of papaya
Warm water with lime and chili
30 min later green juice
That was the most perfect day for me! Really, I am serious ?
I had a fruit juice with coconut water in the morning. I did not even mind they were eating solid food around me. I was so happy with my coconut water and a glass of fruit juice. After a short meditation with the first sunbeams on my face sitting on the balcony, we drove for half an hour to visit Karin's friends. They have such a beautiful garden with a swimming pool, many fruit trees, flowers, butterflies and now even 2 horses who can eat the grass around. Otherwise, tall grass is attracting snakes which we don't know, for sure.
Karin's friend is an aerial yoga teacher so I simply had to try it with her. It was my first aerial yoga ever. Was wishing to try it for many years and now finally could. What a challenge. Some poses were relaxing plus a bit of simple stretching, while other asanas were difficult on arms, hands, belly and leg muscles. And the most challenging were those asanas upside down. With a little help I managed to do some so dad could take photos of me. The relaxing savana in the end was the best!
After yoga, I sat at a table with others. They were snacking on watermelon, papaya and strawberries and me just sipping on water. I was half way through my 3-day detox program and no way I was going to eat solid food yet.
After another short drive, we entered a temple, changed into shorts/skirts/sarongs and went into sauna. Again my first time to sweat at a sauna in a Buddhist temple. There were 2 small saunas for men, and 2 for women on the other side. Usually Thai women go in wearing sarongs so Karin suggests her guests to wear a long skirt (she brings it for us) under the neck which goes all the way down to the calves. Just because of the Thai tradition of not going naked into the sauna. All 4 saunas are steam saunas where they use a mixture of Thai herbs for better detox and breathing, and clearer skin. I fell in love with that herbal smell. Mmm.
In between the sauna sessions heated up with wood, you can take a shower and sip on rosella tea provided there.
We did 3 sauna sessions altogether, then changed into normal clothes and sat at a table behind the saunas where Jan unpacked lunch he brought for us. I also recorded our daily video there and they enjoyed a "normal" meal of potatoes, fermented red cabbage and a veggie burger (mushroom + walnuts + sunflower seeds). As usual, I had a squeezed juice (mostly beetroot, carrots, ginger, turmeric and coconut water).
I was surprised I was not feeling jealous of their food at all ?
Then we drove those 35 km back to Chivasuka, I checked internet for a few minutes and preferred to relax on the sunbed on our bungalow porch replying to Whatsapp and Facebook messages using my Chatsim card. There is no wifi in the bungalow. But I could use Chatsim.
Later dad joined me for a cup of pandan tea. Watching sunset, we talked about
raw vegan diet
and its health benefits. I was also trying to explain to dad he should do his best to change some habits once he gets back home. I promised to teach him how to prepare simple meals to try and even go grocery shopping with him.
Yay, dinner time was there. Karin explained to me how she makes kombucha at home. For dinner, we all had again enzyme and milk thistle pills, a probiotic shot, a green juice with a bit of jicama, and a veggie soup. I only had a bowl of liquid soup, they could also add veggies and mushrooms into it. After their heavier lunch, Jan opted for a rather light dinner. Also because the following morning we were supposed to have colonic therapy with dad. So only light food is recommended the night before the colonic.
I did not feel hungry at all, not really cared they were eating next to me and I was just having juices. Instead, I was super happy for having loads of energy and feeling light. 
Detox observations: dad's hip hurt more than usual and he was super tired in the afternoon. I only noticed that a burnt on my right hand appeared again. I accidentally touched an incense stick a few weeks before this detox program. The half centimetre burnt was already gone but now showed up again. But it's very normal that when detoxing, some health issues reappear or get worse as the body is dealing with toxins there trying to repair the cells back to healthy.
Day 5 – juicing
We checked the pH of second urine (mine was 7.5.)
Morning drinks:
Papaya drink
30 min later lime with chili
30 min later green juice
No breakfast as it's not recommended to eat before colonic therapy. We drove for 75 minutes from Chivasuka to Chiang Mai for the colonic cleanse. A funny thing happened there as the clinic lady made a mistake and they only had a place for dad's colon but not for mine. We had a good laugh that it seemed as if it was on purpose. Dad was happy to pass his place to me but I was sure that on his own he would not do it so decided to let him have it. I was going to stay in Chiang Mai then for 2 weeks so I could make another appointment for myself later on.
I just had an ionic footbath for the first time, which dad also had after his colonic therapy. For 1 hour I sat with my feet in a washbin connected to 2 ionic machines and looking at the water changing colors. It's recommended not to move your feet at all during the procedure as then the colors would mix which would make it difficult to know what organs are detoxifying. Different colour means different organs, e.g. dark green is gallbladder, yellow-green kidneys, urinary tract and sexual organs; brown is cellular debris and liver; black is liver, white foam means lymphatic system and dark particles are heavy metals.
Let me tell you, no matter how healthy (you think) you are, you will always get a lot of toxins getting out of your body at the first ionic footbath, and also usually for a few more baths. The first 25 minutes I had just yellow colored water which equals joint detox, but then all the other colors started to show up. It looked disgusting after 1 hour to see all those weird reactions with ions. I was super happy to have done the ionic footbath procedure, indeed.
Once dad was finished with his ionic bath as well, Karin and Jan took us to Dada cafe for lunch. Dad had a red juice and I've tried a super green juice with wheatgrass. Very tasty! 
Afterwards, we visited an organic grocery shop outside of the city centre where Jan buys organic greens for juices. What a lovely shop! I also got some things there to bring home, such as raw buckwheat noodles and organic ylang ylang essential oil I use instead of perfume.
Then we drove back to Chivasuka and had a relaxing afternoon. I took a nap for 30 minutes, and later chilled out on the porch enjoying the sunbeams. Dad slept for 90 minutes so I had to wake him up for Facebook live video about our detox week. The video was pretty successful so I was even happier to have my last juice for dinner.
Yes, that was the end of my 3-day juice cleanse. 🙂
We had a nice green juice first (spinach, broccoli, coconut water) and then I enjoyed 4.5 ml of main juice (mostly loads of turmeric, beetroot, carrot, ginger and coconut water if I remember it right).
As usual, after dinner I spent an hour online.
As they had avocado for dinner, I took the avocado skin and put the avocado leftovers from the inside all over my legs and arms. Thanks to healthy fats, avocado is awesome for dry skin. After a warm shower I read in bed about Dalai Lama's happiness. Went to bed early, around 10 pm and surprisingly had a good sleep. At least I did but dad woke up many times.
Detox observations: I noticed breathing problems when climbing up the hill. As I was born with lungs 1/3 smaller than usual human size, I always experience some lung problems when detoxing. It's because 69% of detox happens through respiratory organs. I also noticed I was missing my dear ones more than usual so I sent messages to some of them just to make them know I am thinking of them even when far away. 
To sum it up, my 3 days on juices at the Chiang Mai detox retreat Chivasuka passed very quickly. I could easily do even more days. To be honest, I really thought it was going to be tricky to see the three of them eating solid meals around me while I could only sip on my juices. However, I did very well; also thanks to Jan who was preparing me tasty juices and not just bitter green juices.
Proud of myself. Give me a thumb up, too, please! 🙂
Do you think you could do a juice detox as well? Share your ideas in the comments below.
---
---
---
---
I have to say that back in 2017 when I wrote this post after my detox retreat, Chivasuka was located close to Chiang Mai in Thailand. But then the owners decided to change the location and they moved to Curacao island in the Caribbean. I am sending the owners a big hug for making my 3 days on juices very doable.