The best orgasm I ever had – magic fingers on Koh Chang
It was on the 14th of December 2011 at 10 pm. Lonely beach on Koh Chang island in Thailand. I think I will remember this magic moment forever.
And I will also remember Apsara, a Thai, whose magic fingers gave me the best orgasm I have ever had.
First, it all started with a cup of tea … continued with a small relaxing bath. After, we quickly moved to the bed. I got rid of the T-shirt, then the bra straight away. I could hear the loud music from outside.
And I liked it!
It just all felt good.
Apsara's hands and fingers where moving all around my body touching the best spots.
Then Apsara added arms and legs to have more fun. I closed my eyes and was just breathing in the atmosphere and enjoying the moment. Apsara exactly knew which spots on my body to touch and how much pressure to put there. I have to admit that from time to time it did hurt.
But once that happened, Apsara just started to please me somewhere else. And it did work. I even had goose bumps twice. Would you believe it?!
Then we turned over to the side and continued with more pleasant moments. I wish it would last for ever. Over and over again.
Apsara was moving up and down and I was really having a good time.
I turned over again. And it was getting better. Getting there…
I bet I was making a lot of faces. But those good ones! Anyway, Apsara could not see them, it was too dark. But I can assure you Apsara knew exactly what to do and what not to do just from the movements of my body.
And then it came. The orgasm.
It was actually an hour orgasm.
Yes, one hour orgasm!.
The best orgasm I have ever had.
That was Apsara's magic fingers. 
That was my oil massage.
Oil massage with a Thai girl I just called Apsara. It was in Sunflower massage salon at Lonely beach on Koh Chang island.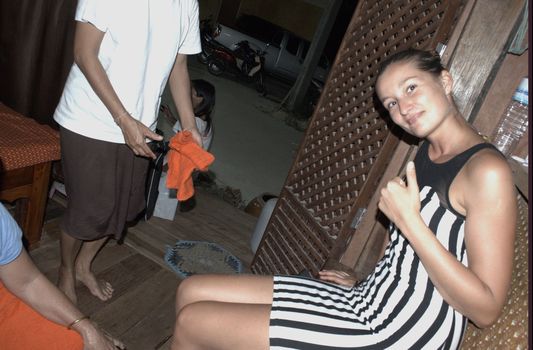 I have had hundreds of massages in my life, but that one was the best one, I swear! Having a lot of back problems, not every single masseur knows how to do the right massage without hurting me. Apsara did know.
So every night on Koh Chang Lonely beach I went back to her for another oil massage. For another best orgasm ever.
It was my last time tonight. So i just wanted to dedicate a post to this special magic fingers of Chi (that her real name). Chi has her own salon called Tipi, but sometimes works in Sunflower massage salon, too.
After reading this post, I just want to be sure you know I am still straight, ok? :) And if you don't believe me, then check out posts about my ideal man.