Bloody Night Con in Barcelona with Paul Wesley, Ian Somerhalder and Candice Accola from the Vampire Diaries
Unforgettable. This is the way I would describe the 11th and 12th June 2011 – the dates when the Bloody Night Con event took place in Hesperia Tower Hotel in Barcelona. I just came back to Europe from Mexico and before going home to Slovakia, I visited my best friends in Madrid for 3 days.
They had planned to go to the event already since March but because of my nomadic life style I was not sure I could go with them. And as well because of the problems in the end of my Mexico trip I didn't know if I wanted to spend more money. But then I decided to take a stop-over in Barcelona with my 3 crazy friends. Let's enjoy life, right?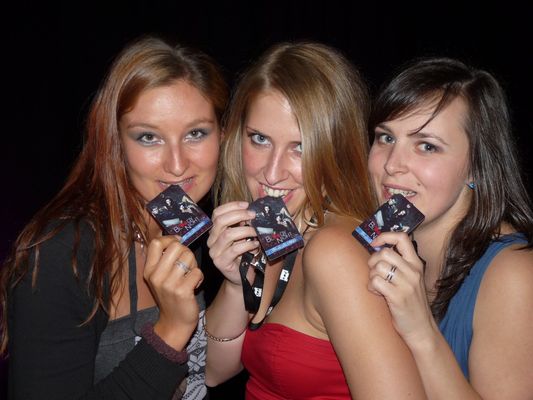 It was not possible to get the same Bloody Night Con ticket online like my friends. We were exchanging the emails with the event staff to get it during a couple of days before the event, but they just did not understand the whole thing at all. So actually on Friday the 10th when we came to Barcelona, my friends had to go to register for the event and me try to get the ticket.
On the way to Hesperia Hotel, it started raining like crazy so we got soaking wet like never. Literally, wet absolutely everywhere. We came to the hotel with the waterfalls going on the sides of the face, a disgusting nest instead of a sexy hairstyle, black marks all over the face from the make-up, 2 cm of water inside the boots, and the jeans stuck on the legs worse than the second skin. A great start of a great story I'd say.
I have to say that since the very first moment, the organization of the event sucked! Seriously! I have never seen such a mess in my life I think. The staff did not know what to do, how and where to do, who to ask, no details at all. They were just messing around all the time. So after 3 hours of sitting on the floor in a huge puddle of water all around us, eating strawberries from La Boquería market and shaking of cold, we finally could register, get me the ticket and the same seats with my friends.
There were different kinds of the passes you could get, of different prices which included different things. The more expensive one than ours came with a poster. Just look at it, it is cute, but come on! You have to think twice before you realize who are those two pokemons on it.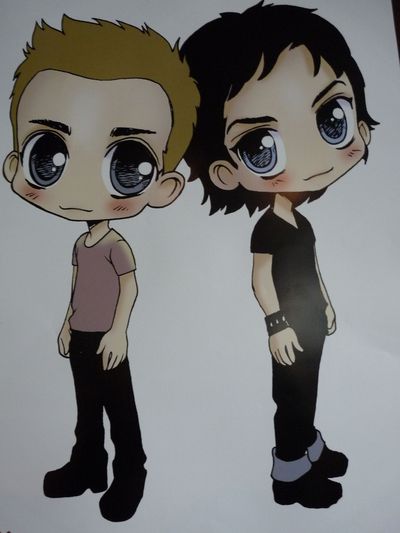 If your pass did not include the poster, or you wanted more of them, there was a shop selling them for 8 Euro :D And more Vampire Diaries stuff, T-shirts, pictures etc…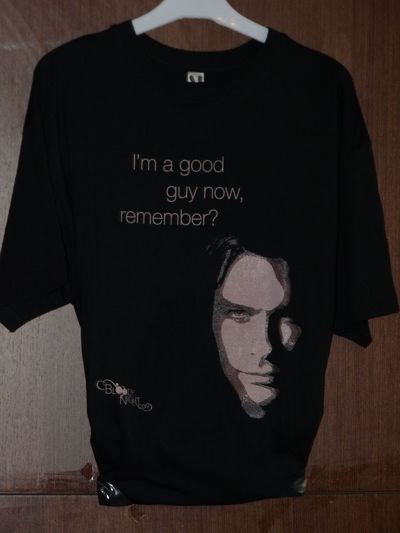 Illogically, the seats were given according to when you bought the ticket, so it was almost impossible to seat together with the people you came there to. But due to our (me and my friends') ability (or should I call it fighting?) to always get what we want, we managed it all but that meant that each and every person of the staff got to know us even before the start of the event itself.
They all knew about us 4 girls. And they all hated us. I mean, 4 girls, beautiful (being wet still could not hide our beauty), loud, laughing all the time, taking crazy pictures, shouting, joking, having fun, complaining about what we did not like and all 4 dressed up in mini dresses. I mean, how couldn't people remember us anyway?! However, exactly this got us hard times at the Bloody Night Con. But about this later on.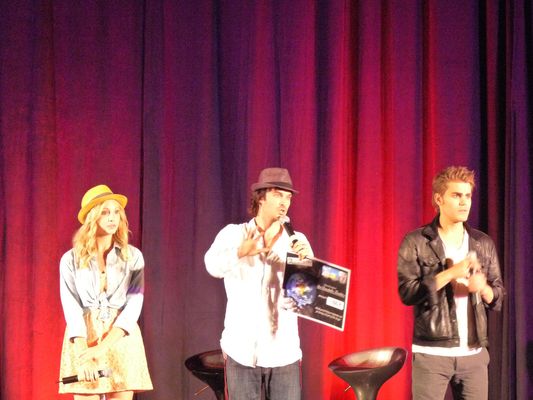 The following day, on Saturday the 11th June it all started at 9am. Still asking what the Bloody Night Con was? Have you ever heard of the series the Vampire Diaries? So three actors came over to Barcelona – Ian Somerhalder (playing Damon Salvatore), Paul Wesley (his brother Stefan Salvatore) and Candice Accola (Caroline). There were some panels with them for us to ask questions, take photos with them, autographs, get to know more about their both personal and professional life etc.
It was supposed to be 2 days full of things to do, but it ended up as a huge chaos again. Everything always started late so then they cut off the time we were supposed to have the panels with the actors or the photoshot. And most of the time during those 2 days we spent outside at the terrace waiting for something to happen. Or killing time with the security guys :D
Thank God it stopped raining and it was actually really nice and hot. So waiting outside… and with the staff girls screaming at us.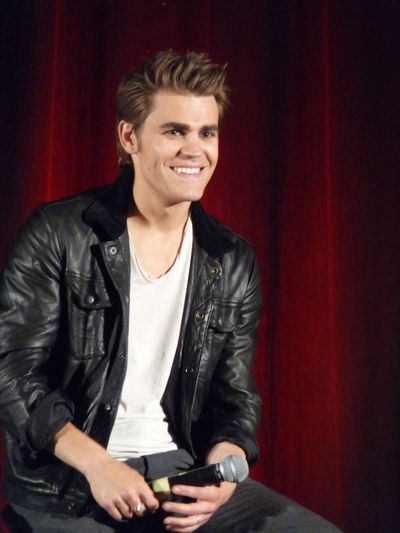 Apart from all this bad stuff, we had an amazing time over there. I have always loved the Vampire Diaries and its actors a lot, but never thought I would become SO CRAZY about them when meeting in person.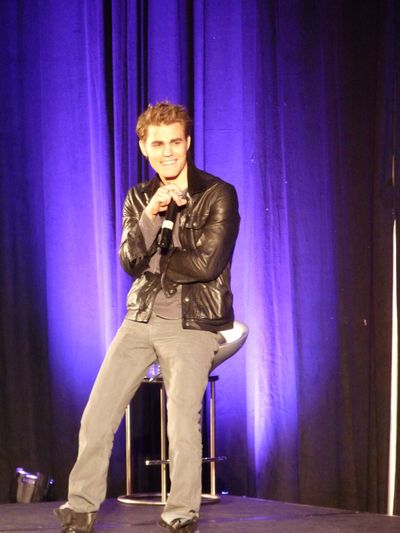 I have to confess I felt like 13-year-old in love with her idol actor. How ridiculous, right? But meeting those hot guys like Ian Somerhalder and Paul Wesley was just a dream that came true. It was my first time when I could spend 2 days with someone very famous, and kiss them, hug them, talk to them…
They inspired me a lot. Ian and Paul are still so normal people, so humble and simple even though they are so famous. Ian has a foundation and he is very into helping to animals, which is such an awesome thing to see in someone so famous who could just hang out with girls all the time and not spend his spare time saving the hurt animals, new-born turtles, horses at the farm etc. And Paul? This guy surprised me SO MUCH!!! He left me with my mouth open and my heart wanting to jump out of my chest (and me jump on Paul.)
I kind of always preferred Paul to Ian, which is weird as Ian is the sexsymbol with the bluest eyes ever that just go through you and make you freeze your thoughts and mind. But Paul… Paul has a personality I have never seen before in any actor. The funniest guy ever, throwing jokes out all the time, trying to have proper dialogues with his fans, simply such a cutie I wanted to eat him up (sorry for being 13 again :D)
Paul seemed so natural in comparison to Ian. Ian is used to all this since very early years of modeling and being an actor, so Ian exactly knows how to deal with his fans, when to smile, where to look, what to say … which all seems kind of already learnt and prepared (I do not say it is wrong, because I liked it, but I just still prefer the completely natural behaviour of Paul.)
Ian is more open with people, and more willing to touch, kiss and hug, and when he looks at you, those 2 seconds belong only to you. But Paul does it only very little and there is not that much of eye contact with him. But Paul did let me to kiss him at the cocktail party.
Wooohooo, SO HAPPY! And then he took my favorite strawberry chewing gum from me. Can you believe that Paul Wesley, my lovely idol, hugged me, I kissed him, we took a picture (3) together while it was forbidden and then he was chewing my chewing gum?! I was in heaven… No, MUCH better than that! Sounds funny for someone 26-year-old like me, I admit. But damn it, again one of my dreams came true :D
And Candice? In the 1st series of the Vampire Diaries, she played a sweet naive kind of silly blonde girl Caroline, which became a vampire in the 2nd series. And she played it so great, especially the 2nd series! I loved her in there! But in person, Candice is more of that blond cute girl from the 1st series than a bit of a beast from the 2nd series, she admitted. Candice even sang Somewhere over the rainbow and Eternal flame :)
Anyway, on Saturday night, there was a so called Cocktail where the actors were supposed to walk among all of us and talk to us for an hour so we could take some photos. But it was just 16 minutes and the staff spent them all screaming at all of us, hitting us and the cameras as well each time we wanted to take a photo. Especially doing all this to me and my 3 friends, as the staff hated us, like I said already. They almost broke my camera!!!
Anyway, I managed to take a pic with my lovely Paul Wesley. But just because I gave him a chewing gum :D
Ian was not really listening to the staff and he was even taking the cameras and taking photos of himself with the girls. Good boy! On the contrary, Candice did not let us take any pictures. And her personal assistant was extremely rude.
However, the following day, the staff realized their mistake and let all the people from the Cocktail to take a group photo with Paul and Ian. Yupiiii another pic!
Now, I am so happy I went there and didn't care about the money as those 2 days were simply incredible! Paul and Ian were so funny I could not stop laughing! And then I spent the end of the event crying like a child because of the video made for Ian Somerhalder Foundation and the money raised for it. Just hope KLZ, those organizing the event, will behave in a better way in the future events and it will not be just a big mess again.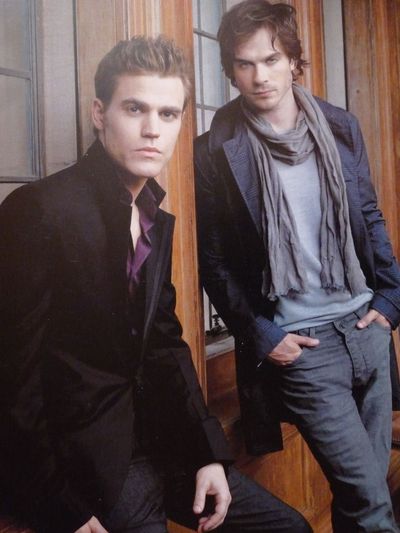 Paul Wesley signed a picture of himself especially for me – for Crazy Sexy Fun Traveler.
And Ian Somerhalder dedicated a picture of himself to Crazy Sexy Fun Traveler as well.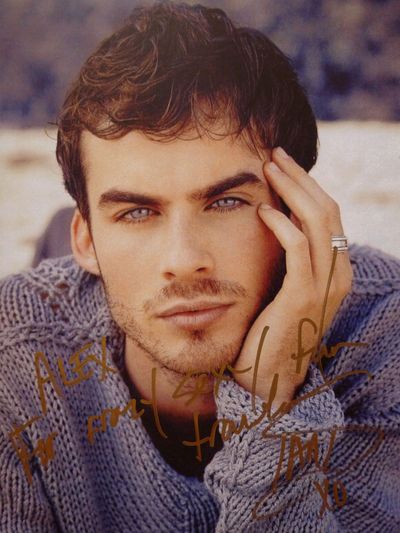 And of course, Candice, too. She signed a photo of Ian, Paul and Nina Dobrev as I did not have a picture of Candice.
In the end, me and 3 friends of mine, we really enjoyed the Bloody Night Con in Barcelona with Paul Wesley, Ian Somerhalder and Candice Accola. It was two stunning and unforgettable days. To see more photos, click here.