7 reasons why Tel Aviv reminds me of Barcelona
I've heard that the locals usually tend to compare Tel Aviv to New York (business-wise) or to Miami (beach-wise.) However, I'd say that Tel Aviv reminds me of Barcelona. Ok, there are a few skyscrapers there like those in NYC and also the city has cool beaches with palm trees like in Miami … no doubt about that.
But personally, Tel Aviv seems more similar to Barcelona in many ways.
In the beginning I did not like Tel Aviv at all. My first two days there I was just wondering why so many people loved it. I had no clue. I mean I was on the beach, ok, but the rest? More expensive than I thought, the buildings looked older and uninteresting …
Following my experience in Spain and some other places (e.g. New York, San Francisco) I already knew that sometimes I just need to give it a go. Give a place more time to get under my skin.
With Tel Aviv it was a right choice as after a few days of exploring with a group of locals, the city did amaze me with a bunch of sweet details.
All the photos in this article are from Tel Aviv.
7 reasons why Tel Aviv reminds me of Barcelona
1. Vicky Cristina restaurant
I know this is just one spot in the whole city of Tel Aviv but I have to start with this one. Vicky Cristina restaurant is a very unique tapas & wine place in the old Train Station complex with distinctive Antoni Gaudi's design, guitar music and Spanish tapas that are known all over the world. Even the name of the restaurant says it all – Vicky Cristina Barcelona movie, you remember? And they also have a vegan paella, I mean cold it get any better? I wrote an entire article about the
best 11 places to get vegan and vegetarian food in Tel Aviv
.
I have to admit that in general I enjoyed the food in Tel Aviv more than in Barcelona. A lot more salty vegan and vegetarian options, with a lot of hummus, eggplants, tahini, salads etc.
2. Beach
Beach, oh beach! There's no bigger beach lover on the Earth than me! Empty secluded beaches are paradise to me but beaches in cities have their charm, too! I doubt there's anything better than crushing a beach towel after a lot of walking around a new city.
And if it's hot, tours around cities are not my fave thing and that's when comes the beach … Plus, it's awesome to cool down on a warm day, go for a swim, get a nicer skin color … refresh yourself some more and continue exploring the unknown city corners.
3. Promenade
One of my Barcelona highlights is definitely the super long promenade along the beach where I enjoy going for a walk at sunset. Others love jogging, cycling or skating there. Although the promenade in Tel Aviv seems shorter, it's still so cool to see both locals and tourists doing something good for their body. Thumbs up to everyone who tries to look better.
4. Markets
Both cities have many markets and I could honestly stroll around them each and every day (except the fish and meat part!) The Carmel market in Tel Aviv could be compared to 
La Boqueria market
in Barcelona (my number one market in the whole world!)
The exotic fruit and fresh juices? Oh my! I'm sold!
5. Boulevards
For some reason, when I walked from the beach for the first time inside the Tel Aviv city and saw a couple of boulevards with Mediterranean trees around them, locals taking their dogs for a walk, and tourists drinking juices/coffee, it made me feel like in Barcelona. Maybe it's the similar trees, the streets themselves or the feeling of freedom I get there, but the boulevards of Tel Aviv simply reminded me of Barcelona.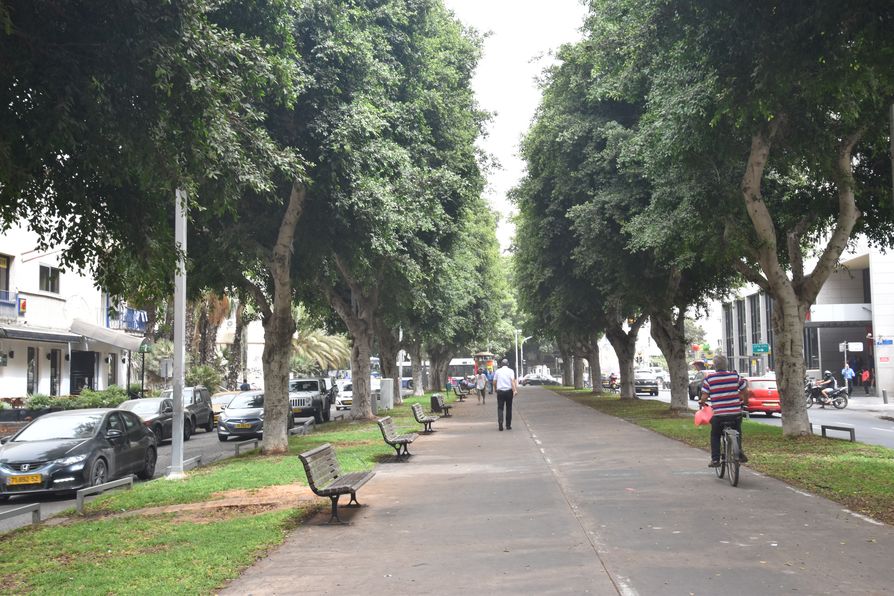 6. Architecture
Both Barcelona and Tel Aviv are famous for architecture even though in a very different way. We are speaking of the White City of Tel Aviv with its simple Bauhaus houses vs. mostly eccentric Gaudi's in Barcelona. I do prefer the unique colorful buildings and parks in Barcelona, though.
7. Night life
You might know already that I do not drink nor smoke nor really party since January 2009 but I did have a chance to experience (very briefly) the night life in both cities. Each time I asked about top things to do in Tel Aviv/Barcelona, I always got a reply pub crawl and night life. So if that's what you are looking for, go for it 😉 
Check out my list of 17 things to do in Tel Aviv and 30 things to do in Barcelona.
Getting to know Tel Aviv was possible mostly thanks to AllOver TLV.