Boat rental in the British Virgin Islands to get away from it all
Boat rental in the British Virgin Islands (BVI) is easier than you think. Whether you're an experienced sailor or just a curious wanderlust, there's nothing more exciting than having your own boat rental adventure in top destinations like these.
But first, a liitle bit of context. The main islands here are: Tortola, Virgin Gorda, Anegada, and Jost Van Dyke. The capital is Road Town, in Tortola, the largest island of 3 miles wide. Apart from those heavenly treasures, there are more than 50 other islands to explore out there!
Here's a list of the different options you have to charter a boat in the British Virgin Islands and discover their beauty. Let's dive in!
Sailboat
Luckily, British Virgin Islands sailboat rental doesn't have to be expensive or complicated. Day sailing? Overnight cruising? A sailboat's got your back. 
From a classic Beneteau 32 to a sophisticated Dufour 530, you can choose among different kinds of sailboats to navigate the turqoise waters of this Caribbean paradise with comfort on a low budget.
A Beneteau 32 can totally handle a weekly cruise or more. It's a 9.79-meter boat with capacity for 4 people. You can chart one of these for 243 € with SamBoat. 
On the flip side, the Dufour 530 has capacity for 10 passengers and an overall lenghth of 53.6 meters. Perfect to discover the most beautiful anchorages in Pleasant Valley, you can rent one of these today starting from 845 €. 
Benefits of charting a sailboat 
Renting a sailboat has a lot of advantages: You can feel the navigation more intensely because it's a one-hull vessel, making it perfect for those sailors who enjoy adrenaline and can't sit down and do nothing! And also, it's budget friendly: Sailboat renting in the British Virgin Islands starts with only 243 € on SamBoat. 
And don't worry. If these two options sound too extreme for you and you need something in between, an Oceanis 41 offers a solid compromise between price and luxury. 
This sailboat has 3 cabins with all comfort and capacity for 8 people. With an overall length of 12 meters, it'll be your best ally to spend an unforgettable vacation on the water in the surroundings of Road Town, the capital. You can rent one of these for 371 € on SamBoat—with or without a skipper. 
And if you're planning a whole weekend at sea or something more than day sailing, make sure you rent a sailboat with cabins, kitchens, and bathrooms. The famous British Virgin Islands resorts like Rosewood Little Dix Bay, Guana Island, and Bitter End Yacht Club are waiting for you! With SamBoat, you're just two clicks away from fun.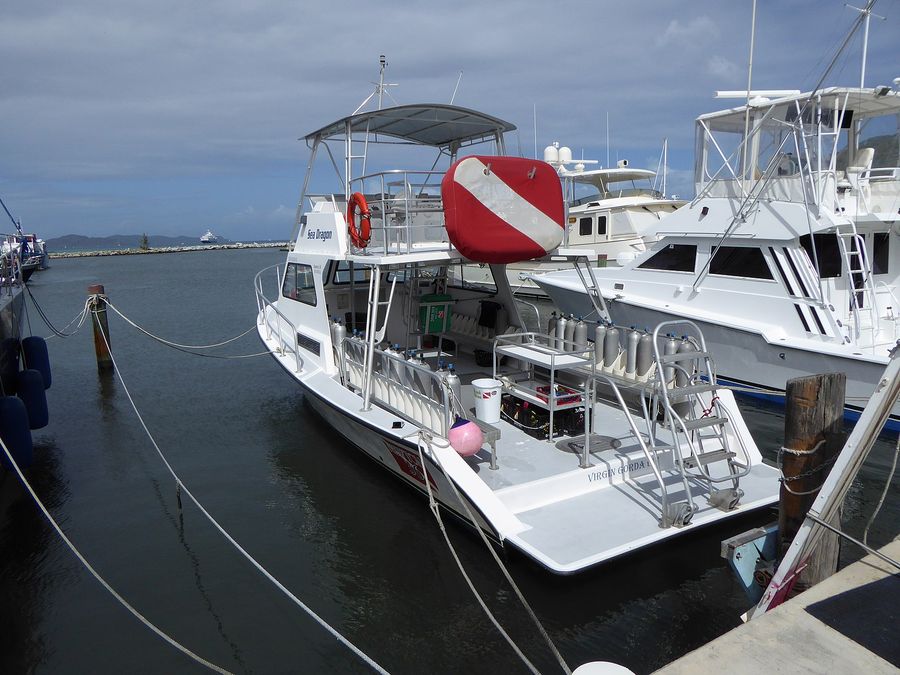 Power Catamaran
First of all, renting a power catamaran won't cost you a fortune. From 821 €, you can rent a Leopard 43 on SamBoat, delighting your eyes with the breathtaking view of Tortola Island and feeling like you're inside a dream that you don't wanna wake up!
What's the advantage of navigating a power catamaran? In one word: stability! Just relax and feel the wind right on your face while your feet enjoy the balance of a two-hull vessel. The specific architecture of this ship make you feel navigation more dampened than other boats' so it's a perfect fit for people who don't like sudden movements at sea.
Another advantage of renting a power catamaran is definitely luxury. Speaking of which, if budget is not a problem for you, go for an opulent Horizon 60: an incredible catamaran of 18.29 meters that guarantees you an exceptional time at sea. With a capacity for 6 people, it has an oven and microwave among many other features. For 2,557 €, you can access this upscale boat and have the time of your life in the British Virgin Islands.
And for a more modest budget and sailing style, there's an awesome power catamaran waiting for you at the British Virgin Islands: The Leopard 51. It's a 15.54-meter boat with capacity for 10 passengers that you can charter for 1,450 € to delve into Road Town with luxury for a reasonable price!
Yacht 
If you're both a party animal and an experienced sailor, you should seriously consider renting a yatch. The definitive advantage of sailing on a yacht is its particularly social design that makes them totally suited for fun, with hot tubs, gyms, and swimming pools.
Comfort is the number one star of this kind of vessel. But there's more. Refrigerators, washing machines, and dryers are everywhere, ready to give you the best selfies at the British Virgin Islands!
If you're not a party animal you can also rent a yatch. It's a versatile vessel where you can do different activities: dock-to-dock coastal cruising, ocean crossing or just island hopping. You can organise a happy hour with your friends, take the kids for a family weekend or just contemplate water in your retirement days.
And what about the budget? If you decide to travel to British Virgin Islands for the yatch experience, for just 314 € you can rent a Sun Odyssey 36i and start living the Caribbean dream! This yacht has 2 cabins, a capacity for 4 passengers and an overall length of 10.98 meters. 
Conclusion
Boat holidays are trending, even for the ones who can't afford their own boat. And a healthy dose of the Caribbean waves is always a smart choice for the ones looking for a break from their routines. 
We've already analysed the different options you have at hand for all budgets.
Sailboats for a more adventurous approach on a lower budget, power catamarans to feel stability at sea and yatchs for that opulent dreamed party with friends or a family vacation.
Whatever your traveling and sailing style are, start packing because there's a ship waiting for you in the British Virgin Islands with SamBoat. Join the vibrant community of 300.000 people who have already sailed with SamBoat in 2021.
CTA: Charter a yatch in the British Virgin Islands and explore among +45.000 boats available all over the world.