Where to stay in Aland islands Finland – 3 amazing Aland hotels
If you ever plan to visit Aland, first check out my article about
30 things to know about the Aland islands
. And then have a look at different accomoddation options. Below you can find my recommendations for where to stay in Aland islands Finland.
3 amazing Aland hotels:
1. Klobben
Klobben in Satvik is one of the three Silverskar islands forming part of the Aland islands. On our first day in the Aland we were taken to Klobben and its peace and quiet left me speechless. You can walk around the rocky island in a few minutes, simply chill, enjoy sauna and cool down in the Baltic sea. 
Trust me, this modern fishing camp is the embodiment of peace. The simple cottages were only opened in spring 2016 and resemble the life of fishermen and farmers who would stay in similar cottages during the old Baltic fishing seasons in the past. The wooden cottages at the end of the sea can accommodate up to 40 people. The biggest house Saltarboden is great for meetings and enjoying meals that are shipped to the island from the Silverskar kitchen. Eco-toilet in a separate cottage (the nicest wooden toilets I've ever seen), wooden sauna, running water and solar electricity make the Klobben island accommodation a perfectly relaxing ecological getaway.
We practiced yoga there for an hour with a local yoga teacher Carina Sommarstrom and then had some snacks. Our chef Victor served us local food and I got a bowl of berries, and a gluten-free bread with local rapeseed oil and veggies. I also found some time to walk around the island a little bit. The sea waves hitting the shore, the hard wind blowing and playing with my hair could not disturb my inner peace at all.  I can so imagine doing a yoga or a meditation retreat on the island!
Although we didn't stay overnight in there, a few hours had a big impact on me. The beauty of this little peace of Heaven is difficult to describe with words which is why I included Klobben on this list. If you are looking for amazing Aland hotels, Klobben might be your choice.
2. Silverskar 
A boat took us from Klobben to Silverskar island where we would spend a night. To be taken to the island by boat and then be greeted with pancakes and snaps is part of the tradition. As I don't drink alcohol, I only got a pancake with plums without the shot. I love pancakes so it would be hard to look at the others eating them if they didn't make a special gluten-free vegan one for me. It looked way different from traditional pancakes and was served in a bowl but I really appreciated their effort. And plums are so tasty!
Silverskar
is another small island in the Northern Aland we visited.
With its 32 hectares it's a lot bigger than Klobben and has a very different touch to it. The green landscape (we visited in July), and some familiar trees and plants made me feel like back home in
Slovakia
in my grandparents' village. So in harmony with nature. The island used to belong to Gustav Vasa who sent men there to look for silver, hence the name 
Silver
skar.
If you come with a group of friends, family or work colleagues, you can rent the whole quiet Silverskar island to yourself. The hotel can accommodate 48 people in different buildings, all within walking distance from each other. Silverskar is great for meetings, weddings, parties and other events up to 100 guests. There's even a huge hall with screen where you can watch videos and presentations.
But what makes Silverskar special is the family atmosphere. The hosts would do anything to make you feel comfortable. The owners' goal is to become a green island so everything in the hotel is eco-friendly; solar panels and geothermal heating are used. Surprisingly, thanks to fiber connection there is wifi on the island so us digital nomads and
travel bloggers
could update the social media channels while there.
There's a few traditionally looking red houses for rent and also Ladugards resembling a local barn. It's the newest house built manually around a brick wall with 4-star rooms on the main floor and the mentioned meeting room hayloft on the second floor. My personally designed single room called Star was also located in this barn building. At the entrance to the barn we could hang out by the cozy fireplace and read a book, so lovely!
And it won't come as a susprise if I told you we had to do a very traditional Finnish thing there – stay in a summer cottage, sweat in wooden sauna and then take a dip in the Baltic sea. Let me be honest. I swore I would not go into the sea no matter what. However, I quickly realized that usually I enter even colder water after each sauna session so swimming in the Baltic sea at 11 pm did not seem so weird to me any more. Add a jacuzzi with other friends overlooking summer bright skies just before Full Moon and I didn't need anything else. What a perfect moment to remember! Learn more about
Finnish sauna traditions
and why I find them surprising in my other article.
I also have to give thanks for the meals to our chefs, two brothers, who prepared all the meals with so much love. They used veggies and herbs from the greenhouse just outside of the restaurant, and mixed them with other local products from the surrounding Aland islands , such as berries, mushrooms, fish, cheese and butter. Being a big group, we had to wait for our dinner meals a bit but the meal decoration and taste made up for it, that's for sure.
I honestly wish we had more time on the island. If you do on your visit, you can go boating, fishing, canoeing, take zumba lessons, go for a walk, observe seagulls or simply take in the peaceful atmosphere.
The only downside of Silverskar and Klobben? Horse flies wanted to eat me alive as it was not windy enough on our visit. Other than that, both islands are perfect for a relaxing vacation with an active twist, if needed.
PS: Have you heard of the Cellar in the sea? In 2010 there were 168 bottles of champagne and beer found in a dark wooden cage in a shipwreck not far. The champagne is dating back to at least 1843 and most probably was on the way to the Russian Tzar. Two of the bottles were sold in the auction for more than 30,000 euros each and most of the others will be displayed in the new Aland museum in Mariehamn together with 5 bottles of beer. Now Silverskar is working with the Veuve Clicquot champagne. They built a Cellar in the sea – a little wooden house on a nearby, super small island, under which they placed a metal cage full of champagne bottles as an experiment for the next 40 years until 2054. The cellar is placed 50 metres below the sea level with approx. 4 Celsius degrees all year round which is said to make the wine taste even better. Curious?
Check out more photos from
Silverskar
in my photo album.
3. Havsvidden
Havsvidden is a luxurious accommodation on the main Aland island, Northern Fasta Aland and consists of several cliff houses, a restaurant, a yacht marina and a house with massages, swimming pool, sauna and outdoor jacuzzi. Naturally looking cliff houses differ in size and are spread around so you can enjoy peaceful nature without too many people around.
Together with my friend we shared the cliff house number 31 located approx. 15-minute walk from the restaurant. It's a really cool house for 2 people, preferably for a couple as there is just 1 double bed and a sofa. We had our own sauna and hot tub in the bathroom, both with the view of the Baltic sea, and a super spacious terrace outside of the house. This place literally took my breath away . I wanted to stay there for a week or even more. I wish!
Havsvidden is a lot more luxurious than the two hotels I mentioned above, and also completely different. Some houses have private outdoor jacuzzis, some have saunas, some are bigger and can accommodate more guests. A number of houses have different owners who set up their own rules when it comes to renting them to guests.
There's breakfast included at the restaurant where even I could find something to eat (fresh fruit). If you are not vegan/dairy-free/lactose intolerant, then try sea buckthorn yoghurt. As sea buckthorn grows widely all around the islands, it's become one of the main ingredients. I even had sea buckthorn sorbet for dinner. The rest of dinner (mine was vegan gluten-free) both looked and tasted spectacular. But the service was not so good, was a bit of a mess and  it took ages. I don't think it should happen in a place like this, not even when it's fully booked.  
I also had a chance to get a massage at Havsvidden which came in handy after cycling and kayaking for a couple of hours in Eckero. To be honest, I prefer to get a masseuse instead of a masseur to feel more relaxed but this time I was so tired, I didn't care that much. So if you have time, definitely try one of  Mr. Pavall's massages.
Go to my Havsvidden album to enjoy more photos 😉
 To find out more, have a look at Havsvidden website.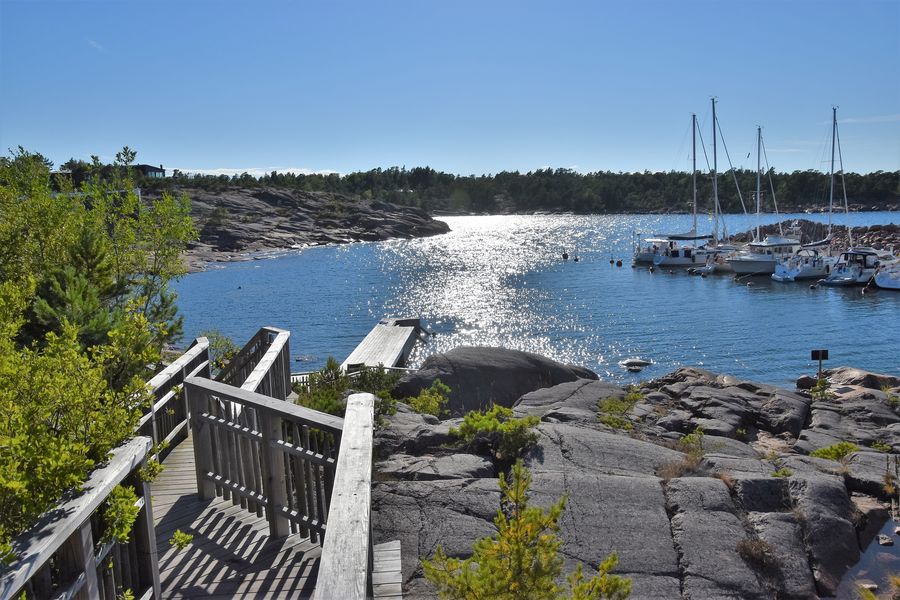 For more info about the islands and other amazing Aland hotels, check out Visit Aland 🙂