Djuronaset Stockholm archipelago – unique submarine and spa
Before the TBEX Stockholm conference in July 2016 together with a group of other 16 travel bloggers we were taken on a bus to the Djuronaset hotel. It was just after I flew in from Bratislava to Stockholm and a 
Blacklane
limousine took me from the Arlanda airport to the city centre.
I was so happy I could relax and regain energy first, before the conference itself. And Djuronaset spa hotel (pronounced without "d" at the beginning) was definitely a good place to do so.  
The 4-star hotel complex is located on the Stockholm archipelago approximately 45 minutes from Stockholm city (by car or bus) on a private island which is connected to the main land with a bridge.
Djuronaset hotel interesting facts:
Djuronaset means animal island/peninsula.
In 1600's many ships would anchor around to protect the Swedish land from the Russians in the war. Over the centuries many ship wrecks were found around the island because of the unpredictable stormy weather and invisible rocks on the sea bottom. 
the hotel complex was built in 1979 following certain rules: it was not supposed to be seen from the air, roads nor boats from the sea so the buildings are not so tall and many trees around are actually still a bit taller.
it's an awesome place for meetings, courses and conferences and it was built for that reason – nowadays it's one of the largest conference facilities in Sweden
since 2001 it's been a Nordic Ecolabelled hotel – they use ecological cosmetics in the rooms and ecological food
each year around 25,000 guests stay at the Djuronaset
the hotel was awarded 4 of the 5 crowns by the Swedish Conference Association (Svenska Moten) classification system
the hotel is fully booked ahead of time for September and October, and also spring months for conferences
there are 274 rooms altogether = 8 buildings situated on the East side of the island (called meetinghouses) each of 35 rooms which can fit 1 or 2 persons, plus 1 private luxury suite so altogether approx. 500 guests. 

more than 175 rooms have been renovated just recently.

free wifi and flat TV screens in each room
"fresh air" hotel – to get breakfast and dinner you need to walk out from the room buildings
leisure guests form approx. 25% of all guests, the rest are companies bringing people here for conferences and team building
mostly Sweden based companies, Swedish and German guests
What else I enjoyed at Djuronaset hotel:
hotel rooms are designed in Scandinavian style (light wood and gray granite are used)
on the West side of the island we can find 1 wood-fired sauna with 2 outdoor hot tubs behind it.
And of course I had to use both, first the sauna, then cool down in the sea just next to it and then hot tub for a bit as well. Priceless experience on a sunny, yet cold day.
25 m long indoor pool, sauna landscape with 3 different saunas, 2 cool rain showers and the relaxing area overlooking the woods
gym in the main building one floor below the lobby next to the spa landscape area
there's loads of activities to choose from, such as Canadian canoe, kayaking, rowing boats, sandy beach, bicycle renting, tennis etc. Djuronaset is really a perfect place for my Adventure and Spa project as it focuses on both kinds of activities
a guest marina is found here where you can anchor your own boat if you happen to arrive on one (I wish!)
spa treatments are easy to be booked at the reception (the Spa is located in another building just a few metres from the lobby)
buffet breakfast is included in the room price – you can find there anything from fresh fruit, pastries, veggies, salads, meat, ham, cheese, to cereals, tea, coffee, orange juice etc.
I asked for vegan meals and had no problems with that
Sjoboden restaurant is open since June to August. It's the hotel summer restaurant overlooking the Kanholm Bay. We had lunch there and I was offered a delicious vegan soy burger with fried potatoes.
a three-course dinner at the main restaurant – I had a vegan avocado tartar, grilled veggies with soy protein and fried potatoes, and home-made sorbet with berries. All really great!
live music at the Sjoboden restaurant on the evening we visited (every Tuesday and Thursday in summer)
small wedding ceremonies can be organized at the hotel, too
we also tried traditional fika there – late morning or afternoon coffee/tea break with pastries, fresh fruit, tea and coffee. We also had a chance to try fresh berry juice before we left the hotel. So tasty!
pretty nature trail for easy hiking, walking or running (be careful during or after the rain as the big stones on the trail get slippery). 1.5 km of the trail is lit with lights so doable also late in the evening or very early in the morning.
super helpful staff – they were all so cute, smiling and easy to talk to
you can book a mini submarine tour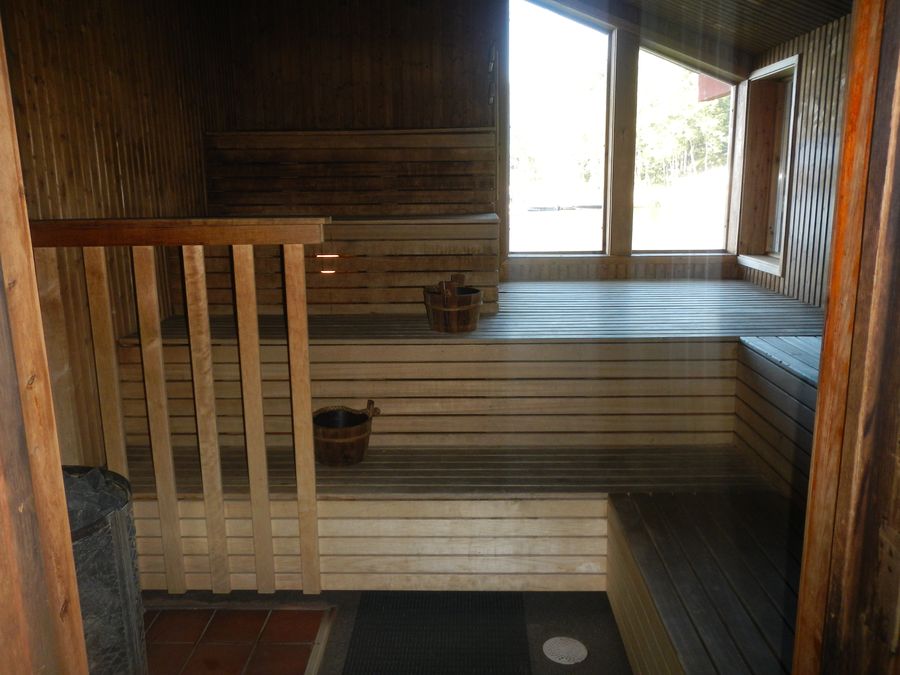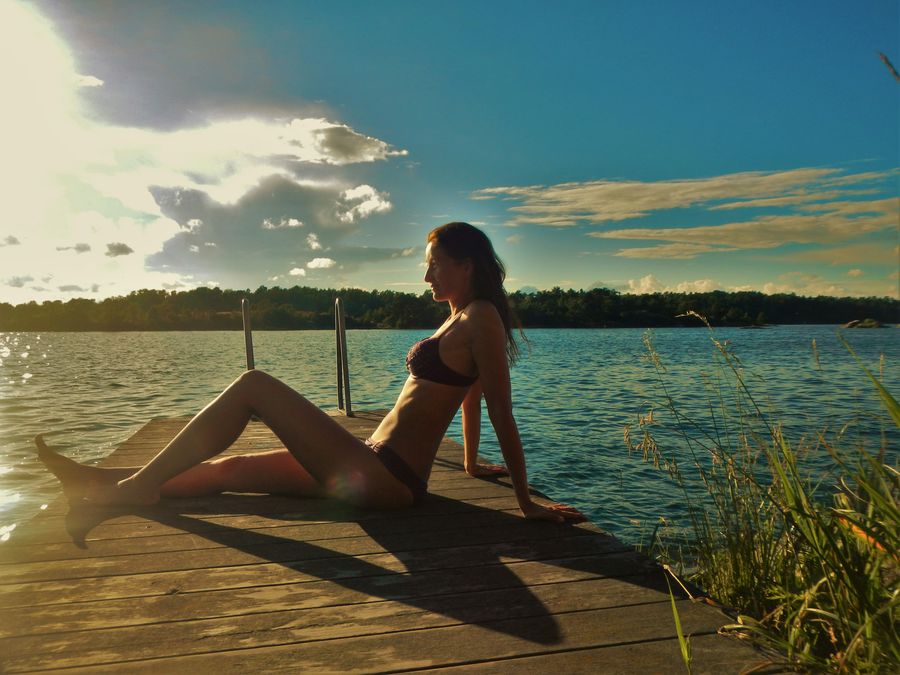 Submarine tour Djuronaset
Until I visited (July 2016), the Djuronaset was one of the only 3 hotels in the world that have their own submarine which can take their guests on an underwater tour. Usually the tour lasts for an hour but it was too many of us so we just all had approx. 30 minutes down there.
Lasse and Sebastian greeted us by the submarine and then Lasse explained the basic info about it. The sumbarine was built in 2006 for the Swedish army but they didn't buy it in the end so Lasse got a chance to open his own adventure company and get the submarine.
It's supposed to be the only submarine in the world which is both for personal passenger rides and for the navy as the Swedish navy sometimes rent it for their activities. Usually the submarine tours at the Djuronaset are fully booked for the weekends, mostly in spring, summer and fall.
The submarine can float at approx. 15 km per hour when fully submerged and can fit in 3 passengers and the pilot. One passenger can lie down in the front, the other two can sit on the sides behind him.
The third girl that was with us didn't manage to get in the submarine because of her knee problems so it was just me, Laura and Lasse riding it. Because there was space for one more person, we could swap with Laura during the tour and see it all from a different perspective. For a minute Lasse also let me sit on his seat and see the 3 windows and the screen he uses to navigate.
Before the tour I wasn't sure if I could take my DSLR camera with me. I didn't know if because of the water and/or depth the camera could be damaged. But I was wrong, it was easy to take both photos and videos inside the submarine with any camera.
At first, we went down to only 14 metres, then moved forward looking for fish, then went up back to 4 metres, and down to 24 metres when it got darker inside. Lasse said that the best visibility is up to 30 metres, then if submerged more not much can be seen. So although the submarine can go down to up to 200 metres, the passengers in this area are taken only down to 25 metres below the water surface.
It's very difficult to explain the whole experience but it made me happy and excited like a kid. I spent the whole time taking photos, videos and observing the sea weed, stones and little white shells through the round windows.
At the same time Lasse didn't stop amazing me with his submarine skills. We finished the super interesting experience going all the way up very fast within a few seconds pressing with our heels to the little metal step so we wouldn't flip over to where Lasse was when the submarine nose was getting up to the surface from the horizontal to the vertical position.
Getting out of the submarine was as easy as getting in but with a bigger smile on my face as some endorphins have been kicking in.
At the end of the tour we took a photo with Lasse and he gave us presents – a submarine diploma, a little submarine and a submarine key ring.
The funny thing? Lasse was born in Hungary but moved in to Sweden at the age of 10. I really admire people like him. People who have the courage to do what they really enjoy and thus their everyday life is filled with their passions instead of just working for someone else doing things they don't like so much. Life should be full of things we love, right?
If you ever happen to be in Stockholm archipelago, I definitely recommend you to stay at the Djuronaset, try its spa, local food and go on a submarine tour.
Thanks a million for these lovely submarine and spa experiences. For more information, please check out Djuronaset website and also Submarine Crashdive website.